July 27, 2015
Super Max™ 8900C-840 is the gas-powered, cold water pressure machine you need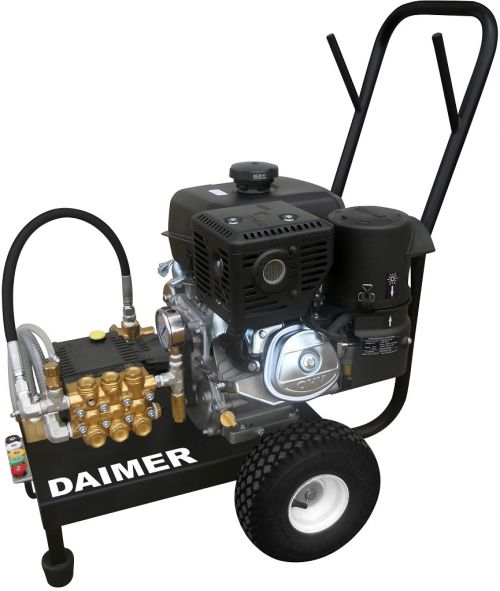 If you need a mighty commercial industrial cleaning machine that's powered by gas and uses cold water pressure then you are considering the right product. The Super Max 8900C-840 is the machine that has those features. It has a flow rate of 3.5 GPM and a water pressure of 4000 psi add that to a wet sandblasting system with a two-gun operation and you'll be getting a pressure washer that packs a big punch.
A pressure washer that's ready to get the job done
This series of the 8900C is like the others in the fact that it can be easily mounted to a trailer for ease of operation once the wheels are removed. That means you don't have to worry about rolling it around to get the job done, just back your truck up as close as you can and the pressure washer is ready to go and so are you. The Super Max 8900C-840 is your best choice for your commercial industrial cleaning application that need the cleaning power this machine puts out.
If you're familiar with pressure washers then you know one that uses cold water to clean is just as effective as one that uses hot water. It's the pressure behind the water that makes such effective cleaning possible. Should you desire to have that selection anyway then there is an optional support of up to 180°F that you can request. For more information about that additional feature you will just need to give us a quick call.
The gasoline engine on the 8900C-840 has a two gallon tank, a manual starting system in the form of an electronic ignition and is a heavy duty workhorse with 14.0 HP OHV. With this cleaner you're all set up for continuous operation and chemical infusion with low pressure injection. You'll be using a durable 3' trigger wand that has a quick disconnect with a standard nozzle that has a 0° blast and the ability for 15, 25 and 40 degrees. The included high pressure hose is a 25' hydraulic hose and you have the additional options of purchasing customizable lengths, which are great for reaching the toughest areas.
This is a nice looking model that's not too big; it's 23" in width, 43 inches deep and 26" high without the handle, and it weighs a light 310 pounds. The Super Max 8900C-840 is made of powder-coated steel, has a high gloss finish, and it is chip and chemical resistant. You can also include two other features: the multi-gun operation and the wet sandblasting system. All you have to do is call us for pricing information.
It blasts away dirt and grime to smithereens
We are sure you already know the power behind a pressure washer and what it can clean, but we want to examine the jobs a pressure washer is good for. For the most part, a pressure washer is the one machine that can easily and quickly remove dirt, grime and other substances much quicker than if done manually.
Mold, grime, dust, dirt and mud are no match for a pressure washer on almost any surface. Be sure you are familiar with each surface you're working on because you want to know how far you should be back from your job before you begin. Using a pressure washer too close can result in damage to the service. You'll be able to blast paint off of a boat or other structure that needs to be refurbished as well as clean vehicles, buildings and concrete structures and surfaces. Almost every job you tackle will be more than adequately completed by using a pressure washer.
We mentioned about the attention that needs to be paid to the amount of pressure to certain surface and breakdown of how the pressure is expressed should be of help. The volume of a pressure washer is expressed in gallons (or liters) per minute that are often designed into the pump and not variable.  The pressured is expressed in pounds per square inch (or pascal or bar where relevant) and is designed into the pump. If it needs to be varied then you'd have to adjust the unloader value. We also have available machines that produce pressures from 750 to 30,000 or more pounds per square inch.
The Super Max 8900C-840 is the complete package
With this fine machine comes a one-year limited warranty on the machine; a five-year limited warranty on the water pump and a two-year motor/engine limited warranty. We wouldn't worry too much about whether you're going to need to make use of those warranties because our products rarely are returned for repairs. In fact, should a repair need to be made you can simply order the part and replace it yourself. That probably sounds harder than it really is; our products are manufactured for ease of user repair. That's right – you'll be able to fix it yourself and keep on working without losing too much time or footing the expense of mailing a 310-pound apparatus.
Let's review what attachments are included. You'll get one each of these standard parts:
3' Durable Trigger Wand with Quick Disconnect
0º Blast Nozzle
15º Nozzle
25º Nozzle
40º Nozzle
25' High Pressure Hydraulic Hose
As you can see the Super Max 8900C-840 gas powered, cold water pressure machine is up to tackling any job you put it up against.  Don't wait any longer to order yours today so you can get back to work at wiping out grime.