November 11, 2014
The Best Tile Cleaning Equipment Supplier in the Industry
In almost every business there are areas that are finished with tile and grout. Bathrooms and kitchens are the most likely areas to use tile and grout. These are also high traffic areas, whether used by employees or customers. You want these areas to always look clean and present a positive atmosphere in your business. These can be the most difficult places in your business to keep clean. Grout is a porous surface that attracts and absorbs dirt and grime easily. The maintenance and care of your grout and tile can be handled expertly by Daimer®, the best tile cleaning equipment supplier in the industry. Our impeccable reputation and professional product specialists are here to serve you in all your cleaning and maintenance needs.
Reliable Steam Cleaner for Tile and Grout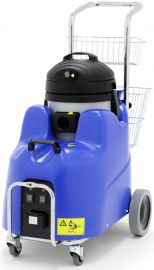 Routine mopping and spot cleaning of tile and grout will not get the job done. Dirt and grime will build up in your tile and grout, causing discoloration which will give your kitchen or bathrooms a dingy look that can turn customers away. Our reliable steam cleaner for tile and grout is the best solution on the market today. Daimer® wants to be your tile cleaning equipment supplier. We offer competitive lease to own packages that won't break your budget as well as providing the best reliable steam cleaner for tile and grout that will suit your needs. Our expert product specialists are on hand with over 100 years combined experience to help your business choose the best products and services available to fulfill your needs. Our call staff is available at any time to assist existing customers or answer the questions of potential new customers. Our staff can direct you to a product specialist according to your needs. Call us today to discuss any questions you have for a reliable steam cleaner for tile and grout areas in your business. We also have the largest variety of products available on the market. You can also find us in over 120 publications both domestically and world-wide. Our clients include a wide variety of industrial and commercial businesses from the White House to General Electric. We are a trusted company supplying reliable steam cleaner options for businesses both in the United States and internationally. With many options for cleaning and maintenance of your tile and grout, there is bound to be a solution to your unique problems.
Commercial Grade Tile and Grout Cleaner
Why would your business even need a commercial grade tile and grout cleaner? Grout is a mixture of cement, sand, and water that is used to hold together any type of tile work. It can absorb dirt and grime very easily and requires routine cleaning and maintenance in order to maintain a look of cleanliness and brilliance that will accentuate your facilities. Tiled areas are very noticeable by customers or others visiting your business. Restaurants, schools, hospitals and other such locations are places that people expect to be clean. If the tile and grout are looking grimy and dingy, the perception could be that the entire facility may be dirty. This can be a big "turn off" for customers or patrons. A good commercial grade tile and grout cleaner can be the solution for attracting and keeping customers with a pristine facility that is beautiful and well maintained. In addition to the aesthetics of your facility, one has to be concerned about health issues as well. Mold, mildew, and lime scale can build up on tile and grout, especially in damp areas such as kitchens and bathrooms. If a customer has the perception that a restroom is dirty or unhealthy, they are not likely to give that establishment their business in the future. Clean restroom facilities are priceless were business growth is concerned. Business owners cannot let price be a huge concern where cleanliness in concerned. This is where Daimer® can help by providing the best commercial grade tile and grout cleaner and machines on the market. No matter your business, Daimer® is the right tile cleaning equipment supplier for you. Our on hand staff and expert product specialists can assist you in finding the products you need for increasing your business with beautifully pristine facilities that customers will want to revisit time and time again.
Tile Cleaning Equipment for Lease
At Daimer® we understand that businesses may not have the budget for large purchases. We want to make sure your business can avail itself of our excellent line of products. We have developed a top rate leasing program through the Leasing Station that gives your business options for leasing our equipment so you can purchase our top notch cleaning products and equipment. Tile cleaning equipment for lease is a great way to have the best equipment for your business with a minimum outlay of capital. Our convenient monthly payments or even delayed payment allows for flexibility in your business planning. Our tile cleaning equipment for lease is available through Leasing Station for qualifying businesses in the United States and in Canada through independent leasing agencies located there. Lease Station can give you approval information within 30 seconds. Even if you are a new or start up business, this program can be available for your business. Call Daimer® today to discuss your options for tile cleaning equipment! We can be contacted through our website at www.daimer.com or calling 1-800-471-7157.