October 10, 2014
Tile Cleaning Equipment – A Tool for Many Occasions
While carpet is a great flooring choice for most occasions, there are SOME occasions where it simply is not viable. That being said, you may want to consider tile for certain situations. For example, tile is a great option for rooms that absolutely need to remain sanitary. Examples could include:
Bathrooms
Kitchens
Laboratories
Emergency Rooms
Swimming Pools
Factory Floors
Showers
That being said, you need to find a good way to clean it, particularly the grout between each tile. Over time, and actually quicker than you realize, mildew can easily build up between the tiles, and while it might not seem like a huge problem at first, it becomes a rather serious issue when people are actually afraid to touch the walls. When properly cleaned, tile walls can look like the most sterile surface in the world. When not properly cleaned however, it will leave many to wonder exactly what is growing on the walls and what army they should bring to kill it. Tile cleaning equipment however can fix this problem, and some of the best commercial grade tile and grout cleaner can be found right here on the Daimer website. Regular cleaning is a must regardless of your industry or business, so let's take a look at steam cleaners and discuss just why they are so often used as commercial tile cleaning equipment. From restaurants, to retail shops, to commercial kitchens, tile floor can be found anywhere, and their potential for becoming filthy is always through the roof. Just make sure it doesn't happen under your roof.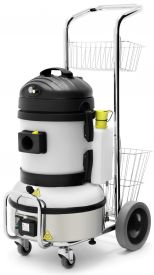 Steam Cleaners – Recommended for Tile and Grout
Tile floor cleaning equipment comes in many different forms, and it is well known that grout absorbs any sort of grime or dirty quickly. It is, after all, a porous material. Steam cleaners are able to remove hardened deposits from the grout and tiled surfaces, ultimately leaving a clean surface, shining as if it were the day it had been installed. Daimer's technology is not only recommended, it is often considered to be superior to many other tile cleaners on the market.
The tile and grout cleaning equipment gives you an edge that you never had before, ensuring you a weapon in the battle against dirt, grime, and even spills.  Most importantly, you will be able to rid your tile of up to 99% of harmful bacteria, and in a sterile environment this is absolutely vital. Daimer's floor cleaners utilize powerful motorized spinners that allow you to clean far faster than with other similar products, which explains why Daimer is one of the most preferred industrial brands when it comes to steam cleaning.
In addition to being powerful, the Daimer's KleenJet® vapor steam cleaners meet EPA guidelines. The Environment Protection Agency strives to ensure compliance. While seeking EPA compliance might be a bit of a hassle, Daimer ensures that all our antibacterial KleenJet® vapor steam cleaners meet EPA guidelines.
Benefits of Steam Cleaning
The greatest and most clear benefit of steam cleaning that we have mentioned thus far is the ability to clean quickly, but what about the fact that it uses a single ingredient rather than a plethora of chemicals? Steam cleaners simply use water and heat, sanitizing your home, office, pool, or other area with those two very basic ingredients. By reducing the chemicals that are recycled into the water supply, you help the environment, thereby making steam cleaning a more eco-friendly method of cleaning.
Steam deodorizes and sanitizes using the heat and moisture, as we mentioned earlier, leaving you with a clean, smooth surface. So aside from having a clean surface or a clean home, what does this mean to you exactly? For one thing, it means that you will be spending far less money on cleaning supplies. A steam cleaner can tackle most surfaces, ultimately foiling the adhesive connection that dirt and grime tend to have with the surfaces they inhabit. That being said, if you do not want to rush out and purchase your own steam cleaner, then it might be a good idea to look into a tile and grout cleaning equipment rental service that will meet your needs and give you the equipment you need to truly make a difference. If you are ready to go the distance however, there are plenty of steam cleaners for grout and tile available, ensuring that your tile surfaces are cleaner than ever before. As you look through the list you will be able to compare the different cleaners and see which one works for you. From the size of the boiler to the length of the hose, there is a model for everyone, and before you know it, your tile will be cleaner than ever before.