August 05, 2015
You Won't Go Wrong with the Truck Mount Carpet Cleaning Equipment: XPH TM 10230
What is your normal procedure for gaining new clients and contracts? Maybe you're sending proposals to different apartment complexes, and you've already cruised by each one and witnessed the size and manpower needed to complete the task of cleaning each unit. And, more than likely, that caused you to think about the equipment you're using and evaluating whether it is powerful enough to complete such large jobs.
For other contracts in commercial and industrial settings you will also need a powerful, truck-mounted machine. These settings often have a lot of carpeting so you'll want to be confident that the machine you're using can perform the job and perform it well. You also want to make sure that your equipment reaches the areas that need servicing.
The features behind the power
With the truck mounted carpet cleaning XPH TM 10230 you won't give a second thought to whether you're able to complete a particular job. You will already know that with the 10230, our high-powered 25 HP gasoline engine and the fully adjustable PSI behind it, you're all set to take carpet cleaning to the next level.
The XPH TM 10230 works at 4.8 GPM and reaches temperatures of up to 210°F while using our included patented XTreme-XTraction® wand, which comes with distinct temperature and pressure controls. The heat exchanger on this machine includes two rugged stainless steel heating coils and you also get 300' of hoses. In a steel frame and at a solid 550 pounds with dimensions of 55" in length, 32" in width and 40" in height you will have a cleaner that not only looks like it packs a hard punch, but that also delivers a hard punch.
Let's go over some of the specifications for this model:
Engine is 25 HP
Adjustable Pressure to 1000 Psi
Maximum and adjustable flow rate at 4.8 GPM
Reaches temperature of up to 210°F
Heat Exchanger and two stainless steel coils
Adjustable Heat Exchanger with Temp Control
Max CFM Airflow at 410
Water Lift is 16" Hg
Four (4) vacuum filters are included in sequence
Stainless Steel Recovery Tank that holds 80 Gallons
12" XTreme-XTraction Carpet Wand
Pressure and Temperature controlled Special Wand
300' of Vacuum Hose Length
300' of Solution Hose Length
Vacuum Safety Valves
Adjustable Chemical Feed
Tachometer
Pressure Gauge
Hour Meter
Pressure Safety Valves
Faucet Adapter Kit
When you use this carpet cleaner, you'll be treating – or pre-spraying – the area with green chemicals that are specifically formulated for use on carpets then waiting until it softens and loosens the dirt. After that you will use the vacuum extraction function of the machine to remove all of the released dirt. In top-quality trunk mounted systems customers don't have to worry about the carpeting getting too wet because of the low flow rate of 4.8 or lower GPM.
Other tools that make this the best truck mounted option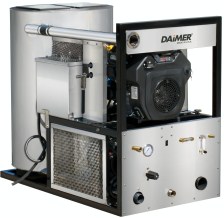 One of the best things about carpet cleaning machines with low-flow functioning technology is that it helps to cut down on the potential risk of the development of mold and putrid odors. As you probably know, the low-flow function is also great when using on upholstery like what's in your truck. It's a great way to maintain your vehicle for a fresh and professional appearance.
Should you need additional gadgets to maximize on your cleaning functionality we have the following optional features available to you:
Vacuum Hose Reel, Solution Hose Reel, Adjustable Thermostat, Standard Solution Hose Reel, Inline Auto Dump System, Stair Wand, Upholstery Wand, Crevice Tool, 12" 4 Jet Squeegee Wand for hard surfaces, 18" 4 Jet Squeegee Wand for hard surfaces, 9" Patented Motorized Spinner for hard surfaces, 19" Patented Motorized Spinner for hard surfaces, and a 12" 4 Jet Wall Wand for hard surfaces. Your purchase also comes with a 12-month limited warranty.
Those are a lot of cleaning goodies for one apparatus, but there hasn't always been that much power or effort put into a cleaning machine. Years ago carpet cleaning only involved the occasional vacuuming to remove loose dust particles and dirt, but as a society we have become more aware of a greater need for cleanliness and healthfulness. And, overall, customers and business owners expect their environment to meet certain standards. In order for this to occur a different kind of machine needed to come on the scene. With increased knowledge and the advancements in technology over the years we're able to offer you the aforementioned XTreme-Power XPH TM 10230 as well as other advanced cleaning systems.
It's one of the machines we stock that's a step above others on the market and it offers much more than just mere vacuuming. If carpeting continues to accumulate drink spills, food stains, mud, dust and dirt then eventually it will become embedded with those particles and they'll be trapped within the fibers of said carpet. Over time, that carpet will begin to look gray and dusty in color and no amount of vacuuming will help.
That's the type of information you're probably sharing with your potential customers and clients as well as listing the benefits of hiring a carpet cleaning contractor. In fact, given the ease in which you can operate the 10230 just back it up to the door of a potential client, with their permission of course, and demonstrate on a small portion of carpet how you will clean it and how it will look afterward. From there it's only a matter of time before you have landed another contract for your business.