May 08, 2015
XTreme Power-5800TU – Great for Auto Detailing and Commercial Upholstery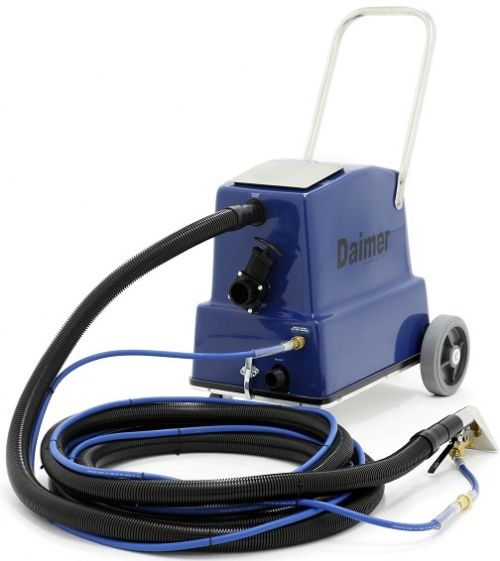 In this day and age, many auto companies offer more than just exterior work on a car. If your company is one that offers auto detailing or even upholstery cleaning services, then the XTreme Power XPH-5800TU is the tool for you. Because of the variety of textures and surfaces found on the inside of vehicles, auto detailers are faced with the challenge of providing quality workmanship. Many times, these projects require multiple cleaning tools in order to tackle these surfaces appropriately and efficiently. Considered to be one of the most powerful and reliable carpet upholstery steam cleaners in its class, this tool can ideally be used for car carpeting, car seats, furniture and even office cubicles. The XTreme Power-5800TU provides the option to vary heated temperatures and flow pressure. For those looking to minimize water usage and shorten drying time, the low flow option offered with this machinery will do just that. 
Basic Product Description
This carpet and upholstery cleaning tool is equipped with a 4.5 gallon solution tank which features a heater with the ability to heat water to temperatures as high as 150° F. In addition to the ability to reach high temperatures, the XTreme Power XPH-5800TU can reach pressure levels of 170 PSI for better cleaning abilities. This equipment works by essentially injecting water and/or cleaning solutions into carpet or fabric upholstery and simultaneously extracts dirt, grim, water and the cleaning solution.
Each XTreme Power XPH-5800TU includes a 4" Single Jet Upholstery Wand, 25' Vacuum/Solution Hose, and comes with a 2 gallons of Eco-Green® Carpet Care and Upholstery Cleaner. The Single Jet Upholstery Wand is a heavy gauge stainless steel wand. The make and shape of these wands help ease the handling of the product as the stainless steel material ensures long lasting durability and longevity. An easy-to-operate latch is provided tp quickly and easily drain the recovery chamber. The hoses provided with this machine offer ample opportunity for cleaning cars and larger spaces. The 25' hoses allows for continuous movement without the necessity of moving the machine to varying locations multiple times throughout the cleaning process.
Additional Key Features
In addition to the main machine composition, the XTreme Power XPH-5800TU has an abundance of product specifications that are guaranteed to provide the necessary enhancements to whatever project is being tackled. Low flow technology allows faster drying times.  This is most beneficial to detailers who are looking to cut down on time and provide fast service to their clients.
Though this product can be upgraded to another highly popular version of the machine, the XTreme Power XPH-5800TU also possesses a powerful two stage vacuum motor and maximum water lift and air flow capabilities of 100 inch and 100 cfm respectively. In addition to the wand included with this product, there is an optional 12" single jet carpet wand available for purchase. This product is not equipped with automatic fill or dump capabilities, however emptying the water tank is quick and easy.
Free Eco-Green® Cleaning Solution
The free 2 gallons of concentrated cleaning liquid provided with each purchase is a completely eco-friendly product. Eco-Green® does not use traditional checmials and will not leave a residue behind.  It is readily biodegradeable, environmentally friendly, non-toxic, and hypo-allergenic.  This allows for safe and effective deep cleaning.
Ease in Assembly and Operation
As powerful and efficient as the XTreme Power XPH-5800TU is, this item is also easy to operate and assemble. All hoses are able to be attached quickly and easily. The system can easily be turned on from the back of the product. Once on, the operator is advised to allow up 15 minutes for the system to reach the maximum temperature of 150° F.
All in all, by providing some of most optimal temperatures, pressures, and dry times of machinery cleaning technology in its class, the XTreme Power XPH-5800TU is an excellent addition to your business.