May 12, 2015
XTreme Power XPH-9300U: The Upholstery Steam Cleaner that Every Auto Detailer Needs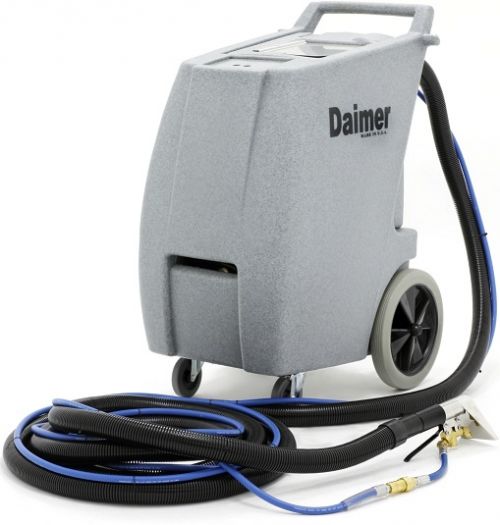 The technology that drives steam cleaner machines for upholstery has undergone changes that are quite dramatic in the recent years.  Carpet steam cleaners are typically utilized to remove dirt and stains from upholstery, carpet and other surfaces but the more advanced machines – carpet extractors like this one – do so much more than just this.
When you want the best in terms of an upholstery carpet cleaner, there is no other name to look for than Daimer®.  Take the XTreme Power XPH-9300U for example.  This machine is just what you need when you want to clean fabric and upholstery for residences, offices, car seats and furniture.  It also doubles as a carpet extractor that is quite effective.  This machine is equipped with a pair of two stage motors that are quite powerful and these motors work to provide the capability for a water column lift that will extract the dirt along with the extra water to allow for faster drying times.  Carpets can be clean and dry again quickly.
This advanced steam cleaner for upholstery is also equipped with a special technology for temperature control.  This allows for you to be able to modify the output of the temperature depending on the specific application.  This is one of the features that make this machine great for use in the industry of auto detailing due to the need in this field for a machine that can clean comprehensively while allowing for fast drying times.  Because of the ability to adjust the temperature to accommodate for a variety of fabrics, the XTreme Power XPH-9300U is ideal for detailing vehicles.
This machine also features a pair of inline heating elements.  These elements assist the machine in achieving a temperature output that can be up to 210⁰ F.  This is accomplished in only 5 minutes!  Professional car detailers prefer the cleaning machines that carry the Daimer® name because they are not just durable, they are also reliable and easy to use.  Draining the recovery chamber is simply and conveniently done using an attached hose. 
This machine is an upholstery cleaning and auto detailing system that is commercial grade.  It has a higher capacity and heats to higher temperatures when compared to other machines on the market.
Features at a Glance
Drying times are up to an hour for upholstery and about 2 hours for carpets
There are a pair of two stage vacuum motors
Can heat water to 210⁰ F within 5 minutes
The pressure level is 220 PSI
The capacity of the tank is 17 gallons
What You Need to Know
The XTreme Power XPH-9300U is the ideal powerful machine for applications including cleaning the carpeting in vehicles as well as fabric upholstery such as hat found in office cubicles, car seats and furniture.  It has a tank that holds 17 gallons and as such, it is one of the most powerful and popular high capacity steam cleaners for commercial carpet and upholstery in the world.  This is a system that generates a pressure level of 220 PSI.
This system has a pair of inline heating elements that allow this machine to achieve a temperature of 210⁰F in as little as 5 minutes.  Two 2 stage vacuum motors provide incredible suction power.  The engineers built this machine so that it has the maximum amount of airflow for drying power as well as a water column lift that is exceptional.  Because of this, the 200 CFM airflow combined with the water column lift of 150 inches means that the drying time that is necessary has been minimized.
Because of the rapid drying time this machine is the ideal choice for applications such as in businesses, hotels, commercial upholstery or furniture cleaners, used furniture dealers, car dealers, auto detailers and anyone else who is in search of a steamer with a high capacity and cleaning power that is dramatic.  Additionally, due to the faster drying times, this machine is perfect for use in environments that are humid.
The XTreme Power XPH-9300U utilizes the same patented technology for low flow that is found on every one of the Daimer® cleaners for carpet and upholstery.  This technology allows for efficient, powerful and effective cleaning that minimizes the amount of water that is used.  There are also 25 foot long hoses that offer more convenience when being used for applications that need to be completed without necessitating the relocation of the machine.  There is also a 12 inch carpet wand that is an optional accessory and this wand can be used for traditional carpets cleaning.  When using the 25 foot hoses, you can clean 2000 Square feet without needing to move the machine. 
Last but not least, the recovery chamber is easy to drain.  The height of the machine is above that of a toilet so you can simply bring the machine to a toilet and let the water drain out into the toilet using the attached hose and you are done!
When you want a steam cleaner that is for use on upholstery or carpet, one that has high temperatures and pressure coupled with a fast drying time then you want the Daimer XTreme Power XPH-9300U.