Cleaning Tile Grout Floors and Walls - Vapor Steam Cleaning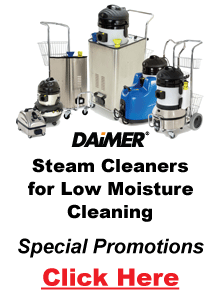 It happens many times to everyone. The tile in the home or office, whether floor or bathroom, collects dirt where the grout is resulting in a very unattractive, dingy appearance. To make matters worse, this dirt can be extremely hard to remove, even if the tiles themselves are successfully cleaned. Such difficulties in cleaning tile grout may cause some to resort to unhealthy means, such as mixing household cleaning chemicals. This is definitely not the best way to clean tile grout as it may instead result in an ominous trip to the emergency room. Better methods for cleaning tile grout can be found through vapor steam cleaning.

Vapor steam cleaning is one of the best ways to clean tile grout because the combination of heat and steam helps to safely and quickly loosen up the dirt. In addition, usage of detergents or other household chemicals are optional. In fact, many vapor steam cleaning applications can be satisfied perfectly fine using just plain water. However, since vapor steam cleaning can be used for multiple purposes, using the proper nozzles and settings are essential. For example, smaller nozzles work well for cleaning tile grout, especially for bathroom tiles.

How does one determine which home, commercial, or industrial vapor steam cleaning machine to buy when tackling the problem of cleaning tile grout? The answer to this question depends on whether one is cleaning for the home, office building or for industrial purposes. If one is house cleaning, the vapor steam cleaner does not necessarily have to be elaborate. The prices for these vapor steam cleaners range from vary depending upon the model and whether you consider our home vapor steam cleaner in Daimer's KleenJet Deluxe 200S machine up to our Ultra 5000CV industrial steam vacuum cleaner.

For cleaning tile grout in commercial or industrial settings, more powerful commercial industrial steam cleaning machines are required. Commercial cleaning tile grout in office buildings can be achieved by either commercial or industrial vapor steam cleaning machines while cleaning in industrial settings require an industrial vapor steam cleaner. The differences between commercial and industrial vapor steam cleaning equipment lie within the price, features, and power of the equipment. For example, Daimer's KleenJet Ultra 5000 CV machine, an industrial vapor steam cleaner is outstanding, while the commercial models of the KleenJet, (Pro Plus 200S/300 CS, Ultra 500C, Mega 500V/1000V, and Supreme 3000 CV), are excellent models as well.

Daimer's KleenJet Ultra 5000CV is the most 120v powerful tile grout cleaning machine in the industry. KleenJet Mega 1000CV, Supreme 3000CV, and the Ultra 5000CV equipment can even be configured with our chewing gum removal options for those who want to make a living pursing this very unique and necessary opportunity, or others who simply want to remove chewing gum from outside their own facilities.

In conclusion, if one wants to appropriately clean tile grout, vapor steam cleaning is an excellent option. Vapor steam cleaning can clean tile grout for residential, commercial and industrial situations, depending on which machine is purchased. Indeed, vapor steam cleaning might be more expensive than using household chemicals, but the results should be absolutely outstanding, and in the long run its ease of use and fume-free nature will cause it to remain a faster and healthier alternative to hand-cleaning tile grout.
Related Articles