Description
Free Bonus for Ordering Online: 6 Free Extra Plushy Microfiber Towels
Valued at Over $19.00
FREE SHIPPING within the Continental United States.

Please call for quote if shipping outside the Continental United States.

View This Video - Discover Daimer's Exclusive
Technologies & Savings Over Other Brands!

KleenJet Vapor Steam Low-Cost Brushes
Loading ...
Daimer - Your Direct Source for Exclusive Technologies on the Industry's
Most Advanced Steam Vacuum Cleaners with Exclusive Technologies
... at UNBEATABLE Pricing!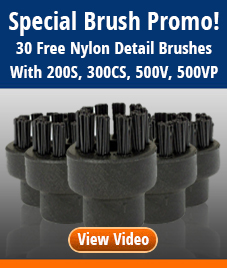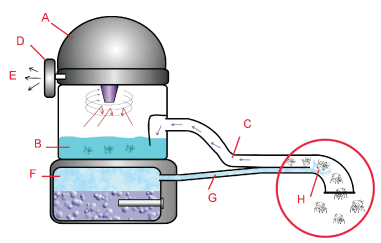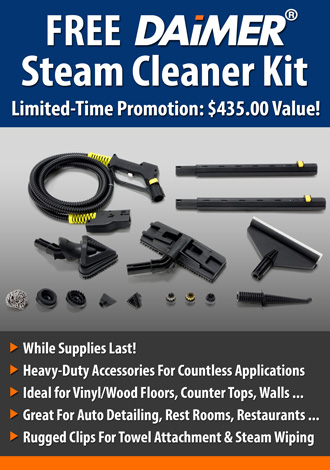 ► Compare to other brands priced at up to $3300 .... without our technologies and features! Save money now and take advantage of our incomparable worldwide Daimer-Direct sales promotions .... machines are priced for lower profit margins to create a very high product turnover!
► FREE DURING OUR PROMOTION: Included with each machine is Daimer's exclusive, patent-pending Certified Anti-Bacterial Technology. A U.S. Environmental Protection Agency (EPA) number is listed on every machine label to ensure authenticity.
HEPA Filter to 3 microns for extra protection against allergens
Wet Vacuum Cleaner to extract moisture while cleaning to help eliminate the need for towels required by conventional steam cleaners that include no extraction capability
Dry Vacuum Cleaner to extract dirt, pollen, dust mites, bed bugs, pet hair, and other allergens from carpet, hard floors, mattresses, and more surfaces and deposits them into water for easy disposal
Air Purification for a cleaner, fresher indoor air environment
Exclusive Water Capture and Water Filtration are standard features
System includes more parts and accessories than any other brand!

Extraordinary Features
The KleenJet® Mega 500V offers excellent pressure of up to 75 psi and temperature levels up to 310ºF. The system is a unique commercial steam cleaner that can be used as a HEPA steam vacuum cleaner or independently as either a vapor steam cleaner or HEPA wet/dry vacuum. This machine is not designed to be a full carpet cleaner, but can be used for carpet spot/area cleaning.The Mega 500V uses a single 110v-120v power cord, which is standard within North America and may other countries. 220v-240v power is inappropriate for use within North America.

The Mega 500V uses a HEPA filter and water filtration to capture dirt and allergens that can aggravate allergy, asthma, and other respiratory conditions. In addition, studies have shown infants/babies/children, pets, and others exposed to allergens have a greater likelihood of developing allergies. Read more about the steam Cleaner uses, applications, and limitations of steam cleaners.

This commercial steam cleaner model with a vacuum is ideal for those requiring a versatile commercial steam cleaner for more multi-purpose applications than conventional commercial steam cleaners on the market.
The KleenJet® Mega 500V includes a large rectangular floor brush with towel clips for steam mopping with included microfiber towels.
► Real Advantages: Besides our many other exclusive technologies, all of Daimer models feature our patented, replaceable heating elements. All of our popularly purchased detail brushes are only $2.50 each versus up to $20.00 from other brands.
Important! Before considering competing steam cleaners, read how Daimer's patented replaceable heating elements can save you hundreds of dollars over other brands.
Read about the uses, applications, and limitations of steam cleaners.
Learn about the Daimer® Difference.
Learn how vapor steam cleaners are inappropriate for cleaning industrial equipment and machinery.
Dry steam is not appropriate for removal of carbonized grease or carbon build-up.
Read about the KleenJet® Mega 500VP - ATIS®, Daimer's Certified ANTI-BACTERIAL commercial steam vacuum cleaner featuring patent pending ATIS ® (Advanced Thermal Ionic Sanitization) technology.
Read how Daimer's advanced, True Variable Pressure Control feature maximizes pressure and temperature. Learn the reasons why it is superior to fingertip control for steam cleaners with pressure levels under 80 psi.
Review Daimer's 2-Stage Filtration Technology.
Read how to save a fortune on steam cleaner detail brushes. Daimer charges only $2.50 versus up to $20.00 per brush from other vendors.
Read about how Daimer's direct-sales approach results in the lowest prices. Compare and review other important issues you should consider when evaluating steam cleaners.
Product Specifications
System Warranty 1 year on parts/labor, 3 years on partsBoiler WarrantyLifetime

| | |
| --- | --- |
| Pressure | up to 75 psi |
| Steam Temperature | up to 310ºF |
| Continuous Refill | N/A |
| Boiler Volume | 4 liters |
| Water Chamber Capacity | N/A |
| Boiler Material | Stainless Steel |
| Presurized Tank | Yes |
| Pressure Cap | Yes |
| ATIS ® Technology | N/A |
| Detergent Chamber Size | N/A |
| Heating Element | removable rod |
| Heating Time (cold) | Approx. 15 min |
| Heating Time (hot) | Approx. 10 min |
| Operating Time | up to 4 hours |
| Vacuum | Yes |
| Extraction Chamber Size | 4 liters |
| Vacuum Suction | 2200mm water column lift |
| HEPA Filter | Yes |
| Water Filtration | Yes |
| Steam Hose Length | 10' |
| Steam Vac Hose Length | 10' |
| Optional Steam Hose | N/A |
| Optional Steam Vac Hose | N/A |
| Cover Material | Stainless Steel |
| Base Material | Stainless Steel |
| Power | 1600 watts |
| Weight | 28 lbs |
| Dimensions | 14"L X 14"W X 20"H |
Parts List
Daimer's advanced patented features unavailable through any other vendor
PARTS INCLUDED WITH THE SYSTEM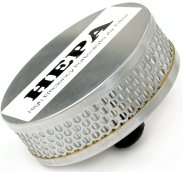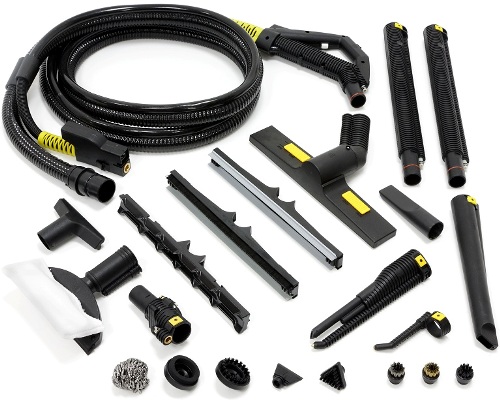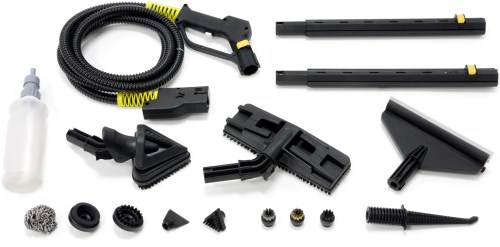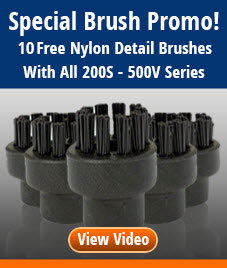 Free Bonus for Ordering Online:
6 Extra Extra Plushy Microfiber Towels Valued at Over $19.00
Standard Parts / Quantity
Ten Foot Detachable Steam Hose with Heavy-Duty Connections
1
Extra Heavy-Duty Extension Rods - $75.00 Value During Promotion!
2
Large Triangular Brush with Towel Clips
1
Large Rectangular Floor Brush with Towel Clips for Steam Mopping
1
Steam Squeegee for Mirrors and Windows
1
Single Hole Steam Lance for Brush Attachment
(This Actually Slides into the Handle for Greater Stability.
Any Other Makers' Simply Attach to the Handle.)
1
Nylon Detail Brush
2
Brass Detail Brush
2
Stainless Detail Brush
2
Steam Scraper
1
Round Detail Brush
2
Steam Plunger to Sanitize Bathroom Sink Drains
1
Small Triangular Brush for Corners, etc.
2
Steel Wool Pad to Place Over Some Brushes to Target Grease Buildup
1
Water Refill Bottle
1
Large Steam/Vac Floor Tool
1
HEPA Filter
1
Steam/Vac Grout Cleaning Tool
1
Steam/Vac Squeegee & Brush Strip Floor Tool Inserts
2
Steam/Vac Floor Tool Carpet Insert
1
Steam/Vac Squeegee for Windows & Glass
1
Cloth for Steam/Vac Squeegee
1
Single Hole Steam/Vac Lance
1

Upholstery Nozzle

1
Extra Heavy-Duty Steam/Extraction Extension Rod
2
10' Detachable Steam/Vac Hose
1
Plush Microfiber Towels
3
Steam/Vac Squeegee & Squeegee Floor Tool Insert
1
Video
KleenJet Vapor Steam Low-Cost Brushes
Loading ...
Related Videos
Related Videos
---
Daimer Vapor Steam Gum Exterminator on TV
KleenJet Gum Exterminator Vapor Steam Gum Removal
Vapor Steam Cleaning Within a House - A Must See
Tile & Grout Cleaning: KleenJet 300CS Steam Cleaner
Home Applications: Vinyl Floor Cleaning
Home Applications: Hardwood Floor Cleaning
Home Applications: Refrigerator & Freezer Cleaning
Home Applications: Countertop Cleaning
Home Applications: Dishwasher Cleaning
Home Applications: Oven & Microwave Cleaning
Home Applications: Window Cleaning Video
Home Applications: Window Blind Cleaning
Home Applications: Leather & Plastic Cleaning
Home Applications: Rust Removal
Home Applications: Bathroom Cleaning
Home Applications: Mattress Cleaning
Home Applications: Carpet Spot Cleaning
KleenJet 300CS Interior Auto Detailing Condensed
Applications
Blinds - Cleaning In-Place
Cleanroom Cleaning
Disinfection and Sanitizing
Exercise Fitness Equipment Cleaning
Floor Cleaning and Maintenance - Linoleum
Glass Cleaning
Hotel Room Cleaning
Kitchen Cleaning - Food service Operators
Mattress Cleaning
Mold Removal - Bathroom Showers
Mopping (Steam)
Oven Cleaning
Restroom Cleaning - Commercial
Shower Cleaning - Residential
Tile (Non-Porous) and Grout Cleaning
Upholstery Cleaning (Hard Surface)
Wall Cleaning - Most Non-Painted Hard Surfaces
Window Cleaning
Testimonials
500VP
After reading about your bed bug steamers on the Internet, I decided to buy a 500VP for my extermination business. I have a lot of residential and small business customers. This machine has saved me a lot of time. The vacuum speeds my cleanup and my clients are impressed with the fact that it has special anti-bacterial technology. I also like that variable pressure feature.
R.T.
Brooklyn, N.Y.
500V
I must say that when I got the equipment (the MEGA 500 vapor + vacuum), I thought I would have trouble using it. I read through the user manual and just started using the steam cleaner. I cleaned and sanitized everything in our house (carpets, mattresses, bedspreads, tile and grout, drapes, baths, sinks, showers, upholstery, counters, appliances, walls, mirrors, etc.) and was STUNNED by how clean I could make everything the machine touched! The power I had in my hands to clean anything without chemicals was really something! I'm a 'cleaning HERO' in our home now (my wife and daughter are very impressed)!
I bought the equipment to add services to my existing carpet and duct cleaning business (house cleaning, mattress sanitizing, grout cleaning). The vapor unit and vacuum are both beautiful, shiny, stainless steel. It has the look and feel of real quality. The attachments are all heavy duty. I used it today for the first time, to professionally clean a home and made over $200. The lady was so happy with my cleaning effectiveness that she gave me a $20 tip! I could say nice things about this equipment all day but I think I'll finish by saying - I'm glad I didn't buy the wrong machine!
Thanks,
Philip B.
Brimsby, ONT Canada

500V
Thank you so much for the great sales support! My husband and me were concerned that buying a commercial steam cleaner would be too complicated and too expensive. But after we bought a cheap unit that broke (and it's replacement broke as well), we decided to give you guys a call. We were surprised how affordable this machine was. And we love the stainless steel construction and life-time boiler warranty.
I've been using it on everything! Ovens, bathrooms, tile floors. I even used it on the dashboard and leather seating in our cars.
I even recommended this machine to a friend. (We all live in a gated community and have houses with large tiled floors.)
Lillian H.
Scottsdate, AZ

500V
This is my second Daimer purchase. I am enjoying my new Mega 500V steam vacuum cleaner. The steamer is lightweight and is easy to maneuver--and it's cute-like R2D2 a friend of mine quipped. The extra long hose of the steamer made cleaning the outside of my windows quick and easy. Besides the length, this model has a really nice connection mechanism for the hose connections. It is much easier to slide the bright yellow buttons to connect the attachments than the spring connection in the older model. It is also nice that the latches are labeled, so at a glance I can tell if the attachment is locked, or open. It is really a beautiful unit.
Stainless -much easier to clean than this model's predecessor, which had a plastic housing and some pretty hard to get at crevices. I use mine every day. Both for personal use-Allergies, molds, dog pee under the tack strips, getting all that dust out of the baseboard heaters, my mattresses, and in my business to clean out my industrial serger. A serger sews and cuts raw edges at the same time. Mine runs at about 3000 stitches/minute. It is also self oiling. So, the lint that gets stuck all over it is also full of oil. I can blow all of it out-in about 5 minutes.
This machine has paid for itself. Even if I leave out the doctor appts, and medicines we no longer need for allergies and asthma---
Mary P.
Pittsburgh, PA