March 16, 2015
A to Z of Gas Powered Pressure Washers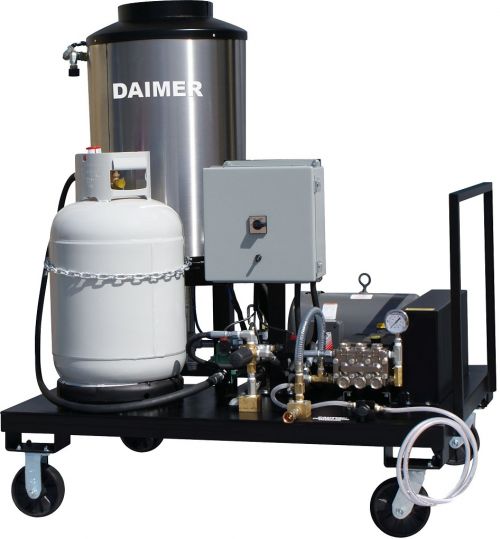 Gas powered pressure washers are versatile, powerful and durable. Though the earlier models used to be noisy, bulky and maintenance-prone, the technological advancements have made them more user-friendly and powerful. Though the basic mechanism of these machines changed much over the years, the newer, more advanced models have now become easier to start, run and maintain.
When it comes to cleaning efficiency, you won't be disappointed by taking your pick from heavy-duty gas powered pressure washers for sale. With the pump producing pressure off the engine output, you won't have to worry about the GPM output and PSI. As compared to their electric counterparts, the gas washers are always better since they offer better cleaning results. However, you should avoid using these washers within a confined space unless the manufactures declares such usage safe, since they generate dangerous carbon monoxide fumes, which is colorless and odorless.
Commercial Gas Powered Pressure Washers
Handling pressure washing applications in industrial and commercial settings is a tough job. Stubborn oil, heavy grease and other difficult-to-remove build-ups present a challenge that only a gas powered pressure washer can handle. However, since not all powered pressure washers for sale are meant for industrial use, you need to be careful while choosing one.
You should also consider other features that your cleaning needs demand. For example, railroads, construction sites, airports, refineries, farms and other outdoor industrial settings would need top rated gas powered pressure washers that boast of improved mobility and can handle cleaning applications across large regions.
The best gas powered pressure washer could be wheel-mounted or trailer-mounted, both of which will have maximum flexibility in reaching distant applications. Unlike electric pressure washers that need a source of electricity in proximity to work, gas powered pressure washers are free to be moved to your desired site even if it doesn't have any electrical source since they don't need one. Thus, rather than being tied to an electrical plug point and having limited mobility, gas powered machines give you the convenience and flexibility in tackling cleaning applications even on sites located at a distance from an electrical source.
Buying Guide for Gas Powered Pressure Washers
Depending on the amount you are ready to spend, you can buy commercial gas powered pressure washers that generate high pressure levels, ranging from 1000 to 4000 PSI. However, with several models having different features being made available in the market, it often becomes a tough task to choose the right one. This brief guide will help you know about some factors that you should look for when purchasing a gas powered pressure washer.
Horsepower: When checking various models of gas powered pressure washers for sale, your primary concern should be the HP rating of the engine because this is what will determine the pressure and volume. You may get cheaper models where high pressure is generated without a proportional increase in the HP, which is something you must be cautious about. Remember – if you have the necessary HP for the PSI and GPM rating, you will have a powerful pressure washer. While domestic users are happy with a washer generating 5 HP, pros in the commercial settings usually opt for those with 9 HP or more. We offer commercial/industrial grade heavy-duty gas powered pressure washers with 18 HP gasoline engine that makes the system extremely powerful.
Volume In Terms Of GPM: Gallons Per Minute helps determine the amount of water your pressure washer is capable of ejecting every minute. This allows you to figure out the washer's effective power together with the PSI rating.
Pressure In Terms Of PSI: Though PSI isn't as important as the above two factors, it still matters a lot. When you have adequate HP and GPM, having high PSI would help. However, it's important to note here that PSI would hardly make a difference without the other two.
Cleaning Power: You can multiply PSI with GPM to find your washer's cleaning power. This figure also shows the efficiency of your pressure washer. You can compare it with the HP rating to get a pragmatic idea of the power your gas powered pressure washer possesses.
The Pump: You should check if your washer's pump is from a reputed brand and not those cheap models made locally or imported from other countries. Having a good pump will ensure that your commercial gas powered pressure washer lasts longer and gives a powerful performance. You can also get readily available spare parts in case the need arises. It's advisable to check the components used in the pump. If you find that it uses high quality parts such as thermal relief valves, ceramic plungers and brass heads, you can rest assured that it's a superior quality pump.
Price: At the end of the day, a gas powered pressure washer is designed to handle specific tasks. So, select a model that fits your needs and pay for just what you plan on using. Since commercial and industrial settings need these washers frequently for longer jobs, they should invest in a good quality one. Instead of buying, they may even lease a gas powered pressure washer in case they need it for a short-term.
To know more about how to make a wise buying or leasing choice, you can contact our experts. We offer a range of gas powered pressure washers that you can use in exhaust friendly locations or outdoors as well as in confined places like a boiler room. Our washers come with long pressure hoses, which enable the operators to reach almost any pressure washing application, located inside and outside within a 300 foot radius. Being rated as the industry's foremost provider of durable, heavy-duty, high quality, reliable and powerful gas powered pressure washers, we are your one-stop shop for these machines, irrespective of whether you want to buy or lease one.