September 24, 2015
Brick Cleaning Machines by Daimer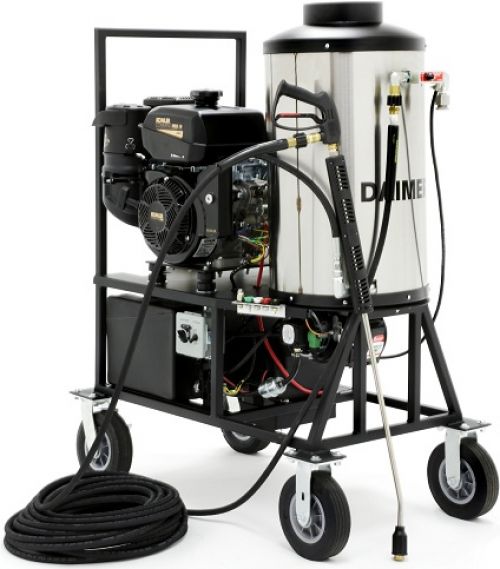 Brick cleaning can be a challenging task within the house or a commercial facility.
Brick cleaning machines or pressure washers are ideal for brick cleaning because the high pressure can blow away the dirt and accumulated grime, which in turn leaves the surface clean. Cleaning building exteriors that are painted is not an easy task but with pressure washers the dirt and residue can easily be removed.
Remove Stains and Grease with Brick Cleaning Machines
DAIMER High-Pressure Washers are tough, durable and ideal for cleaning brick walls and exteriors. These machines are made up of high-quality powder quoted steel that protects it from damage. High-pressure washers are used to wash larger areas and walls. Pressure washers usually clean at high pressure levels like 1500 psi and flow rates of 3 GPM or above. A variety of hard surfaces including bricks, pathways and brick walls can be cleaned with these machines.
These hot water pressure washers are ideal to rid the surface of stubborn dirt, grime, oil deposits and grease. Pressure washing equipment from Daimer supports super high output pressure and they come with advanced features that make cleaning an easy task. These machines help dislodge grease stains that are not easy to remove otherwise.
Residential & Industrial Uses of Brick Cleaning Machines by Daimer
If you are looking for a pressure washer that is powerful and one that works as a hot water pressure machine as well cold pressure cleaner, then the Super Max™ 12860 tri-mode pressure cleaner is just what you need. This cleaning unit is trailer mountable and is available with two-gun option.
Hot pressure washer systems from Daimer find a variety of applications in various industries due to their versatility and durability to deliver a wide range of cleaning results.
Agricultural or farm equipment cleaning:
Farm equipment is usually full of dirt and mud as they are prone to manure and other animal food. Cleaning the machinery can be a hassle and may require professional cleaning from a service station. With Steam cleaners that use the power of pressure, water and steam the equipment's including the truck can easily be cleaned. The machine can handle all sorts of vehicles be it a forklift truck, construction vehicle or any other vehicle. Whether you have spilled motor oil in your back yard or a stained vehicle, the pressure washer has the power to clean all platforms quickly.
Airports Steam Cleaners:
Brick cleaning machines can be used to clean the grout in older buildings that becomes darker with time and recent grout needs to be cleaned to avoid stubborn build-up. Most of the personnel at airports do not clean the bathroom to satisfaction and due to the constant presence of people at an airport, they need a cleaning machine to eliminate the embedded the dirt or grime. Brick cleaning machines are used at airports to clean the grout. Often conveyor belt cleaning can be a challenge but brick cleaning machines can help the belt thoroughly.
Bus Washing:
Brick cleaning machines are often used to clean buses. Due to excessive use buses tend to get dirty from the inside as well as outside. Buses need cleaning tools to help clean thoroughly and also eliminate bacteria and germs.
Concrete Cleaning:
Concrete floors are affordable and look good but cleaning them can be a hassle. Brick cleaning machines help clean concrete floors to perfection.
Floor and Wall cleaning:
You can clean that dirt off the walls that is often ignored at home with a brick cleaning machine. Often there's dirt and bacteria that can cause allergies and this machine helps you clean your walls and floors. Kitchens of restaurants are often dirty especially the walls and floors. Brick cleaning machines can be used to clean floors as well as walls with a hard surface.
Degreasing industrial equipment & Metal:
Brick cleaning machines are used to dislodge the grease off industrial equipment but at the same time it's a difficult task to achieve without a machine. Any sort of metal can be degreased with the help of a brick cleaning machine too.
Kitchen cleaning:
Cleaning commercial kitchens is a difficult task because it has hard floors and dirt often seeps in deeply in such kitchens. But laminate hard floor cleaning machines use high-pressure steam and technology to clean kitchen floors, tabletops and walls thoroughly. Often these services are provided by kitchen cleaning contractors who must have these machines if they want to provide excellent cleaning services.
Parking lot cleaning:
Brick cleaning machines are also used to clean parking lots that cover a large area and due to the pollution and gas emissions from vehicles parked throughout the day, cleaning parking lots without a cleaning tool would be a mammoth task.
Swimming pool tile cleaning:
Swimming pools and their tiles are difficult to clean because of the hard surface, but the brick cleaning machine helps clean pools easily.
DAIMER brick cleaning machines are used commercially to wash exteriors of commercial property; since these are High-Pressure Washers and they are ideal for washing large areas of flooring. Daimer® is the most trusted and popular name in the industry and known for its path-breaking cleaning systems that use innovative technologies and high-quality components. Daimer is a leading supplier in the industry for sophisticated and specially engineered cleaning machines.
We believe in only offering the best and most efficient cleaning machines which will make sure that cleaning your concrete surface is never a hassle again. Delivering unmatched cleaning power and results, our floor cleaning systems contain heating methods and power options.
Learn More
For more information please visit us at - https://www.daimer.com
For information on our concrete cleaning machines visit - https://www.daimer.com/brick-cleaning-machines/