April 17, 2015
Tips for Purchasing and Using a Car Pressure Washer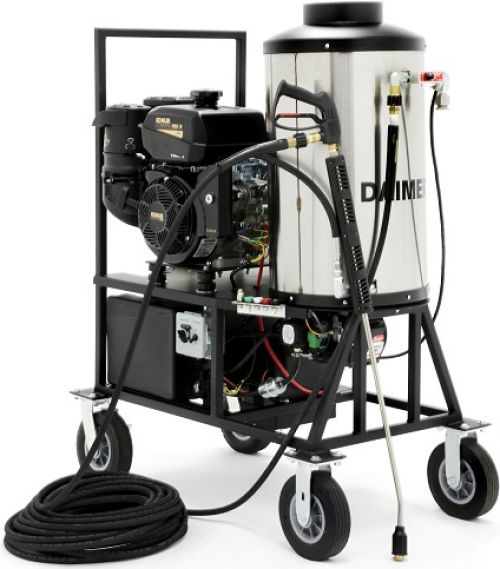 Without a doubt, one of the best tools for washing vehicles of all kinds is a car pressure washer. The powerful water pressure gets underneath dirt and grime to remove it much faster and more effectively than just a hose and a cloth. In addition, the absence of manual scrubbing eliminates the possibility of swirl marks in the paint. One of the biggest advantages of using a pressure washer for cars is that it allows for the addition of other helpful tools such as foam guns, which dispense a thick layer of soapy foam that really gets a deep down clean. Having said all of this, it is important to note that although all this power is great, there are risks involved in using it. You must prepare yourself for the responsibility of using a pressure washer car wash. With this article, we are going to teach you some do's and dont's when shopping for a pressure washer and give you some tips on how to use it correctly to wash your car.
Shopping for the Best Pressure Washer for Car Washing
Whether you are purchasing a machine for personal or commercial use, it is important that you ask yourself a few questions before heading out to shop. The answers will help you find the best pressure washer for your car washing needs.
What types of vehicles are you washing?
Will your pressure washer be used for other purposes besides washing automobiles?
Will there be a power source nearby?
If you will be using your pressure washer on more than just car washing, you might want a more powerful model that includes several different types of nozzles designed to tackle a multitude of projects. Also, if there is no electric outlets where you plan to use the unit, you will need to purchase a gas powered model, which limits your usage to outside only. If you are simply using the machine as a high pressure car washer, and you know there will be a power source nearby, an electric model works great.
We would like to mention here that even an electric pressure washer can sometimes be too powerful when it comes to washing cars. Certain surfaces, such as inside door channels or where paint is already bubbled or chipped, should only be washed with a regular hose, and never a pressure washer.
When shopping for a pressure washer for car detailing, consider the bells and whistles it comes with. For instance, the majority of these machines are built to look good. This is nice, but you must be sure the one your select is also built to last on the inside. If your machine will be used commercially, you want to make sure it includes things like brass heads and stainless steel valves so it is durable and long-lasting. Also, while features such as coiled hoses or reels for keeping hoses and cords organized are good in theory, they tend to make the job of car washing more difficult because they get in the way, or often pull the machine into the vehicle during use.
Flow rate and pressure are the two most important specs when it comes to purchasing the best pressure washer for car cleaning. Flow rate (GPM) refers to the amount of water that exits the nozzle per minute, and pressure (PSI) tells you how powerful the pump inside is. If you are unsure what these numbers should be, be sure to talk to an expert about how you plan to use the machine so they can help you decide.
Responsible Car Wash Pressure Washer Use
As we said before, a car wash pressure washer is a valuable tool for keeping any type of vehicle clean. It works well for general overall washing, and it is especially versatile when it comes to cleaning the chassis and wheel wells, too. Bugs and tar are tough to get off, but a pressure washer peels the grime away with no effort.
When it comes to using a car wash pressure washer safely, though, it is best to use your best judgment. The machine is dangerous and damaging if not used properly. For instance, you can hurt yourself or others with the powerful spray. Never attempt to rinse your hands of soap with the spray, as it will most certainly cut through your skin instantly. The same goes for spraying other people, pets, or your surroundings.
Using a high pressure car washer on your vehicle also carries risk. Using too much pressure can chip paint and bust through rust quickly. You could also inadvertently strip away protective coatings as well. Emblems are especially vulnerable to pressure washing. There are many ways a pressure washer can damage a vehicle, and we're sure you get the picture. Use this powerful tool respectfully and responsibly.
When you are ready to begin shopping for a car detailing pressure washer, be sure to check out our website, Daimer.com. We carry a wide selection of electric and gas models rated for commercial and industrial use that can easily tackle any car washing job, big or small. Our experts are highly trained in the pressure washing industry and are ready to assist you in purchasing the best pressure washer for car detailing. In fact, contact us today and let us show you how our patented technologies make our pressure washers the most powerful in the industry.