February 06, 2015
Comparing Professional Car Detailing Equipment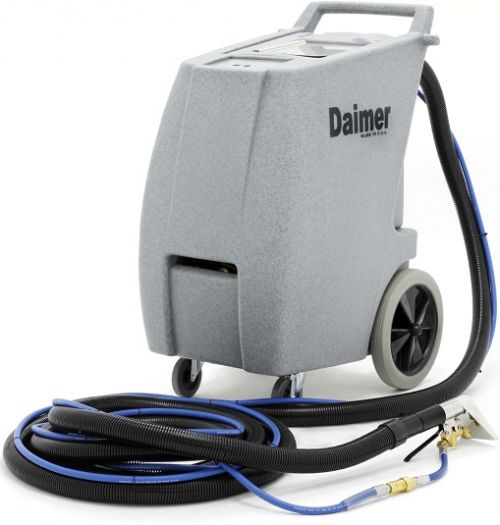 There are many choices when it comes to car detailing equipment, and each machine has something unique to offer. With so many great pieces of machinery available, it is often hard to decide between them. While affordability may play the biggest role in what equipment you ultimately choose, comparing all models available is important. Most mobile car detailing equipment can also be leased, allowing you to get a better machine if needed. Take a moment to compare some of the best car detail equipment available from Daimer and see which machines are right for you.
Kleenjet Supreme 3000CV Professional Car Detailing Equipment
Professional car detailing equipment can be very powerful, which is exactly what you need to cut through grease and other stains. One noticeable difference about the Kleenjet is its blue color and the addition of small wire baskets on the handle. This makes it a great choice for businesses that are always on the move.
The Kleenjet Supreme 3000CV is a great choice for a vapor steamer because it offers advanced continuous refill technology and users are able to use it on interior surfaces. It is a powerful piece of equipment, although it lacks a carpet extractor ability. Instead, it is designed tto offer a powerful surface clean with a pressure level of up to 115 PSI. Higher power levels of the Kleenjet line are also available.
Super Max 6230SCW Car Wash Mobile Equipment
Much like the Kleenjet Supreme, there are different power levels of the Super Max line available. This powerful car wash mobile equipment has a variety of uses and is a practical choice.
In order to get the best clean possible, the Super Max uses a strong vapor steam and vacuum ability. The powerful steam temperature can be as hot as 121 degrees Celsius, which allows you to break up and dissolve dirt easily. High pressures and a decent flow rate of 4.16 LPM allow you to get an all-around powerful clean. Optional configurations also help you get the most out of your unit and find a cleaning solution that meets your business goals.
What to Consider When Purchasing Car Detailing Tools and Equipment
There are many factors to consider when purchasing car detailing tools and equipment for your business. There is an abundance of mobile car wash equipment for sale online and you need to be able to find the best solution for your business.
Here are some of the factors you should consider before making a purchase:
Flow rate
Cleaning temperature
Power levels
Fuel or electrical source
Size of the device
Price
Flow rates and temperatures are one of the most important aspects of shopping for new cleaning equipment, as the higher these features are, the more enhanced your clean will be. The professional car wash equipment online will outline the individual benefits of the device. It is up to you to compare them and research them.
Working with a company like Daimer to find mobile car wash equipment for sale is ideal, as they are very upfront with their devices. Detailed descriptions and an easy compare feature can make shopping online a breeze.
Comparing Prices for Auto Detailing Equipment
There is a very wide range of powerful auto detailing equipment, and therefore there is also a wide range of prices. The more powerful the device is, the more expensive it tends to be. However, you do not want to go with the lowest power option simply because it is more affordable. Consider how you will use the equipment and then decide what power level you should work with. If you need assistance, contact customer support at Daimer. An experienced representative can help get you the information you need to make a decision.
Don't let the price tag determine the cleaning equipment that you get. There are plenty of financing options available for those that need a powerful machine. If the initial purchase price is out of your range, you may also want to consider leasing the steam mobile car wash equipment, rather than buying it.
Keep in mind that the equipment you choose can often be used for other things as well. The best car detailing equipment is suitable for most hard surfaces, so they can be used safely on floors or walls. This allows you to get an all-around professional clean and eliminates the need for a cleaning service to visit your building.
Finding Professional Detailing Equipment for Sale Online
There are several manufacturers that post professional detailing equipment for sale online. Not all of these manufacturers are created equally though. You need to work with a manufacturer that is well-known for producing quality devices and can help you through every step of the purchasing or leasing process.
Daimer is the perfect company to work with because they understand the importance of building quality equipment that lasts for years. They want you to be able to find a durable machine that can keep up with your level of professional use. With quality parts and a design that is very specific to auto detailing, you can buy with confidence when you work with Daimer.
Shopping for the best car detailing equipment should be enjoyable and easy. Daimer makes it easy to research and learn more about the devices that are available on the market. Contact Daimer directly to learn more about what is currently available for sale online.