June 02, 2016
Daimer Heavy Duty Cleaning Solutions
Finding the best cleaning machines can be a difficult task depending on the situation. Not only do you need options that provide great results, but you will have other concerns, such as energy efficiency, durability of the product, and even how environmentally friendly the solution is etc... Here at Daimer Industries, we strongly believe in offering cleaning machine solutions that satisfy all of your needs, rather than making compromises. Our new range of commercial cleaning solutions provide excellent results & they're also offered at unbeatable prices, meaning that you can invest in products that are affordable as well as effective.
Daimer Heavy Duty Cleaning Solutions
Our cleaning machines are tough enough for basically any task. Whether you run a company where cleaning is your primary focus, or you simply want to keep your industrial or commercial facility contaminant-free, you need high end appliances that can tackle any job. We sell machines that fit a variety of industries/niches, and can supply businesses across the continental USA, and in 240 countries globally.
Automotive industries have strong demands when it comes to cleaning standards. Grease, oil and other contaminants can stain workshops, so high pressure washing machines and / or devices are essential to keeping floors and parking garages in top shape. Cleaning actual machinery is typically difficult, but not if businesses invest in steam cleaning products, and other solutions.
Health care is another particular industry where cleanliness is critical. Clean healthcare offices are essential to stop the spread of germs and infectious diseases. Commercial cleaning is also a demanding industry. Commercial cleaning solutions should be powerful enough to ensure that customer and client facing areas are always presentable, and regular cleaning can also help to prolong the life of the carpets and other surfaces in a commercial environment.
Whatever industry or environment it is that you operate in, Daimer Industries has the right cleaning solution for you. From carpet cleaners to pressure washers, you can click here to begin viewing our extensive range.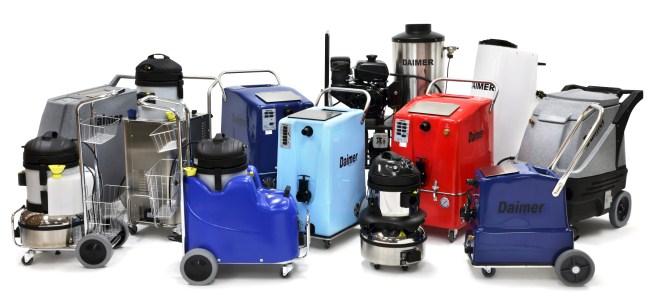 Cleaning Machines for Industrial Warehouses
Below are some of the popular pressure washers, steam cleaners and carpet cleaners for sale online through our ecommerce store. You will find that the wide range of products cover all of the industries above, and many more.
Heavy duty grade carpet cleaners can keep carpets looking fresh, while also preventing buildup of dirt and debris. When carpets are clean, they're also healthy. Germs can live in carpets for weeks, including those that cause the common cold, flu, and rhinovirus. Our professional carpet cleaners use high pressure streams that can take out even the most stubborn types of dirt marks or stains. With water that is quickly heated up to 140 degrees fahrenheit, you can be sure that germs are killed on contact. Our range of carpet cleaners can be used with commercial grade cleaning products, like the Eco-Green Carpet Care solution that is free of harsh detergents and chemicals. Our low price is always backed by top quality and value, and we offer promotions that can help you to get the most out of a brand new carpet cleaning machine, such as the free carpet filters which are currently being offered with XTreme Power XPC-5700 commercial grade cleaner.
Ceramic, marble or porcelain tiles can be some of the most difficult types of hard surfaces to clean thoroughly. Not only do tiles have to be cleaned and sanitized, but you need a powerful cleaner that can work between grout lines to remove stains (all be achieved without damaging the tiles). The Kleenjet Pro Plus 200S is just one example, and it's a versatile machine that can be used in commercial and residential environments. Using vapor steam cleaning, it provides a sanitary surface that is clear of residue. We also provide high quality detail brushes, and you can restock for just a fraction of the price that other brands demand. Because our machines are produced to exacting modular specifications, you won't have a problem finding nozzles or spare parts for your commercial cleaner. This is a clear advantage over importing a product from an unknown supplier.
Car pressure washers can be used in commercial situations, whether you're operating a high end auto detailing facility, or even a car dealership where you want your vehicles to be squeaky clean for your clients at all times. We sell heavy duty car pressure washers that are designed for durability and unmatched cleaning results. Our units are completely safe to use if you're using the machine according to the directions with the provided user manual, even while they use steam temperatures that are the highest in the industry. Accumulated dust and grime is easily removed with any of our units, and in record time. The Super Max 10880 SCW is just one example from our range, and it provides 3500PSI of pressure from a 14.0 HP gas engine.
Flexible Payment Options
While we provide the best quality and most durable cleaning machines in the cleaning industry, we still do everything that we can to make our products affordable. Our line of cleaning products are suitable for differing budget ranges, and lease-to-own payment models that are offered so that even a small businesses on a modest budget own one of our superior technologies.
Click here to learn more about our product categories and uses.