January 19, 2015
Daimer Industries: Providing the best pressure washer around
We have the best pressure washer for cars
Daimer Industries is a 100% American company possessing worldwide customers within all major industries. We are the industry's leading steam cleaners brand for business, commercial, industrial, and even government use. We provide the most powerful, rugged, and technologically superior pressure washers in the business, and our Daimer Steam Pressure Washers emit up to 330-degree heat, the industry's highest.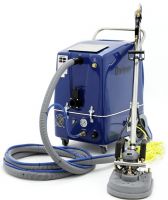 We export to over 240 countries worldwide from warehouses throughout the United States. Thusly, we offer our pressure washers in a variety of power configurations for worldwide requirements. The pressure washers we provide are as follows: 110-120V, 208V, 220-240V, 380V, 415V, 440-480V, and 575V; single and three phase washers; 50 or 60Hz.
All about our car pressure washers:
Each of our pressure washers is equipped with either a heavy-duty NEMA electric motor, or industrial-strength heavy-duty fuel-driven engines for power. Our heated machines use high-pressure stainless steel or schedule 80 heating coils. Pumps are designed for continuous use and, depending on the model, are available with either direct drive or shaft drive configurations. Our steam hoses are crafted from high-pressure reinforced rubber, and designed to withstand extremely high temperatures and are provided in a variety of lengths.

Our machines all have an integrated design that allows customers to replace parts themselves in the event they need to do so. This, as a result, makes the lives of cleaning professionals worldwide much simpler, as they will no longer have to ship machines off to Daimer or a service center for repairs, thus saving valuable work time. We offer overnight shipment of parts and accessories if necessary. 

One of our best products is the Super Max 9000 Custom 220V/1 Phase/50Hz/12000 Frame commercial/industrial grade pressure washer. The Super Max 9000 tri-mode steam pressure washer can operate independently as three different types of machine: a cold water pressure washer, hot water pressure washer, or a steam pressure washer. The steam temperatures are lower than the 6000 and 7000 at 250 degrees, but the 9000 offers increased power due to the higher water flow rate it possesses. The Super Max 9000 connects to a hose line, allowing a continuous flow rate. Its nozzle input is 2.8 gallons (10.5 liters) per minute at an astounding 1500 psi. The wet steam output for the Super Max 9000 can be used with all spray patterns ranging up to 40°. This high-pressure washer is ideal for those applications that will benefit from tremendous pressure, but do not need ultra high temperature capabilities. 
Daimer Industries: Providing a great pressure washer for cars.
Daimer Industries is a private company with our headquarters located in Woburn, Massachusetts, USA. We are recognized all over the world as a leader in innovative, technologically advanced cleaning equipment for either commercial or industrial use for any and every cleaning application. Many years ago, we were the first company to introduce rugged commercial and industrial vapor steam cleaning machines in North America. Here at Daimer, we, being the highest ranked steam cleaner brand on the Internet, are proud to have achieved and upheld our record of revenue growth each and every year, despite the past decade of economic disorder and ambiguity. Despite this, we will continue to focus whole-heartedly on full-company excellence to maintain our reputation of offering outstanding quality and excellent customer support services.
Daimer is a major worldwide supplier and exporter of the industry's top line of Kleen Jet steam cleaners, vapor steam cleaners, and other steam cleaning equipment. We also produce the leaders in Super Max commercial and industrial pressure washers (including cold water, hot water, and steam pressure washing machines) as well as XTreme Power floor cleaners (comprising of carpet cleaners, hard surface cleaners, and floor buffers/scrubbers/burnishes), and a line of Micro-Blasting, Eco-Green, environmentally friendly cleaning products of which employ unique technologies and a patented, trademarked chemistry. 
We at Daimer bring some of the most unique and specialized machines to the world of cleaning. In fact, our company offers over seven hundred models, ranging from light commercial to heavy-duty industrial technologies, available in all worldwide power configurations; both 60Hz and 50Hz. We also offer refined, jet-fuel powered and heated machines to both the aviation industry and military. Our company also builds steam pressure washers that reach approximately over ten thousand pounds for the oil industry. We are a recognized leader in pressure washing equipment engineering and product development as well for those seeking custom industrial solutions. We have developed high-level machines for the military and the oil industry, as well as several others. We are the cleaning equipment provider of markets and industries within the economy, as well as residential users. Many major companies turn to us for their steam cleaning needs; companies such as Dole, Hershey's, Wrigley, General Electric, and many, many others trust us for their cleaning equipment.
Our company philosophy now is exactly the same as when we started years ago. We strive to:
•    Offer the industry's best value for the highest quality commercial and industrial cleaning equipment at low prices (ultimately to achieve a high turnover of sales)
•    Use the best quality components to ensure maximum quality in our product reliability and permanence.
•    Never sacrifice quality for price.
•    Provide responsive and accurate pre-sale guidance to customers to ensure that they purchase the appropriate equipment for their needs. 
•    Maintain a high level of post-sale support and service.