February 17, 2015
Get Your Car More Clean Than It's Ever Been With One Of Daimer's Pressure Washers For Cars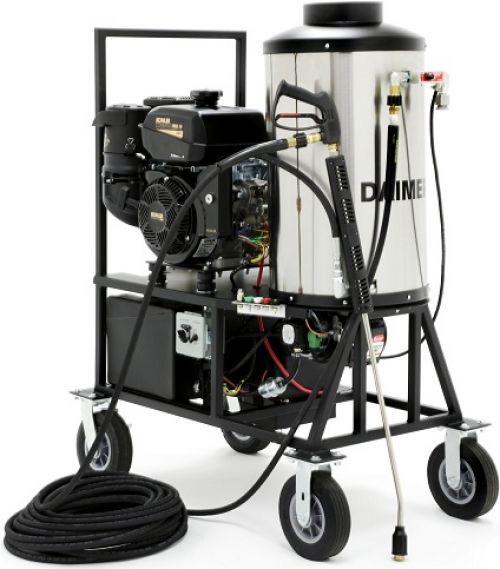 Your car is an important investment to you. When you purchased your car, you believed you would always keep it clean and shiny, but let's face it: that never happens to be the case. If you are like anyone, you want to take care of your car to keep your investment in good shape. One of the ways you must take care of your car is by getting it washed and detailed. Did you know that a washed car gets better gas milage than an unwashed one? All the more reason to keep it looking nice and shiny. If you usually take your car to the car wash to get it washed, you may have noticed that some dirt and residue still remains even after putting it through the wash.
Many car detailers do not take the care that your car deserves during washing and they may end up damaging your car. Professional car washes can also be very harsh on your car and some car washes have actually chipped and damaged cars in the past! Why not put your car's future in your own hands and purchase your own car pressure washer? You will be able to have your own personal car wash in the comfort of your driveway with an excellent car detailing pressure washer.
There is no other way to get the deep clean that you want for your car unless you use a car wash pressure washer on your car. We at Daimer's are pleased to offer you the best pressure washer for cars on our site. We believe in our products and know that they are top of the line in quality and can give you an exceptional outcome when you are washing car with pressure washer from our site.
Give your car a deeper clean with the best pressure washer for car cleaning
The exterior of your car is subject to a number of different substances that take varying degrees of pressure and cleaning to get rid of completely. From bird dropping to bugs, the exterior of your car is an extremely germ-ridden and dirty place. Only the most powerful pressure washer for car should be allowed to remove these products from your car. Our high pressure car washer is exceptional for these purposes. Not only do our state of the art washers provide you with the amount of heat you need to rid your car's exterior of all dirt and grime, they also have the optimal amount of pressure needed to get rid of the dirt without damaging your car.
It is important to use a pressure washer to wash car that is specifically designed for cars instead of buildings and driveways because industrial pressure washers may cause damage to your car because of too high of a pressure level. The great thing about a pressure car washer is that you do not have to worry about it damaging your car. It can maintain the optimal pressure level and can even be decreased to suit your needs. A pressure washer for car detailing should be able to reach high temperatures and all of our products on Daimer's can do so easily. Each of our pressure washer car wash can reach temperatures of up to 330 degrees fahrenheit and will clean your car at a faster and more powerful rate than any other pressure washer car wash.
The soap that you put into your best car pressure washer from Daimer's should be specifically designed to wash car with pressure washer. You should not use any other detergent or soap as that can damage your car's exterior. We are happy to offer you pressure washer car wash soap with your purchase of the best car pressure washer. The car wash soap for pressure washer that we offer has the ability to remove dirt from your car better than most professional car washes' soap does. Of the different types of pressure washer for car wash, steam powered washers are an excellent choice for car detailing.
Not only do they use much less steam than hot water pressure washers, they are able to take off the dirt and grime from the exterior of the car much more easily than other types. The great thing about our car pressure washers and what makes them the best pressure washer for cars is that it has the ability to clean underneath cars, as well. This is something that regular car washes do not usually do and if they do, the job is not well done. Also, our best pressure washer for car can also be used to clean your tires and make them look brand new. Simply apply the tire cleaning detergent on your tires before pressure washing and spray until the soap is completely gone. Within minutes, you will find your tired looking brand new.
The outcome of using one of our pressure washers for your car is that people will stop you and ask you when you bought a new car. In just minutes, your car will look like it did when you pulled out of the dealership with it. You will be left wondering why you did not purchase one of our detailers years ago. There will never be a need to hire a detailer and spend a large amount of money for them to detail and wax your exterior when you have your own personal car pressure washer at your fingertips. Purchase a car pressure washer from us at Daimer's and start reaping the results.