November 20, 2014
Go the Extra Mile with a Gas Powered Pressure Washer
Messes happen, you should know that by now. Actually if you are here reading this then you are either looking to avoid a mess, or a horrific mess has already occurred either at home or at your place of business. Maybe it was an oil spill, or perhaps you have a lot of built op grrease on your factory floor. Either way, you have probably learned a valuable lesson, that lesson being to make sure you clean up properly. In any case, finding a good pressure washer is essential to your operation as a business, and soon enough, you will find that a commercial gas powered pressure washer is likely what you are seeking. Yes there are other types of pressure washers, for example you might consider an electric model, but there are actually clear benefits to using a gas powered models, and the best gas powered pressure washer on the market comes straight from Daimer. Let's take a look at the benefits of the gas washers and what they can mean to your business should you choose to utilize them.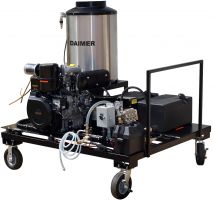 The Benefits of the Gas Pressure Power Washer
Using a high powered gasoline engine to pump, these models are more powerful with a water pressure threshold of 4,000 psi or higher. For this reason gas pressure washers have been noted as being perfect for seemingly impossible tasks. The best part of owning a gas pressure washer is the fact that it does not need an electrical outlet and you will be able to take it virtually anywhere without worrying about whether or not you have access to an electrical outlet. This type of freedom is absolutely priceless when you are trying to clean. After all, cords can lead to all sorts of frustration that you never knew resided within you.
There are however a few downsides to using a gas pressure washer, the main one being the amount of moving parts. An internal combustion engine obviously uses more moving parts than an electric motor and with that being the case, you are bound to need maintenance more often than you would like. Still, there are plenty of pros. 
Some of the better pressure washers in Daimer's arsenal include those that reach 3000 PSI for maximum cleaning potential, and reach a temperature of 330+ degrees Fahrenheit. Some of them, with better boilers, can convert cold water to hot within a window of just thirty seconds. Overall, these systems are durable, powerful, and ready to go at a moment's notice. The big question now however, is how you are going to choose one for yourself with so many options.
There are a wide selection of gas pressure washers available from Daimer, and heated models can utilize different types of heating fuel. The type you choose will depend upon the price of fuel in your area. For example some areas tend to have more access to propane, and others will have better prices for kerosene. Still, once you have a good pressure washer, especially from Daimer, you will find that the unit pays for itself. Without a pressure washer you will end up with stains and messes that you could not possibly get rid of, or would at least need to expend considerable manpower to clean up. 
The sooner you have a good pressure washer in your arsenal of tools, the sooner you will be able to address some of the major messes that modern industry tends to bring. You may have problems with messes and sanitation, but a good pressure washer will most certainly be able to solve them for you in record time.