February 10, 2016
How a Gas Power Pressure Washer Grants More Mobility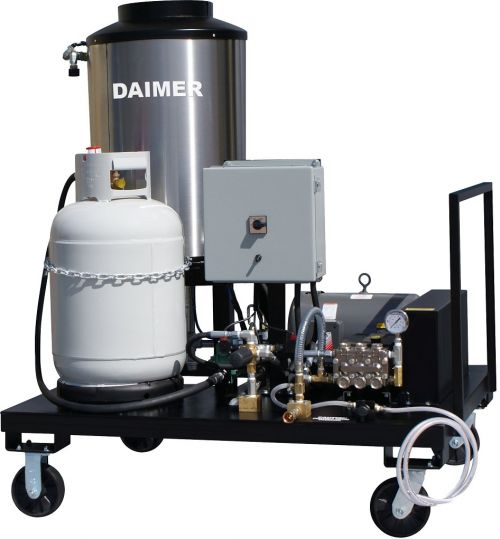 There are more than a few reasons for you to seek out a gas powered pressure washers for sale to use with your business, no matter what sort of company you run. The same goes for homeowners, and quite honestly, when it comes to maintenance, they really cannot be beaten. While you might be of the mind that you can get the majority of messes cleaned up by using a simple hose, you have to consider that many of the messes made throughout the course of the day, are NOT simple messes. You have foot traffic to deal with, first of all, and even on a properly sealed concrete floor, that can become a bit of a pain. You never know what people are going to track in!
Along with the floor you also have the side of the building to consider whether it is vinyl, brick, or some other type of material. Along with that, if you are running a factory or an assembly line, you have to consider your equipment INSIDE. How often does it need cleaned? How much time, exactly, have you wasted trying to keep it all in order? It's a good question that really doesn't have an easy answer, does it? That being said, you have plenty of good reasons to look into a gas powered hot water pressure washer, and we have only listed a few. As you're reading this, however, you might be asking why you should consider a gas powered washer when there are many electric models out here. Well, there are a few reasons, and yes, electric pressure washers definitely have their advantages. That doesn't mean, however, that they are the best option. That being said, now would be a great time to start considering the most important reasons for getting a .
Portability Like no Other
If you're looking for portability, then quite honestly, you can't beat gas power. Sure, electric might have it beaten in most other areas (aside from pressure), but you really can't beat being able to carry your pressure washer anywhere. If, for example, you were running a cleaning service that required you to bring your pressure washer with you, then honestly, could you really beat having a good gas powered pressure washer? If you think about it, having an electric pressure washer for jobs like this would require you to not only have the device, but also a place to plug it in, and you can never guarantee that your destination is going to have the power for it. How embarrassing would it be to arrive at a job site and be unable to do your job simply because there was nowhere to plug in?
Along with job sites, you also have to consider your own operations. If you are working on a factory floor and need to clean, the last thing you ever want to do is stretch a massive extension cord across the concrete sot that you can hose down the assembly line. Not only is this a bit tacky, it can pose a serious danger to your employees in a work environment like this one. In fact, you may find yourself having to stop all of your work as you clean a specific area to prevent a dangerous even from transpiring. As you can see, there are plenty of benefits to having a gas power pressure washer and not too many downsides.
A Few Downsides
Though there are more than a few upsides to owning a gas power pressure washer for your business, there are also a few downsides that you will want to consider. First of all, gas motors have emissions, most of which are harmful, meaning you probably won't want to use them indoors. Secondly, you have to consider that there is an extra operating expense – gasoline. With the cost of fuel rising, you may have to consider using a propane tank to offset the costs, and with that being the case, you will still find that you have a bit of an overhead.
Is the extra cost a good reason to avoid using these types of pressure washers? It really depends on your business and how often you use your gas powered pressure washers. Sometimes, it might actually save you money, especially when you need to get the job done quickly. Take a look at the different available washers, and make sure that your company is ready to keep it clean.