May 15, 2015
KleenJet Supreme 3000CV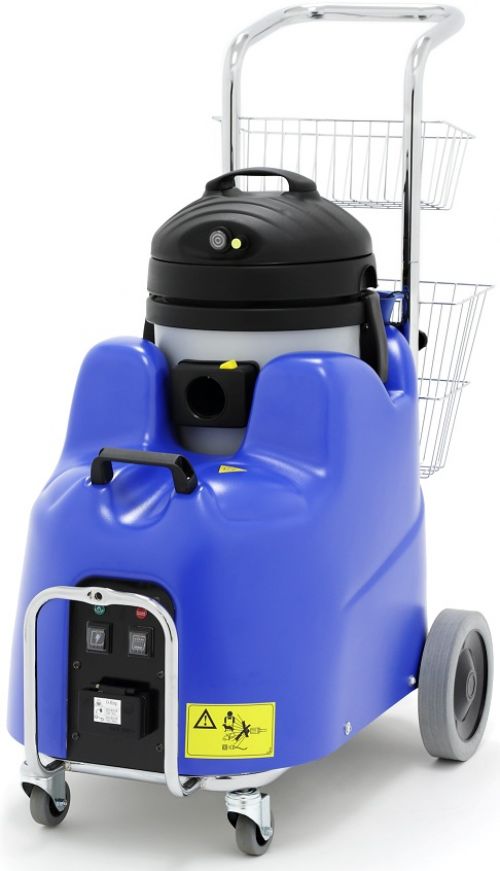 Whether you run an industrial company or a cleaning company, finding the right equipment for the job can make your tasks much easier. At Daimer we pride ourselves on offering the best products for less money. We believe that investing in cleaning equipment shouldn't break the bank. If you are looking for a great steam-vacuum, the KleenJet Supreme 3000CV is a great option. Budget friendly and effective, this tool can be used on a variety of projects.
Our KleenJet Surpreme 3000CV provides is one of the most powerful steam-vacuum machines on the market. This cleaner is perfect for a variety of jobs including residential bathroom cleaning, blind cleaning, disinfection, glass cleaning, and mopping and mold removal.
You can also use the product to clean
Exercise equipment
Furniture
Floors
Hospitals
Restrooms
Ovens
Walls
Tile
Cleanrooms
Upholstery
This versatile cleaner is a great option for multiple uses. One machine can get most of your dirtiest jobs clean. Our unit is designed to provide the highest quality of cleaning available for an electric steam vacuum.
The 3000 CV includes a 5 liter stainless steel boiler and a 4 liter water chamber with a life time warranty. With pressure up to 115 PSI and internal temperatures reaching a steamy 364 degrees, you will get excellent results. 
Our machine is designed for continuous use so you can keep working. The unit takes approximately 10-15 minutes to heat up. At a sturdy weight of 69 pounds, you can wheel the unit around when needed. The 3000CV includes two power cords, a steam hose, a steam VAC hose and an HEPA filter. The included hoses are 10 feet long. You can choose to purchase optional hoses at 16 and 24 feet long.
In addition to the hoses, your steam vacuum machine comes with:
Heavy Duty Extension Rods
Triangular Brush with Clips
Rectangular Floor Brush with Clips
Steam Squeegee for Mirrors
Steam Lance Brush Attachment
Nylon, Brass, and Stainless Steel detail brushes
Steam Scraper
Round Detail Brush
Steam Plunger
Upholstery Nozzle
Large Steam/Vac Floor Tool
Small brush for corners
Steam/Vac Grout Cleaning Tool
Squeegee Brush and Strip Floor Tool
Carpet Tool Insert
Microfiber Towels
Sanitize with the Best System
One of the biggest selling points of our 3000 CV is that the EPA-compliant cleaner utilizes special technology to ensure a better clean.  This unit features high pressure and high temperature levels. The continuous refill chamber allows you to keep working without needing to depressurize the boiler.  With other units you have to stop, depressurize, refill and let the unit heat up again. The auto refill system eliminates that need so you can shave hours off of your work time.
Each unit includes a detergent injection which allows you to add detergent with steam at the push of a button. In addition, the unit includes an air purification system that helps filter air from allergens and dust. Our unique HEPA filter allows you to removed allergens and small particles from the air and the surfaces you are cleaning.
The dry vacuum feature of the product allows you to remove dirt, pollen, dust mites, bed bugs, and pet hair from carpets, mattresses and other surfaces. The wet vacuum function allows you to pull moisture from surfaces so that you don't have to spend time hand-drying after you are finished cleaning.
When you are running a business, it can be difficult to find time to regularly clean your cleaning equipment. Our self-cleaning boilers utilize a pulsating system that prevents build up from forming inside the boiler. The boiler scale reduction system is designed to let your cleaner work at maximum performance longer.
You have the option to purchase our Gum Removal Machine. We take care to ensure that our products can eliminate some of the nastiest bugs and bacteria around.
Versatile Power System
The 3000 CV includes two 110-120v, 15 amp power cords. This model can be used in the United States, Canada and the rest of North America and any other country that uses 110v-120v/60Hz  power.
When your purchase a cleaner from Daimer, you purchase reliability and longevity. Like our other cleaners, the 3000 CV is made from replaceable heating elements and tools. The ability to quickly replace faulty or aging parts can save you hundreds or even thousands of dollars. We sell our parts, machines and supplies at lower prices because we work directly with you, the customer.
When you purchase your steam-vacuum from us you can also purchase additional supplies and tools at a fraction of the cost you will find anywhere else. We offer stainless steel brushes, brass detail brushes, a steam cleaner push cart, microfiber towels and refill bottles. These tools can help make your cleaning easier.
Shipping is free within the continental US, a savings of up to $1700, on select cleaning models and no sales tax, except in Massachusetts. When you need a machine that can take your several different jobs, the 3000 CV is a flexible option at an affordable price.