May 29, 2015
A Pressure Washer with Pizazz is the Super Max 10970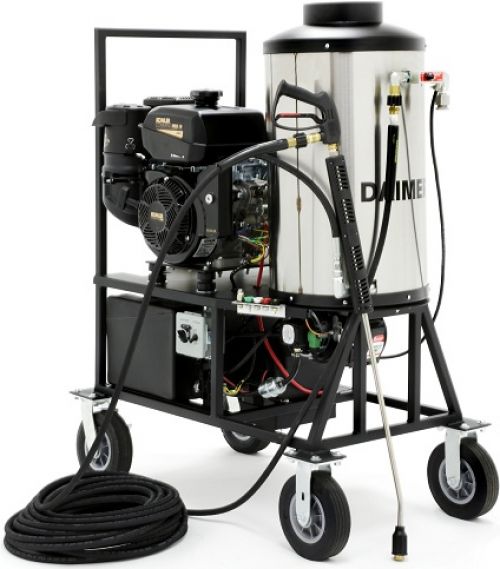 It is amazing to consider how far along pressure washers have come in recent years. Now available in commercial grade quality, these devices can literally make the process of cleaning the dirt and grime off the most stubborn of surfaces a snap. Beyond their functionality of cleaning hard to reach areas, they also serve the vital purpose of allowing various types of business the opportunity to keep their work area clean and tidy with relative ease. You really cannot afford to be without one.
The Features of the Super Max 10970
This pressure washer is powered by 100% diesel technology, and the water is heated to the point of steam, enabling an extraordinary high performance for those that need it. Glow plug technology is also utilized on this device to further up the ante for government agencies, schools, and any other organizational complex that received regular foot traffic. The pressure is set for 2550 psi to to deliver the power that you need, while the flow rate is 4 GMP to virtually guarantee constant movement of particles and grime. Water is heated to steam automatically, yet is incredibly safe. The water will come out at a power 330 degrees F, enabling for the best use of pressurized steam to assist you with your cleaning needs.
This model does come with the option to make use of different temperatures, depending on the job. There is a wet steam, hot water, and cold water option to choose from. Cold water can be converted quickly to either hot water or wet steam using an ultra fast heating mechanism. The process is slated to only take 30 seconds, so there is no need to worry about changing the temperature multiple times. The machine itself is powered by a 9.8 HP air cooled diesel engine that is equipped with a 5 liter chamber. The Glow Plug Technology also enable for special applications when spark plugs are called for, further broadening the scope of operations for this particular model.  The heating method itself is done via Diesel oil, and it has a 9 gallon changer. There is also an upstream chemical feed equipped on the Super Max 10970, and 12 volt technology has been implemented as well.
Many Applications are Possible with this Pressure Washer
If you need a premium pressure washer, the Super Max 10970 is the one for you. It is built to last, while giving you and your organization the opportunity to save both time and money. These days both are at a premium. The unit itself is placed on a base and is highly mobile. This is particularly useful for a large job site. Just fill it up with diesel, make sure the proper liquids are in place, including oil, and you will be able to complete most jobs in a fraction of the time required by lower grade pressure washers. The Super Max 10970 is also durable and long lasting, so you can use it as often as necessary and not have to worry about constant downtimes to get it repaired or serviced. The fact that the washer itself has our name on it is telling as well. With years of experience in the industry, and with numerous models under its belt, this is one of the top pressure washers available on the market today. There is not really a job that can be envisioned that cannot be done with this model, with relative ease.
The demand for industrial grade pressure washers has been steadily increasing over the years. This is party due to individuals forming their own business, to government and community organizations needing to provide a presentable face to their surroundings. While a professional grade power washer such as this one cannot be compared to one that an average homeowner would use, the principle remains the same. If you are not familiar with the particular advantages of such a high-powered machine, contact us and we will be more than happy to go over the particulars with you.
This particular model comes with a free skid version, which allows for easy trailer mounting. In addition, remember that the diesel engine is built with durability in mind. The engine is cleaner running and designed to last longer than traditional gas power models. Consider the many applications that this pressure washer can assist you with. School districts around the country, for example have benefitted from being able to easy wash a fleet of busses. In addition, schools in the same district are then able to use the same piece of equipment to conduct a weekly pressure washing of the concrete walkways and walls around every school. This saves the district time by reducing the cost of equipment over the long run, and it saved labor costs as well as trained personnel can complete the washing duties in a fraction of the time it would take using other equipment.  
Another power application can be seen in the agriculture sector. Farms are getting bigger, and many are now corporately run. The amount of farm equipment that needs to be clean is often astronomical, but the process is made simpler with the Super Max 10970 pressure washer. With the added flexibility of steam and hot water capability, dirt and grime comes off in not time. Keep the equipment on a farm properly cleaned and maintained is essential to avoiding degradation of parts, so this is important to keep in mind as well. These are just a few of the many applications you will find possible with the Super Max 10970.