May 23, 2015
Super Max 12300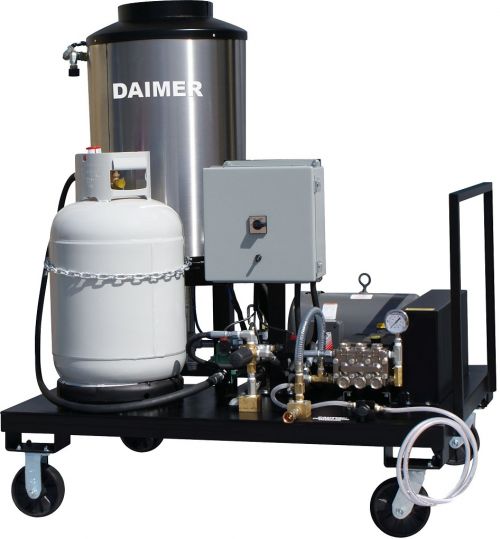 If you are looking for an effective, multi-purpose steam cleaning pressure washer, the Super Max 12300 fits the bill. This multi-faceted steam cleaner, is designed to act as a cold-water pressure washer, hot water pressure washer or steam pressure washer. With easy portability and a higher flow rate than some of our other models, the Super Max 12300 is a great option for many industries including food services, hospitality, manufacturing and oil services. Whether you run your own cleaning business or you simply need a way to keep your place of operation cleaner, this machine can do the job faster and better than other machines on the market.
This three-in-one machine provides plenty of options. Each of the three uses provides different benefits and each feature works better in different circumstances.
Cold Water Cleaning: Cold-water pressure washers are a great option for cleaning off caked on first and mud. The agitation provided from the high PSI makes cleaning off build up faster and easier. Additionally, operating your system on the cold water can help save a little money. If you just need to remove dirt and other build up, the cold-water option will work great.
Hot Water Cleaning: Adding heat to your pressure wash, adds an extra punch to removing grease and food particles. The hot water will melt grease, making it easier to remove from your surface of choice. The heat combined with the agitation of the water and our Eco-friendly cleaning solution are perfect for working with anything greasy. The cold-water option will not provide the heat necessary to remove grease from metal, cement, brick or stone.
Steam Cleaning:  The steam function is particularly helpful for removing greasy material like oil, food grease, machinery oil etc. Because the steam heats up to over 300 degrees, the heat melts the grease and makes it much easier to wash away.
The Super Max 12300 provides three options in one. This provides more flexibility and eliminates the need to purchase additional equipment. When you need flexibility, reliability and durability, consider this cleaning machine one of your top choices.
About the Super Max 12300
At 3000 PSI, this heavy-duty pressure water offers the strength and power necessary to clean even the toughest products from hard surfaces. Ideal for metal, brick, concrete, stone and machinery, you can remove grease, food and other build up with ease.
The Super Max 12300 has a flow rate of 5 gallons per minute and heats steam to temperatures of up to 330 degrees. Water temperatures get as hot as 210 degrees for a tough, thorough cleaning. Most units come with a 220v-240v 60 Hz power cord. We also offer 220-240 V 60 Hz and a 440V 50 or 60 Hz power cord.
The use of propane to heat the water for the Super Max 12300 helps heat your water and steam faster. This machine comes with a 50lb empty heating fuel tank and a schedule 80 heating coil that boils cold water in about 30 seconds. The heating mechanism operates the entire time the system is in use to ensure that your water and steam is always at the right temperature to provide the best clean possible.
This machine is a great option for a variety of outdoor applications and works best on hard surfaces that can withstand very hot water or steam and high water pressures. Because the Super Max 12300 releases about 5 gallons per minute, we do not recommend this machine for use on fabrics, carpets or upholstery. Excess water can result in a built up of mold or mildew. When in doubt, test your machine on a small portion of the surface you wish to clean.  We designed this machine to tackle heavy-duty cleaning jobs outdoors or on machinery.
We designed this model to give more power for difficult cleaning jobs. Similar to the Super Max 12200, the Super Max 12300 offers higher pressure rates and flow rates. You can tackle bigger, dirtier jobs with ease. Consider checking out our other pressure cleaning machines to see if this machine is right for your job.
Hoses, Attachments and More
The Super Max 12300 includes a 3-inch trigger wand. Your machine also includes a 50-foot high-pressure steam hose so you can clean as much space as possible without having to move your cleaner around. This allows for more efficient cleaning. If so inclined, you can also choose from customizable lengths and to replace or supplement what is already included.
In addition, standard nozzles included are the 0, 15, 25, and 40-degree steam nozzles. The multiple nozzles provide more options so you can tackle any tough cleaning including surface area, grooves, cracks and corners.
This 900-pound cleaning machine packs quite a punch. We include a trailer mount with or without wheels to allow for maximum mobility once you receive your machine. The Super Max 12300 has many customizable options to maximize its use. You may opt to include multi-gun operation to speed up your cleaning processes or a wet sandblasting system for a more intense cleaning procedure.
Aside from being sturdy and heavy-duty, the Super Max 12300 can help protect the environment by using propane to heat the tank. The propane heater is safe to use indoors, does not emit harmful pollutants and eliminates the need to use electricity to heat your water. Additionally, when you utilize our eco-friendly cleaner you can reduce the impact of toxic chemicals on the environment.