June 29, 2015
Super Max 12880 DE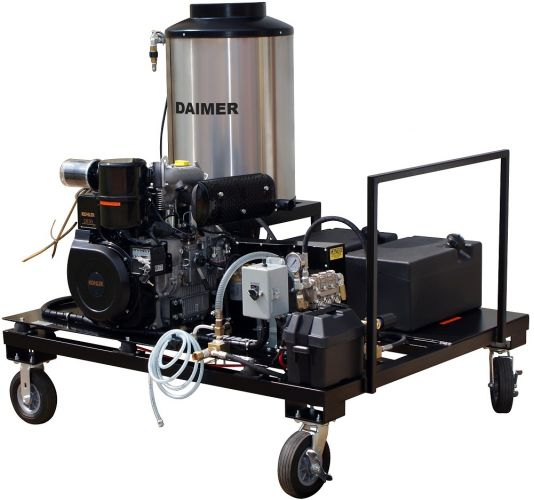 When you need a powerful machine to help tackle the nastiest messes, the Super Max 12880 provides the power and flexibility for industrial level cleaning projects. This tri-mode pressure washer features PSI levels of 3000 and a low-flow rate of 5 gallons per minute. With the option to use this machine in three different modes, you get the flexibility of three machines in one.
This type of pressure washing machine is perfect for use outdoors and indoor use where access to electricity is limited. The strong cleaning power provides maximum cleaning capabilities.
The Super Max 12880 is idea for use in many different industries including: agriculture and farming, airports, bus washing, construction equipment, industrial equipment, floor and wall cleaning, food service cleaning, machine shop degreasing, metal degreasing, truck washing, and swimming pool tile cleaning and paint removal, among other options. This type of steam cleaner works best on cement, brick or metal. Because the water pressure is higher, you should not use the Super Max 12880 on regular automobiles as this can damage paint.
The Super Max 12880 provides the flexibility of three cleaners, which means you can tackle any cleaning job safely. Cold-water pressure washing provides a quick, efficient cleaning for sidewalks, trucks and machinery. Melt grease and oil with the hot water pressure function and steam cleaning options.
Properly removing grease and oil from surfaces is vital to avoid stains and dangerous situations. Greases and oils are largely water resistant. This makes properly cleaning surfaces much more difficult and labor intensive. However, proper use of a high-temperature pressure washer and steam washer can cut your cleaning time down significantly and will remove all of the grease and oil from your surfaces.
With three different machines in one, the Super Max 12880 DE is a great option for most industrial, automobile and agricultural companies.
About the Super Max 12880 DE
The high-pressure rate of 3000 psi makes this commercial grade steam cleaning machine ideal for industrial jobs and outdoor uses. With a low-flow rate of 5 gallons per minute, this steam cleaner maximizes the use of water with every spray. Steam temperatures of up to 330 degree Fahrenheit allow you to tackle grease and oil stains with ease. Water temperatures can heat up to 210 degree Fahrenheit, providing an excellent temperature to tackle the most built on dirt and debris.
This heavy-duty industrial steam cleaner uses a diesel engine for power and a heavy-duty 18.7 HP diesel engine motor. The Super Max 12880 DE includes a 9-gallon fuel tank, and uses an electronic direct spark ignition system. The Super Max 12880 DE uses heating oil, diesel or kerosene to heat the heavy-duty schedule 80 heating coil. This heating system allows cold water to heat in about 30 seconds, allowing for faster, more efficient cleaning times.
This continuous use industrial steam-cleaning machine uses a belt drive and features high-pressure chemical fusion injection.
The Super Max 12880 DE comes with a 50-foot high-pressure steam hose, a 3-foot trigger wand with an easy disconnect for faster cleaning and several nozzles including a 0-degree, 15-degree, 25 degree, 40-degree steam nozzles. If you need to purchase additional hoses, we offer additional and custom lengths so you can do your job better.
The stainless steel, high-gloss housing is chip and chemical resistant so you can keep your steam cleaner clean and professional while on the job. This sturdy machine is 950 pounds. At just over 3.5 feet wide, 4.5 feet deep and just under 5-feet tall, the steam cleaner packs a powerful punch in a relatively compact system.
At Daimer, we know that customizing your order can go a long way towards helping you find the perfect product for your company, which is why each of our steam cleaning machines have several optional features you may add. In addition to customizable hoses, you may choose to customize your machine for multi-gun operation (up to 2), which allows you to get more work done, faster. We can outfit the Super Max 12880 to allow for a wet sandblasting system, which provides an even stronger cleaning power for particularly difficult stains on cement and brick.
Protect the Environment
Daimer promotes earth-friendly alternatives to traditional cleaning, which is why we mastered our patented low-flow technology. This allows you to get the pressure you need to clean off the worst grime, dirt and oil from any surface with less water. The combination of water, heat and pressure create the perfect circumstances for tackling your dirtiest project.
In addition, Daimer sells an eco-friendly cleaning solution that packs the power of any traditional cleaner without the use of harsh chemicals. These safer, earth-friendly cleaning solutions are a great addition for most cleaners
Daimer is an industry leader for cleaning machines around the globe. We distribute our machines to companies across the globe. We can customize each of our machines to fit most power needs in your location. The Super Max 12880 is unique in that it does not require a power source because it is uses fuel. This provides more options for many of our clients across the globe.
At Daimer, we want to ensure you get the product you need. We encourage you to check out our comparison tool to determine which of the Super Max series will work best for you. Simply follow the link to pressure washers and click on "compare."
Contact us today for more information.