January 17, 2015
Superior Clean with a Gas Powered Pressure Washer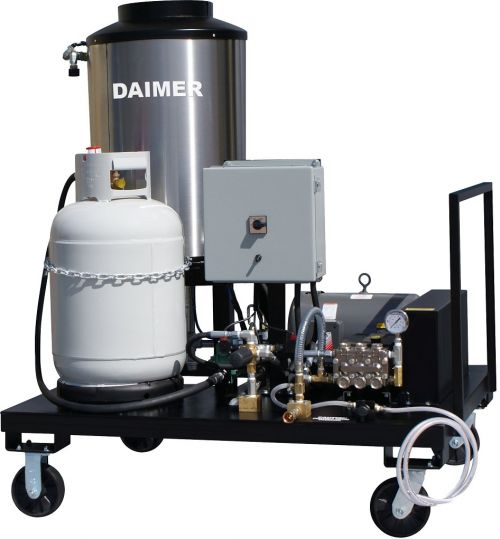 Everyone wants to be able to have a clean home or commercial building on both the inside and the outside. The problem is that the outside is often harder to clean than the inside. Anything that is placed outside can collect mildew or dirt, including the side of a home. A gas powered pressure washer is an excellent solution because it offers a more powerful clean than a garden hose. Whether you are doing a routine clean on the side of your home or you are working on a special outdoor project, gas powered pressure washers are one of the best ways to clean.
The Difference in Gas Powered Pressure Washers
A gas powered pressure washer provides a more powerful clean than electric pressure washers. This makes them ideal for heavy duty projects. Because an electrical outlet isn't required, they can be used in a wider variety of places. You won't have to bother with extension cords. Simply add some gas to your new pressure washer, wheel it to the area you want to clean and use the hose. This makes gas power pressure washer a great investment for both small homes and commercial businesses alike.
Should You Get a Commercial Gas Powered Pressure Washer?
Some people aren't sure how powerful their pressure washer really needs to be in order to be effective. Even a light duty pressure washer with a 1500 PSI output can get an area cleaner than it was before. The truth is that most homes still need a medium or heavy duty washer in order to get their home sparkling clean. This means investing in a commercial gas powered pressure washer with a 2000 PSI output or higher.
Commercial pressure washers are often recommended to homeowners who want to get other areas of their home clean, besides the front of their house.
Use a medium or heavy duty pressure washer to clean:
Vehicles
Patio furniture
Fences
Tough stains
Driveways and Sidewalks
Decks or patios
Staircases
How to Use a Gas Powered Pressure Washer?
A pressure washer gas powered is usually chosen for its ease of use. In most cases, all you will need to do is ensure that you are using the correct cleaning chemicals and keeping gasoline in the device. Each manufacturer has their own recommendations for chemicals to use during the pressure washing process and will include this information with your new device. The cleaning results you see may vary slightly depending on the detergent you use, the water pressure, angle of the water and the distance between you and the surface you're cleaning. Detailed instructions will be included with your new device, taking the guess work out of using a pressure washer from Daimer.
Which is the Best Gas Powered Pressure Washer?
Trying to determine which is the best gas powered pressure washer is hard. Everyone has different needs and budgets to work with. At Daimer, we carry a wide variety of pressure washers to make it easy to find one that will suit your needs. We are one of America's top brands because we make quality devices that work well in homes and offices alike. If you have any questions about the quality of our pressure washers or need more help deciding between them, one of our friendly customer service agents will be happy to help you.
Find an Affordable Gas Powered Pressure Washer
One of the biggest things that prevents people from getting the pressure washer they need is the cost. While there are many affordable gas powered pressure washers available from Daimer, some people may need help making the initial purchase. That's why Daimer started offering more flexible options when it comes to buying a pressure washer. Both homeowners and business owners can lease a gas powered pressure washer direct from the company. This helps to cut costs without sacrificing product quality.
Great Gas Powered Pressure Washers for Sale
When you first start looking for gas powered pressure washers for sale, you may be overwhelmed by the abundance of manufacturers online. Use the Internet to your advantage and research different manufacturers. This will help you find a great company, such as Daimer, that can provide you with a durable machine that will last for years.
Whether you lease or buy, it is important to remember that your new pressure washer is an investment. You should do your best to select the model you get carefully. Working with a great manufacturer can help you get the best pressure washer available. Because you are able to see the features of these pressure washers online, you will be able to easily find one that suits you. You may also look at online reviews of products and find a top rated gas powered pressure washer.
Getting a new pressure washer should be an enjoyable and easy experience. Start by browsing Daimer's website for more information on the different pressure washers that are on the market today. You will be pleasantly surprised by the number of gas powered hot water pressure washers Daimer has available online.
If you are looking for a great gas powered pressure washer from a reputable company, look no further than Daimer. Our online website makes shopping for pressure washers and other industrial-grade cleaning supplies a breeze. Contact us today to learn more about the services we offer.