April 08, 2016
The Top Three Affordable Gas Pressure Washers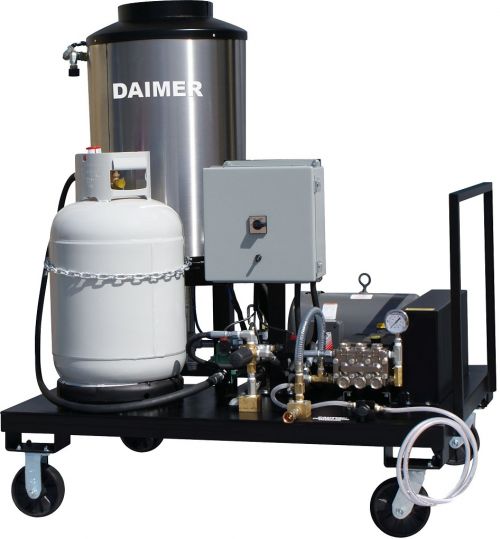 Over time, buildings accumulate an unsightly film on the outside walls that becomes impossible to clean by hand. Gas powered pressure washers are a lifesaver when it comes to erasing years of mud, mold, mildew, dead grass, insects, and other dirty particles from the exterior from a commercial or industrial building. While you are researching gas pressure washers for your business, you may be offput by the prices and unsure about which model to choose. Chances are, if you are searching for the best gas powered pressure washer, then your building already needs to be cleaned. At Daimer Industries, we offer three of the most powerful and cost-effective pressure washers available at a commercial/industrial grade that make this task an easy and rewarding one.
Super Max 12500 GE: A Reliable, Trailer Mounted Option
The Super Max 12500 GE boasts an impressive 18.0 HP propane fired, gasoline engine that will power through your cleaning job with ease. Benefits of the Super Max 12500 GE are 3000 PSI with a water temperature peak at 210 degrees and a steam temperature peak at 330 degrees. This machine is great for working outdoors with no electrical outlets, and has a trailer mounted option as well. The water within the Super Max 12500 GE flows at 5 gallons per minute (GPM), which is much higher than any residential or commercial pressure cleaner you have experienced. For regularly scheduled cleanings, this is the machine that will best fit your needs.
Super Max 12880: Powerful Light Cleaning
This gas power pressure washer allows for light duty cleaning, but still has all the power of the 12500 GE and 12885. It still has a PSI of 3000 and steam temperatures of 330 degrees, but the hot water temperature stays at 180-210 degrees - this is helpful if your building exterior is delicate, or you decide to pressure wash regularly and you do not want to damage a exterior. The Super Max 12880 has an 18.0 HP gasoline engine as well.
If your power supply is unreliable or inaccessible at some spots, this is the unit for you. The Super Max 12880 draws its power from a Heavy-Duty 120 Volt A.C. Burner Powered by a Belt Driven Closed Loop A.C. Generator, which is more voltage than the traditional pressure washers to ensures that no combustion inefficiency occurs. When a battery is at a low voltage, the spark intensity decreases and typically causes carbon and soot to get caked on within the washer. With a 120 Volt A.C. Burner, you will not have to experience this all-too-prevalent problem created by cheap 12 Volt DC Oil Burners.
Super Max 12885
The Super Max 12885 has one of our highest PSI levels at 3500. The steam temperatures reach 330 degrees within thirty seconds. Whether you need hot water, cold water, or steam, this is the system for you; these three options allow you to remove dirt and debris in three different steps. This machine also has an 18.0 HP gasoline engine and can be used indoors or outdoors, an electrical outlet is not needed. Just like the Super Max 12880, this system has a 120 Volt A.C. Burner, to keep the system running at max power. This allows our machine to be running like new for up to 20 years.
Choosing the Affordable Option for Your Business
We have experts available to assist you who have been in this industry for years. All three pressure washers have no sales tax (unless residing in MA), and financing is available to make the unit of your choice more affordable. If you are purchasing for an international power outlet, we offer power configurations for 110-120V, 208V, 220-240V, 380V, 415V, 440-480V, and 575V; single and three phase; 50 or 60 Hz with varying prices. The most important thing is that you receive a machine that fits your needs, price range, and does its job. If you are buying a pressure washer as a preventative measure, then you need to invest in the right company that will help you in future.
If your building needs to be cleaned now, then we will work with you to make sure this gets done as soon as possible. The solid parts and versatile engineering of our designs gives them a life of up to 20 years - you truly do not want to skimp on quality when it comes to such an important long-term investment. With all three of our Daimer Industries gas powered pressure washers to choose from, you now have commercial and industrial grade equipment in your hands to make the tough jobs much easier.