June 10, 2015
Cleaner Carpets and Upholstery With the XTreme Power XPC-12000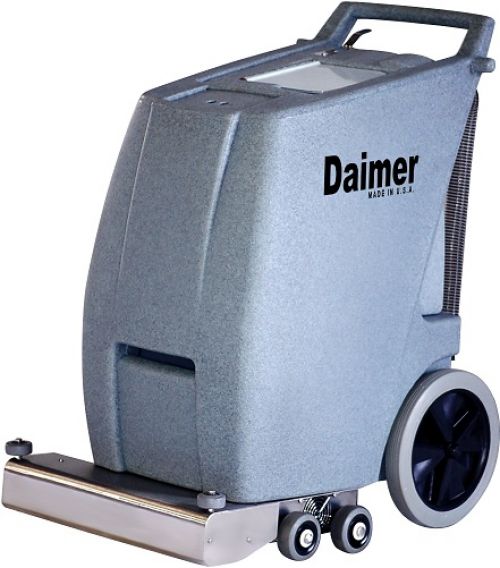 Carpet cleaning can actually be one of the hardest parts of custodial work. Commercial buildings tend to see a lot of traffic and therefore, they pick up a lot of dirt and grime. Upholstery can be difficult as well, catching dust and grime as the air flows throughout your building. If you have a large or small building, you can benefit from investing in a reliable upholstery cleaner.
The XTreme Power XPC-12000 is a powerful non heated upholstery cleaner that is specifically designed for high traffic areas. This model uses advanced technology to provide your commercial building with a powerful and superior clean every time you use it. Learn more about the XTreme Power XPC-12000 and see how your commercial facilities can benefit from using it regularly.
What Is a Heated Upholstery Cleaner?
Heated carpet and upholstery extractors are a unique way to deep clean your commercial building. They are simple to operate and are designed to save time. While your carpet will still need time to dry after use, this time is significantly reduced when compared to other models.
The XTreme Power XPC-12000 works by using a heater to gently heat the water in the tank. This water is then sprayed onto the carpet or upholstery using one of the included nozzles. Using a special carpet washing solution will also help you to get the attractive clean that your customers want to see.
The goal of the XTreme Power XPC-12000, or any other carpet extractor, is to lift the stains on the carpet and help you protect your investment. Having a lot of settings and using gentle washing techniques will help you ensure that your carpet or upholstery isn't damaged. With the help of this carpet extractor, you can extend the lifespan of your upholstery and get the clean that your customers expect to see.
Benefits of the XTreme Power XPC-12000
Getting a superior clean is easy when you have the help of the XTreme Power XPC-12000. This cleaning unit offers temperatures of up to 140 degrees, 220 psi and uses very little water. These features make it perfect for industrial use. A portable design makes the upholstery extractor easy to carry with you and the powerful technology improves the quality of your cleaning.
Daimer has worked hard to create a non heated upholstery cleaner that can be suited in a wide variety of environments. The XTreme Power XPC-12000 is a professional machine designed to combat the extreme conditions found in most businesses. It can withstand daily use and uses high quality components to ensure durability.
The XTreme Power XPC-12000 is the ideal upholstery extractor because it offers a wide variety of useful features, such as:
Low inlet temperatures of up to 140 degrees.
Low flow technology allows for reduced water usage.
High air flow amount of 110 cfm, giving you powerful suction.
Shorter drying time of only one hour.
Several hoses, upholstery tools and wands are available to help you clean.
Eco-friendly carpet cleaning solution is included with every order.
Portable design makes it easy to move across large buildings.
Daimer makes sure you have every thing you need to get started with your cleaning project. When you make your purchase, Daimer includes enough concentrated cleaning formula to make up to 64 gallons. This eco-friendly cleaner is designed to be a practical solution compatible with most surfaces. Including it helps you to save time and money.
Several attachments are also available to help you reach every area you need to clean:
10 or 12-inch single jet wand with grip handle helps you cover tight corners.
25-foot combination suction and vac hose helps you stretch without having to move the machine.
Special 4-inch upholstery tool helps you clean more delicate places.
All attachments are optional, so you only need to select ones that your business will use. This helps you save even more money. Each part is produced with the same integrity and attention to detail as the XTreme Power XPC-12000. This lets you know that your cleaning investment is secure. When you work with Daimer, you can always rest assured knowing you are getting a quality product that lasts.
Buying Your First Upholstery Extractor
Buying an upholstery extractor may seem like a difficult task at first. It can be very easy when you work with an experienced company like Daimer. We make it simple to learn about the different upholstery and carpet cleaners available. That way, you can select the best option for your company. The XTreme Power XPC-12000 is a great first-choice for companies that need the high power of a professional cleaner, yet want something simple to use for their employees.
When buying your first upholstery cleaner, you need to consider efficiency. You don't want to spend more time refilling the cleaner or water tank. The XTreme Power XPC-12000 includes a 15 gallon solution and recovery tank, making it the ideal choice for any busy setting. It is a great choice for resorts, office buildings, casinos, hotels and other highly trafficked areas.
If you are looking for a simple way to professionally clean your upholstery and carpet, then look no further than the XTreme Power XPC-12000. Daimer is happy to help you get one of these quality units. Contact us today to learn more and see how easy it can be to get perfectly cleaned carpets and upholstery.