June 11, 2015
XTreme Power XPH-12000H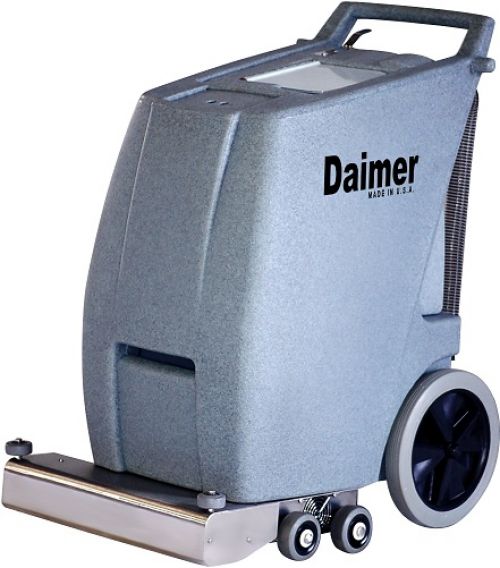 The XTreme Power XPH 12000H is a walk-behind steam carpet cleaner that works well for businesses that have a specific need to keep their carpeting looking fresh, clean and like-new at all times. The powerful, low-flow system deep cleans carpet and upholstery without requiring long drying times. This machine uses less water, which means surfaces dry in as little as 1 to 2 hours.
The XTreme Power XPH 12000H delivers hot water temperatures up to 210ºF with pressure levels up to 220 psi. This combination provides better cleaning and impressive results.
Special Features of the XTreme Power XPH 12000H
In addition to superior water temperatures and pressure levels, this box carpet steamer features:
20-inch stainless steel head for tackling large carpeted areas quickly and easily
12-inch adjustable patented carpet cleaner wand
50-foot power cords for virtually limitless cleaning in most rooms
15-gallon solution and recovery tanks
Quick 5-minute heating
2 two-stage vacuum motors
Ability to accommodate attachments for even further cleaning capabilities
The XTreme Power XPH 12000H walk-behind carpet extractor comes with several attachments and products to make regular carpet cleaning easy. The 12-inch patented, adjustable carpet wand ensures up to 60 percent greater water extraction. It also comes with a combined, durable 25-foot vacuum/solution hose and two free gallons of our Eco-Green Carpet Care & Upholstery Cleaner, which makes 64 gallons of cleaning liquid.
On a side note, we recommend users treat the carpet beforehand with a carpet cleaning solution. This helps lift stubborn stains so the machine can whisk them away with ease. Users can also add extra cleaning solution to the water chamber for added cleaning power.
Where and How to use the XTreme Power XPH 12000H
The XTreme Power XPH 12000H is designed for regular or frequent industrial carpet cleaning use. It is perfect for hotels, casinos, resorts, government offices and any other commercial building requiring constant carpet cleaning care. The low-flow feature of this carpet extractor makes it capable of cleaning the same carpets every day without worry of mold or mildew buildup.
Using the XTreme Power XPH 12000H is easy
Step 1: Move the furniture. This allows you to clean an area without interference. If there is a lot of furniture in the room, move it all to one side and focus on steam cleaning just one side at a time. This is especially easy since this machine requires such short drying times.
Step 2: Vacuum the area to be cleaned. Using a regular vacuum, vacuum the floor thoroughly to remove as much loose dirt and grime as possible. This makes it possible for the XTreme Power carpet extractor to provide a deep down clean.
Step 3: Fill the tanks. Add water and cleaner to their respective tanks in the machine. As mentioned earlier, you can add a bit of cleaner to the water tank as well for added cleaning power. Our Eco-Green cleaner is a low-foam formula that produces few suds so it leaves no residue buildup on your carpets.
Step 4: Begin cleaning in the far corner. Your goal is to clean the carpet in the most efficient way possible. You want to work in straight lines so you are sure to cover the entire area. Start in the farthest corner from the door and in small sections, work your way out of the room. Working in this fashion lets you move to the next room easily while the previous room dries.
Step 5: Let the carpet dry. The XTreme Power XPH 12000H uses less water than most carpet extractors on the market. Typical drying time for many of these models is as much as 24 hours. With our machine, drying time is cut down to just one or two hours, which means there is less chance for mold or mildew to grow. This also means you can clean your carpets often to keep them looking their best.
Cleaner Commercial Carpets with the XTreme Power XPH 12000H
Ordinary vacuums and carpet cleaners just cannot do a thorough enough cleaning job on commercial carpets because they lack the advanced technology and power of a steam carpet extractor like our Daimer models. When you need carpeting that looks its best no matter how many feet have trampled over it in a day, the XTreme Power XPH 12000H is the solution.
This powerful heated walk-behind carpet steamer is preferred by cleaning and maintenance professionals because of its ease of use, durability and its ability to deliver an efficient, superior clean every single time. This machine is perfect for use in an industrial setting where large carpeted areas are the norm.
Featuring an air flow of 110 CFM, a water column lift of 160 inch, a 220 PSI pressure pump and 15-gallon solution and recovery tanks, the XTreme Power XPH 12000H carpet extractor meets and exceeds just about any commercial application. This model removes all traces of dust, grime and dirt in high-traffic areas, leaving the carpet looking clean and fresh. The XTreme Power steam cleaner requires short drying times so carpets are ready for use quickly.
If you are looking for a reliable steam carpet extractor that can handle frequent or everyday use, contact us today at 1-800-471-7157 to find out more about the XTreme Power XPH 12000H. The Daimer name stands for quality and service, so let one of our knowledgeable and helpful representatives show you just how important this machine is to the success of your business.