Description
Freight not included.

View This Video - Discover Daimer's Absolutely

Outstanding Wet Steam Degreasing Capabilities

Vapor-Flo Hot Water Pressure Washer: Food Manufacturing
Loading ...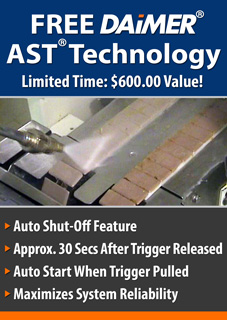 With pressure levels of 1750 psi and flow rates of 0.6 GPM, the Vapor-Flo® 8400 is an electric pressure washer capable of cleaning places such as factory floors and equipment. Featuring dual temperature options, this model can heat water to temperatures of 205°F in about 20 seconds.

For added user friendliness, the Vapor-Flo® 8400 includes top access to the water tank for easily refilling. This machine includes powder coated steel-housing to help resist against chemical corrosion and chipping.

Operators may consider enhancing the cleaning power of these pressure washers through the use of Eco-Green® chemicals, via the machine's siphon type standard/foam lance chemical injection. Options include adjustable pressure, assorted power methods, and custom hose lengths.

Daimer offers pressure washers in a variety of power configurations for worldwide requirements. The following are available: 110-120V, 208V, 220-240V, 380V, 415V, 440-480V, and 575V; single and three phase; 50 or 60 Hz. Please contact us for pricing.