September 28, 2015
Acrylic Floor Cleaning Machines by Daimer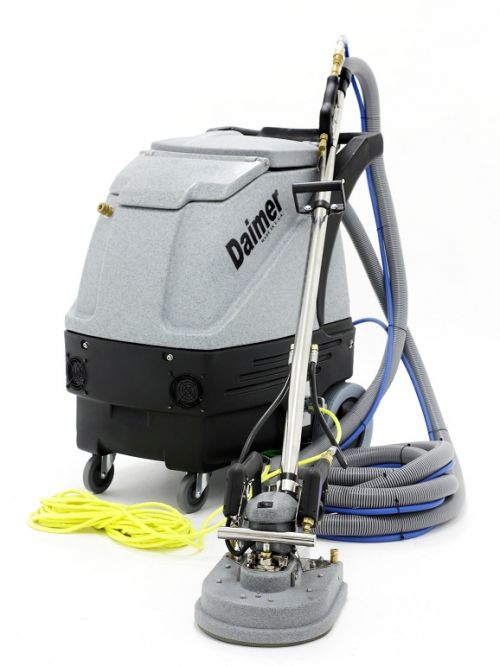 Acrylic floor systems have been used in a variety of applications worldwide because this unique flooring can be used for the most challenging environments. One of the biggest advantages of using acrylic floors is that it is extremely durable and can be installed in no time. It is made of non-porous material, which means substance spills won't penetrate the surface. Acrylic floors need care and maintenance to look new and attractive.
Cleaning Acrylic Floors
Selecting the right kind of cleaning machine to clean your acrylic floor is important so that you maintain its good looks and ensure durability. A cloudy or dull finish on acrylic floors is caused by small nicks and cracks that get filled with dirt over time. Industry experts highly recommend the use of professional steam cleaners or even hard floor cleaners for acrylic floor cleaning.
What to look for in an Acrylic Floor Cleaning Machine?
Choosing the right cleaning equipment and brand can be a tedious task because there are innumerable acrylic floor steam cleaners in the market, but it is important that you know the right specifications to look for in the perfect option. A steam cleaner with superior technology and advanced features is what you should focus on. Here are certain things you must look for in the right acrylic steam cleaner:
Appropriate pressure level
Vacuum capacity
Sanitization
Accessories and tools
Why steam cleaners are are not right for cleaning acrylic floors?
Steam cleaning machines use low pressure levels and rely more on the heated system to remove dirt, stains and grime which won't work well with acrylic floors. It is best to get professional acrylic floor equipment that is equipped with vacuum and it cleans without the use of mops or towels. The best acrylic cleaning machines come with detergent chambers to dispense eco-friendly cleaning free of chemicals and high capacity extraction chambers, which collect waste from the vacuum.
Nothing beats the Daimer Acrylic floor steam cleaners and acrylic floor cleaning equipment for hard surfaces is a popular choice amongst professionals. These machines are shipped with the latest technology, tools, and accessories and are designed for durability and rugged performance. Most importantly do not buy a vapor steam cleaner if it will not work for your application! For instance, this technology is not a carpet steam cleaner or steam pressure washer. Also, dry steam is not appropriate for removal of carbonized grease or carbon build-up.
Multiple Industrial & Residential Applications of the Acrylic Floor Cleaning Machine by Daimer
For those needing to work for longer periods of time, and desire the ability to add water while the machine is powered, the Acrylic Floor Cleaning equipment by Daimer is the best choice. These cleaning equipments have multiple industrial as well as residential applications:
Bathroom Cleaning – Residential: Bathroom is a space often ignored and hard to clean but the laminate floor cleaning machines steam at a high pressure that eliminates bacteria and germs while your bathroom will easily be squeaky clean in just a matter of minutes.
Blinds - Cleaning In-Place: Blinds can be tough to clean with small cracks or seepages where dirt hides but acrylic cleaning equipment can make the cleaning job much easier.
Kitchen Cleaning: Cleaning kitchens is a difficult task because it has hard floors and dirt often seeps in deeply in such kitchens. Acrylic cleaning machines use high-pressure steam and technology to clean kitchen floors, tabletops and walls thoroughly. Often these services are provided by kitchen cleaning contractors who must have these machines if they want to provide excellent cleaning services.
Marble Floor Cleaning – Residential: Marble floors can have stains that are difficult to remove but acrylic cleaning machines help to remove these stains and other dirt off marble floors easily. Marble floors cannot be cleaned manually with a cloth which is why using a machine is essential.
Industrial and Other uses of the Acrylic Floor Cleaning Machine by Daimer
Here are industrial as well as other uses of the Daimer Acrylic cleaning machine and the Acrylic cleaning equipment:
Clean room Cleaning
Disinfection and Sanitizing
Exercise Fitness Equipment Cleaning
Floor Cleaning and Maintenance - Linoleum
Furniture (Hard Surface) Cleaning
Glass Cleaning
Hotel Room Cleaning
Mattress Cleaning
Mold Removal - Bathroom Showers
Mopping (Steam)
Oven Cleaning
Shower Cleaning - Commercial
Shower Cleaning - Residential
Soap Scum Removal
Tile (Non-Porous) and Grout Cleaning
Upholstery Cleaning (Hard Surface)
Wall Cleaning - Most Non-Painted Hard Surfaces
Window Cleaning
The Best Acrylic Cleaning Equipment by Daimer
Daimer® is the most trusted and popular name in the industry and known for its path-breaking cleaning systems that use innovative technologies and high-quality components. Daimer is a leading supplier in the industry for sophisticated and specially engineered cleaning machines. Importantly, Daimer's acrylic cleaning machines offer the maximum pressure and temperature levels possible from any canister-based system.
Learn More
Before considering any other steam cleaners, read how Daimer's patented replaceable heating elements can save you hundreds of dollars over other steam cleaner brands: http://www.daimer.com/vapor-steam-cleaners-advanced-patented-features/
For More Information on the Many Cleaning Products Do Visit - https://www.daimer.com