February 11, 2015
Benefits Offered by Hard Surface Steam Cleaners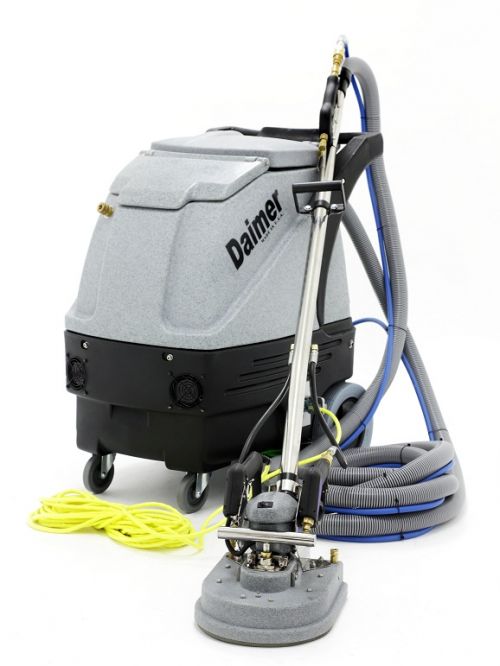 In the past, when it came to disinfecting your home, killing germs and making hard surfaces spotless, bleach seemed to be the best solution – even with the horrible odor! In fact, many people swore by it, even with the fact that it could cause children and pets to become ill and was not exactly environmentally friendly. However, times have definitely changed. Now there are endless cleaning options that are considered "green," which are just as effective (if not more so) than bleach ever was – even better, they are completely safe. One of these environmentally friendly cleaning methods is to use hard surface steam cleaners.
These types of cleaners are designed to clean, sanitize and beautify any type of hard floor surface, not just hardwoods. Steam cleaning is an effective method for disinfecting any hard floor surface, eliminating dust, bacteria and even some stains.
Some of the other benefits offered by hard surface steam cleaners are explored here.
Environmentally Friendly Hard Surface Floor Cleaners
There is no question that going green is not just a passing fad. More and more consumers are selecting vehicles that are hybrid, or ones that run on electricity completely rather than natural resources. Additionally, there are a number of governments that now offer pick-up services for recyclable trash. While there are some who may believe this is just a gimmick to purchase the newer, environmentally friendly products and spend money that they do not really have, the fact is that using chemical-free, natural products and equipment can actually contribute to better health for people, as well as the environment. 
Not only are these products healthier, they are now available everywhere. There are a number of different options when you begin to look for hard surface steam cleaners. There are some with basic, straightforward designs, while others have a more complex design, offering more features and accessories to further enhance the cleaning process. Steam cleaning offers a guaranteed method for disinfecting any hard flooring without the use of strong chemicals. It only requires the use of water, which cuts through dirt and grime as good as any traditional, chemical cleaner.
When you use the steam cleaning tools that are available for hard flooring, you will not be releasing any toxins into the air, offering a simple, yet safe and effective method. In fact, steam cleaning does not even require as much elbow grease as other cleaning options and tools.
Affordable Hard Surface Floor Cleaner Now Safe for Children and Pets
Cleaning your flooring is essential, especially when you have small children who are crawling, and possibly eating, off of the service. However, with the traditional cleaners the flooring could be dangerous to your children, as well as your pets. If you are like most parents, your number one concern is to keep your children safe, which is a feature offered by using hard surface steam cleaners. Since only water is used, there are no dangerous chemicals that may be ingested by your child. This method also effectively cleans services, eliminating bacteria and germs without any type of leftover residue or toxins.
Killing Germs with a Powerful Hard Floor Cleaner for Sale
When you purchase hard surface steam cleaners you can effectively clean surfaces and eliminate germs that may be present. While bleach can also help achieve this, it is not safe and can leave residue and toxins that can harm kids and pets.
There are some people who are still hesitant to adopt this cleaning option since they are not sold to the fact that the steam cleaners can successfully eradicate the germs. However, scientific studies have proven this to be true and due to the high temperatures the water is heated to, they can successfully eradicate all types of germs and bacteria that are present on a variety of different hard surface floors.
Save Money with the Most Versatile Hard Surface Floor Cleaner
When you do not have to constantly purchase cleaning supplies, there is a good chance you can save several hundred dollars a year. Additionally, hard surface steam cleaners typically come with a number of attachments, which means they are able to be used on a variety of hard surfaces, including bathtubs, countertops and even concrete driveways. This makes the machine extremely versatile and able to clean all different hard surfaces in your home.
As time passes, the steam cleaner you purchase will actually pay for itself in terms of cleaners you no longer have to purchase. They only use water, which is a resource you are already paying for. This makes them more economical and able to be used any time necessary. Also, you do not have to wait for the surface to dry, since it is only water that will be left behind.
When it comes to cleaning hard surfaces in your home, you should consider all the benefits offered by hard surface steam cleaners. These cleaning devices offer a number of advantages, each one helping you clean your home's surfaces with ease. There is no question that modern cleaners have evolved from the bleach and toxin ridden ones of the past. In fact, steam cleaning equipment is so effective, it is now used exclusively by a number of big company cleaning surfaces. It is also extremely affordable, which makes it appealing to both business and homeowners.