December 11, 2014
Hard surface cleaners a synonym to reliable cleaning agents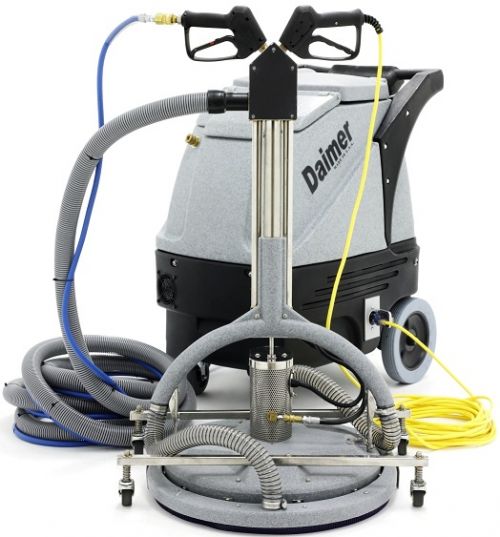 The category, in which hard surface cleaners fall, comprises of aqueous solutions which constitutes of mixture of specialty chemicals. The composition of these specialty chemicals vary in context with the amount of dirt over the surface and the texture of the surface being cleaned.
The hard surface cleaners vary in different categories; they can be used over glass, metal, marbles and wood. There are certain types or forms of hard surface cleaners which can be used pertaining to the requirements of the user.
There are certain hard surface cleaners that are light duty and mainly used over glass surface, they are also categorized as glass cleaners. This type of hard surface cleaner is not intended to clean heavy dirt and grease particles, therefore for cleaning glass the best hard surface floor cleaner considered to get perfect results is to use hard surface steam cleaners, as glass surface is the most sensitive surface and it is very difficult to have a smooth and clear look. The hard surface steam cleaners are expected to clean without rinsing and the results produced are streak free. This type of cleaner is regarded as a very affordable hard surface floor cleaner in a recent customer review campaign. According to varying experiences of customers the basic advantage of cleaning a surface using a steam cleaner is that once you clean a surface it gives splendid results and you don't have to clean it over and over again, though it is not necessary to use the hard surface steam cleaner over glass floors only, it can be used to clean dirt and other particles from windows, kitchen cabinets, fridge and other surfaces made out of metal or wood. The hard surface steam cleaner is the most versatile hard surface cleaner which gives extraordinary results within less time and constitutes even more less of an effort. While using a steam cleaner several precautionary tips should be implied to be safe from any hazardous event. This kind of hard surface floor cleaner machine do provides results but should be used with care, after using the machine let it cool down and then slowly move the knob to get it removed, be very careful and reactive because the steam may slowly exhale while you are opening up the machine to clean it over. If the water does not dump quickly over your sink, it means it's still at a very high temperature and is very dangerous, so you should be very careful while the process. To be safe is what is most important so allow the equipment to cool down for sufficiently a longer period of time. It's been classified that BISSELL steam shot hard surface cleaner, is the best hard surface steam cleaner which is user friendly equipment and designed in such a way to produce desirable and satisfactory results.
Hard surface vacuum cleaners are also categorized as the most preferred and reliable hard surface cleaner with an extensive use. In previous years the equipment did not occupy versatility and was considered very complicated, but with improved technology and an increase in awareness for the use of hard surface floor cleaners, vacuum cleaners have become a choice for every household, they are considered to be a very flexible and easy to use equipment for cleaning floors in a house, in an office or any other expected vicinity. The vacuum machine today comes with a variety of options. Some of them are bagged or bag less, several machines use HEPA filters which is suitable for those users who are prone to allergic reactions. Hard surface vacuum cleaners are best suitable for hardwood floors. For this type of flooring canister vacuums are preferred as hardwood floors are prone to scratches so it is very essential to have a vacuum that has no plastic wheels. With an increased use of vacuum cleaners the manufacturers have opted to include various features such as:
Variable power settings-which controls the suction motor speed
Quiet vacuums
Cordless stick vacuums
Rotating brush head vacuums
Vacuum headlights
Hard surface floor cleaner machine
This section of the article comprises and highlights the variety available of powerful hard floor cleaner for sale.
Hoover FloorMate Deluxe Hard floor cleaner
This equipment allows you to give your floorings a spa like treatment. There is no more need to use buckets, brooms and other scrubbing techniques to clean up your flooring. This equipment helps you wash and dry hard floors so quickly, you will be amazed. It is an extremely user friendly machine, which allows you to put in the least effort you can.