January 13, 2015
The Only Hard Surface Floor Cleaner You'll Ever Need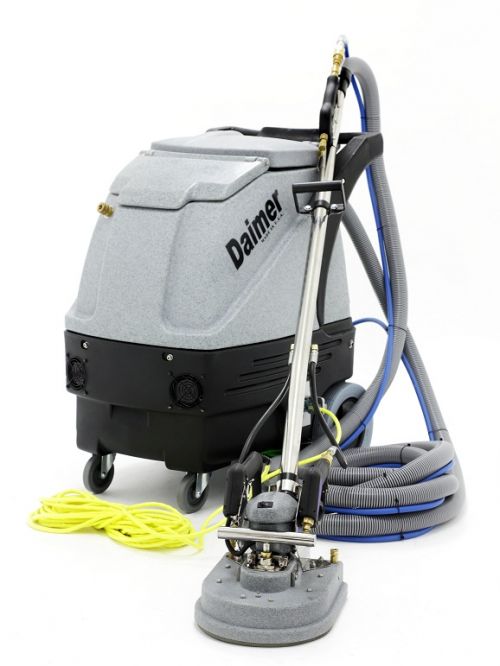 We've all been there. You got gum where it doesn't belong and good luck getting it out! Or, you've spilled your wine. Don't worry. We can help. But first, here's a little about us: Daimer Industries is the undisputed, world's top ranked brand of steam cleaners with customers in over 200 countries. The company's customer list includes the White House, some of the largest and most recognizable national and multi-national names, and hundreds of thousands of others ranging from homeowners, small companies, all branches of the military, health care, hospitality, and many more. Our customer list displayed on the website offers merely a small fraction of Daimer's total customer base. We manufacture the best hard surface floor cleaner you'll ever use.
Daimer Hard Surface Steam Cleaner to the Rescue
Daimer's line includes commercial hard surface vacuum cleaners, as well as vapor steam hard surface cleaners and marble floor steam cleaning equipment. Most popular is the gum removal machine, for when you get into those really sticky situations. The term steam cleaner to one person can mean a commercial steam cleaner that cleans carpeting, while to another person a product that targets hard surfaces, and yet to someone else a machine to be used as a high pressure washing system. Tremendous confusion abounds within the industry, but prospective buyers can rest assured Daimer's offers all of the technologies to meet all of these needs. What you need to know is that we offer the best hard surface steam cleaner in the business, safe for all surfaces.
The Only Hard Surface Cleaner You'll Ever Need
KleenJet hard surface floor cleaner machine models are vapor steam cleaner machines for low-moisture applications, such as for use as tile steam cleaners. The company's Super Max products target wet steam applications, and XTreme Power equipment includes models designed for heated carpeting cleaning or upholstery uses. Understanding the specific needs is critical for the buyer to select the best model from the appropriate line of Daimer technologies, whether it is a home steam cleaner, tile steam cleaner, or even a car steam cleaner.
Daimer's commercial hard surface floor cleaners can reach temperatures up to 210ºF within a few minutes. High temperatures help users easily eliminate deposits and even the toughest stains from carpets. The temperatures can be adjusted as per the cleaning application.
The low flow feature of these carpet rug shampooer systems keeps a check on water consumption. The carpets that use less water dry quickly and are at a lower risk of mold formation.
Daimer's hard surface steam cleaners are superior in suction capabilities extract every bit of grime after cleaning and leave behind no residues. The cleaning power of these carpet extractor systems increases further with the eco-green chemicals available from Daimer. These chemicals, when pre-sprayed on carpets and left to dwell for a few minutes, can help remove grime from deep within the carpet fibers.
The Most Versatile Hard Surface Cleaner is Here!
Daimer offers the lowest cost of ownership in the industry. Gum removal equipment is hard to come by and you want to make sure you have a dealer you can trust.  Unlike other brands, Daimer prides itself in offering only the highest-quality and best components with its vapor steam cleaner and other equipment. Incorporating into the systems proprietary and patented technologies for unparalleled performance, the company ensures the machines will last for many years while customers satisfy their virtually unlimited uses for the products. Customers can rest assured all the parts within all machines are completely replaceable in the rare case it becomes necessary to change a component. Buying Daimer's stone cleaning machine or our other versatile hard floor cleaners means customers will use systems without the fear of needing to replace them, which unfortunately is a reality with other brands.
Powerful Hard Surface Cleaner For Sale at Daimer
Our best seller is the The Super Max. The Super Max pressure washing machines are among the most popular cleaning machines and associated with unsurpassed power. When compared to other pressure washer machines on the market, their performance and durability simply towers above others. Incredibly, Daimer markets over 400 models of power washers and pressure washers to cleaning professionals, business owners, and others who are looking for efficient and durable yet affordable pressure washing equipment. With pressure levels ranging from a lowly 750 psi to an extreme 8000 psi and temperature range that starts from cold water levels to 330°F, you are sure to find the perfect machine for the specific cleaning needs of your industry or home. We even have driveway cleaning equipment so you can take care of your whole house.
Our hard surface floor machines are designed to penetrate deep into surface pores and leave the floor clean and free of dirt and germs. The power of steam works better than cold and even hot water pressure washers. Daimer also offers portable car wash machines with moderate pressures to deliver enhanced cleaning results with minimal effort and in double quick time.