April 10, 2015
Hard Surface Cleaners make Your Job Easier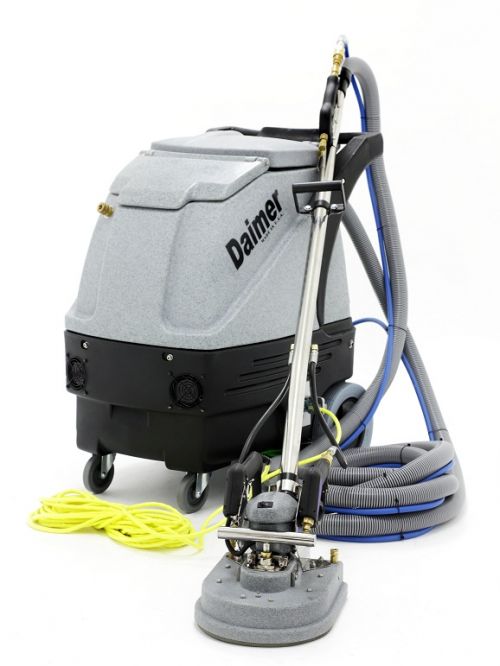 When your business involves cleaning hard surfaces, it can be tricky finding just the right equipment to get the job done. Purchasing a hard surface floor cleaner machine is an extremely effective way to shave time off your job and get a better clean. It's also helpful to understand why hard surfaces are so difficult to clean. When you know what makes it difficult to get cement, ceramic and other areas clean, you can figure out what works.
Why Cleaning a Hard Surface is so hard
One of the most popular uses for a hard surface cleaner is tackling flooring. From wood to tile and even cement, modern homes and businesses use a variety of different surfaces that all require special care to properly clean. While these surface often appear easy to clean and maintain, if they are not taken care of, you can reduce the life of the floor.
The truth is most consumers are in need of a proper hard surface floor cleaner because they are choosing to skip carpeting and opt for wood, stone and even concrete flooring. This type of flooring is popular because very little effort is required on a daily basis to keep dust and dirt away. Families with allergies are particularly fond of hard surfaces because carpets hold onto dust and make allergies worse. While tossing an area rug on the floor can help keep the floor clean and minimal mopping is required for regular maintenance, the use of professional hard surface floor cleaners is essential when you the floors need a deeper cleaning.
Depending on the hard surface featured in the home, there could be crevices or grooves that are difficult to clean. While surface cleaning may be find for a while, at some point the floor will need to properly treated to ensure the best look. This is particularly true of wood floors. Using a commercial grade cleaner will ensure that the deepest dirt and grim is removed from your floor safely. Harsh chemicals and improper treatment can damage floors. Using machines and formulas specifically designed to offer the deepest clean without relying on toxins will keep floors and homes healthy.
How our Hard Surface Floor Cleaner can Help
When you choose the best hard surface floor cleaner, you can rest assured that your floor will get a deep cleaning. Deep cleaning a hard surface requires a lot of force you just can't get with a mop or rag. Using specialty hard surface cleaners guarantee that the deepest reachable levels of your floor are cleaned. Hard surface vacuum cleaners feature motorized spinners that will pull all of the dirt and dust you or your clients missed. Each of or machines comes with the options of different sized spinners to ensure that all needs are met. For indoor use, we offer a 9' hard floor spinner that is specifically designed for smaller areas. If you plant to hit up outside areas (like decks, porches etc.), the larger 19" spinner is a better choice.
Our surface cleaning machines are designed to separate dirt and dirty water as they clean. As your floors are cleaned the dirt is filtered into a separate container, which you can easily remove to empty when you are finished. This process eliminates runoff and ensures your floors are continually cleaned with clean water and solution. This also reduces water waste, making for a more efficient product.
Daimer offers great tools for cleaning all types of hard surfaces including group and tile. Our steam cleaners are designed to kill up to 99 percent of hazardous bacteria. Our commercial grade cleaners can effective clean any hard surface.
We Offer the Best Hard Surface Floor Cleaners
Our hard surface steam cleaners consistently rank among the best in the industry. We have designed our cleaners to require less water… up to 300 percent less than other popular models. This is an excellent way to protect the environment and reduce your water consumption (which results in lower utility bills). We offer the best hard surface steam cleaner available. With efficient cleaning, some of our models let you clean up to 1000 square feet per hour! If you need a smaller system, we have that too.
When you choose a Daimer hard surface steam cleaner, you choose a cleaner that is designed to last. All of our products are made in the United States and shipped to over200 countries. We believe that workers in the United States can help us produce the best products available. Let us help you get your floors and other hard surfaces cleaner, faster.
When you choose a cleaner with us, you get all the works. Our hard surface cleaners include squeegees and other tools you need to get the best clean possible. We offer various models to fit your needs and your budget. Each of our machines is lightweight and small enough to move around without too much effort. They can easily be stored in a closet or other area when not in use. Our machines routinely out-clean other machines. Our self-contained machines mean you need to carry less with you, and you still get a great clean. It's easier and better, what else can you ask for?
Call us today or visit our website to learn more about the different types of cleaners have available. We offer rent-to-own options and excellent customer service. Call us today and learn more about the Daimer difference.