May 18, 2015
KleenJet Mega 1000CV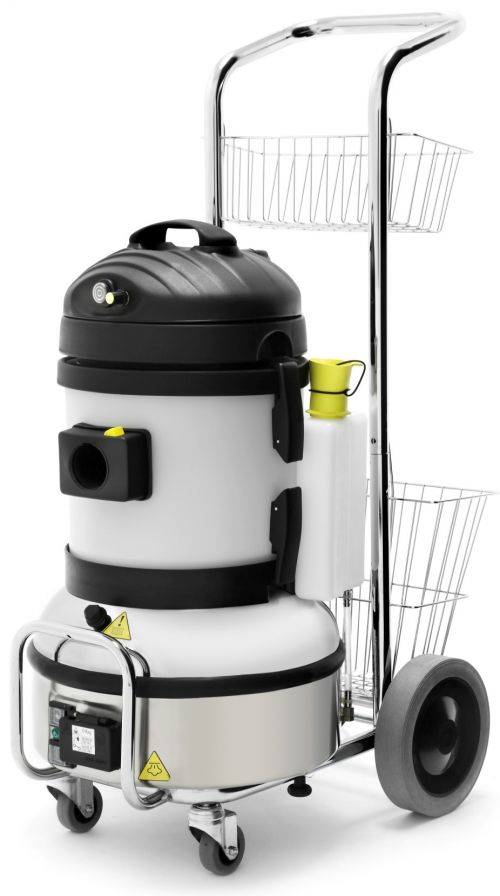 Finding the right steam cleaner for your job can be a hassle. When you search the market for a new steam cleaning machine, you may balk at the prices you find, and with good reason. You shouldn't have to pay more money for an inferior job. At Damier, our industry-leading cleaning products are more affordable and provide better cleaning.
One of our most popular steam cleaning machines is the KleenJet Mega 1000 CV. This machine is the most powerful electric steam-cleaning machine available on the market. We have maximized the PSI and temperature levels to ensure that you get the best clean possible.
Product Features
Our popular KleenJet Mega 1000CV offers steam-cleaning temperatures of up to 356 degrees in the boiler. The high temperatures provide a deeper, more thorough cleaning. This powerful cleaner uses one 110 volt power cord which makes transporting and using the machine easier and more convenient.
The cleaning system features a 105 PSI level and an improved vacuum system that pulls more water. This  vacuum steam cleaner comes with a continuous refill feature that allows you to work for hours on end. This feature alone will help increase productivity.
The KleenJet Mega 1000CV has a capacity of 7 liters including a4 liter boiler and 3 liter detergent chamber. The continuous refill ensures that your water stays hot and usable for hours. In addition to saving you time during your cleaning tasks, you can save time maintaining your machine with the self-cleaning boiler. The self-cleaning feature makes it much easier to keep your unit clean and functioning properly. The boiler has a lifetime warranty so you can ensure that your machine works properly for as long as possible.
Steam cleaners can accumulate mineral build up over time, which can reduce the effectiveness and life-span of your product. The patented boiler scale reduction property helps prevent mineral buildup by via a vibrating mechanism inside the boiler. This allows your water pressure and temperature to maintain the highest standards.
The KleenJet Mega 1000 CV operates as three different tools: a vapor steam cleaner, steam vacuum cleaner and a wet/dry vacuum. Our tools are specifically designed to eliminate some of the most dangerous bacteria around. You will get an amazing clean and excellent sanitation with one machine.
Get the right Tools
Our steam cleaning machine is designed to last you a long time. We offer a variety of brushes and tools to help replace the parts of your machine as they wear out. We don't believe in bilking you for every dime. Our replacement parts are affordable and reliable. We know that purchasing a steam cleaner is an investment, maintaining it shouldn't be just as expensive as purchasing the machine.
Our replacement brushes are always available at reasonable prices, and significantly lower than the cost our competitors offer. We have everything you need to keep your machine in tip-top shape. Don't pay more for the tools you need to get the job done right. Our direct sell method cuts out the middle man and lets you save a lot of money of your purchases. Our business model is designed to help you save money and get the best products.
Buy the Right Product
Our system is not designed for carpet cleaning purposes (though we offer those as well). Also, Dry steam is not an effective tool for cleaning up c[MB4] arbon buildup. For the best results make sure to use a wet system for the removal of grease. Make sure to choose the right machine for your needs. Steam cleaning is an effective cleaning method when used correctly. We can help ensure that the product you choose is perfect for your job.
The Kleenjet Mega 1000CV suctions dirt and grime and separates the water from the dirt. The water is filtered to provide allergen-free steam. The water is continuously cleaned and heated so that you have a virtually endless supply of water to complete your tasks. Our newly-upgrade model works better than ever.
Our newly upgraded anti-bacterial model has been tested and proven to kill 99 percent of select bacteria and mold. We take care to ensure that our products meet and even exceed the strictest standards. Each of our machines fully complies with EPA regulations. Our anti-bacterial cleaners help eliminate bacteria strains associated with staph infections, E.coli, Salmonella and Listeria. 
When you invest in a cleaning machine, make sure you choose the best product on the market! The Kleenjet Mega 100CV is designed to give you the best clean and antibacterial process on the market. We offer a better product at a better price! You can use our steamer for virtually any job.