May 22, 2015
KleenJet® Ultra 5000 CVP – ATIS®: The Ultimate Steam Cleaning Commercial 110 Volt Vacuum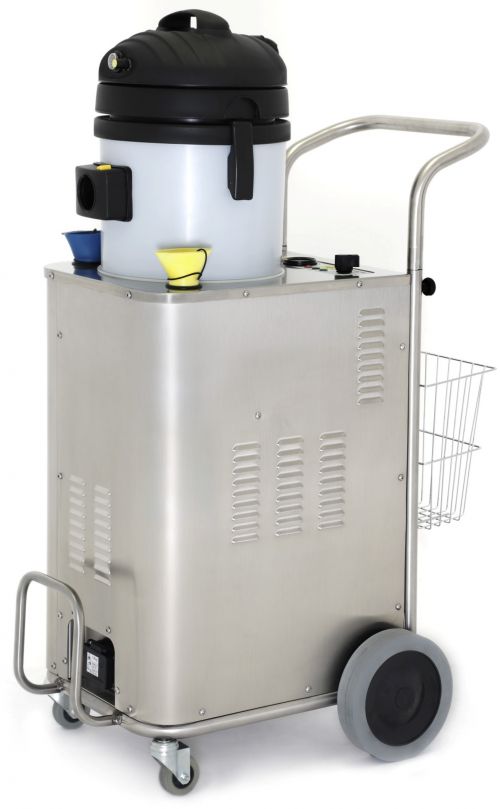 This is an industrial strength steam vacuum that gives you temperatures of up to 369⁰Which gives you cleaning power that is outstanding for a plethora of surfaces.  It only takes 15 minutes for the system to convert the water from cold to steam. 
Features at a Glance
Equipped with a stainless steel boiler that is heavy gauge and has a 5 liter capacity. 
Water chamber holds 10 liters
Lifetime boiler warranty
Pressure levels are amazing and go up to 125 PSI
This equipment is technologically superior and has patented features such as:

ATIS® – Advanced Thermal Ionic Sanitization™
Non Stop Steam™ which provides a better advantage for cleaning
Advanced Self-Regulating Continuous Refill Technology™
The ATIS® technology alone has been certified to be able to kill 99.99% of things like Aspergillums niger, Listeria, Salmonella, S. aureus, E coli, MRSA and even more!
The Vacuum cleaner systems that use vapor steam now also include technology for water and HEPA filtration too.  As far as the HEPA filter goes, these filter to a 3 micron level so that extra allergen protection is given. 
The wet vacuum extracts the moisture while it cleans so that the need for towels – a normal necessity for steam cleaners of the conventional type – is eliminated.  This extraction capability is simply not available in your run of the mill steam vacuum systems.
Will a Vapor Steam Cleaner Such as the KleenJet® Ultra 5000 CVP Meet Your Needs?
This industrial  anti-bacterial steam vacuum cleaner has been certified (by an independent lab that is nationally recognized) to be able to kill pathogens and bacteria that can cause disease.  The tests that were performed indicated that this system has a kill rate for MRSA at 99.99%.  The same held true for Methicillin – resistant and drug resistant Staphylococcus aureus.
This particular system generate a steam thickness that is up to 200% greater than models made by competitors.  If you are familiar with the 3000CVP then you need to know that this version – the 5000CVP – has larger water and detergent chambers.
The 5000 CVP has been designed to be able to handle the applications that are the most demanding and require anti-microbial technology that has been proven.  It is also highly efficient in applications that require pressure levels and water temperatures that are higher than those that are offered by cheaper competitor models.  So that this machine can tackle even the most demanding of applications, it comes standard with chemical injection.
Specifications
Lifetime boiler warranty. Three year parts warranty. 1 year labor warranty.
Pressure – up to 125 PSI
Steam temperature up to 369⁰
Continuous refill
5 liter boiler
10 liter water chamber
Stainless steel boiler
ATIS® Technology
10 liter detergent chamber
Removable heating elements
15 minute heating time
14 liter extraction chamber
2200mm water column lift
HEPA filter
Water filtration
10' steam hose
10' steam vac hose
Optional 16' steam hose and 24' steam vac hose
stainless steel frame and cover
Two power cords (requires two 15 amp 120V/60Hz circuits)
80 lbs
Applications
The 5000 CVP is the optimal choice for using in a variety of locations and for a variety of things.  These can included but are not limited to:
Cleaning residential bathrooms
Cleaning blinds in place
Cleaning clean rooms
Sanitizing and disinfecting (anti-bacterial certified)
Cleaning exercise and/or fitness equipment
Cleaning and maintenance of linoleum flooring
Cleaning furniture with hard surfaces
Cleaning glass
Cleaning hotel rooms
Cleaning kitchens used by food service operators
Cleaning residential marble flooring
Cleaning mattresses
Removing mold from bathroom showers
Steam mopping
Cleaning ovens
Cleaning commercial restrooms
Cleaning commercial or residential showers
Removal of soap scum
Cleaning grout and non-porous tile
Cleaning hard surface upholstery
Clean most non-painted hard wall surfaces
Cleaning windows
When you want cleaning power that is unbeatable, then the KleenJet® Ultra 5000 CVP is the machine you need.