December 23, 2015
Laminate Floor Cleaning Machines by Daimer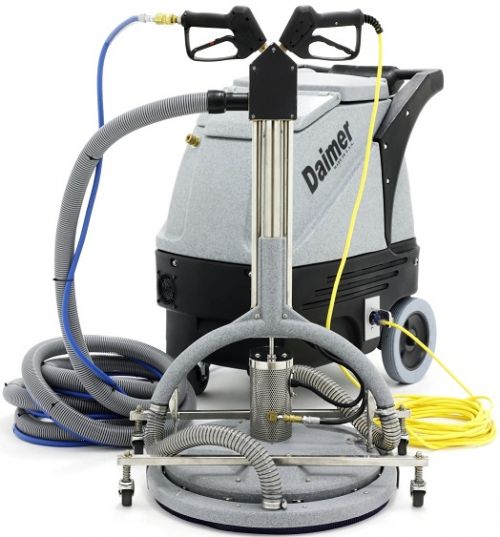 Laminate floors have gained popularity over the years because they are easy to clean and low maintenance. Laminate floors do not require proper care or too much attention which makes them durable for the years to come. Using the right laminate floor cleaning machine can derive the desired results.
Steam cleaning is an excellent option to clean such floors since it's chemical-free and cleans effectively through tough dirt and germs on various types of surfaces. It's more of an environmentally friendly green cleaning resource.
Daimer's laminate floor cleaning machines are robust and versatile. These are powerful machines with 60% more cleaning power and 70% better results. These are portable multi-surface spinner cleaning machines used to clean floors. Daimer machine utilizes spinner head that provide twice the power with no pressure lost during the process. The Daimer product are versatile cleaning machines with several uses such as grout, tile, marble and stone cleaning. The machine can also be used to strip wax build up on vinyl floors or hard surfaces. These machines eliminate dirt, grim and grease easily off hard surfaces. Here are some benefits for using powerful Kleenjet or Xtreme Power laminate floor cleaning machines by Daimer:
It is powerful enough to generate enough steam pressure for enhanced cleaning
It allows adjustment of pressure levels from high to low
It removes the toughest of stains
It's convenient and easy to use
Applications of the in-demand Laminate Floor Cleaning Machines by Daimer
The laminate floor cleaning machines by Daimer can be used to clean many types of surfaces which make it a multi-purpose machine. Here are multiple applications of the Laminate Floor Cleaning Machines by Daimer:
Residential use: You can use laminate floor cleaning machines to clean laminate floors and bathrooms. Bathroom is a space often ignored and hard to clean but the laminate floor cleaning machines steam at a high pressure that eliminates bacteria and germs while your bathroom will easily be squeaky clean in just a matter of minutes.
Floor & Wall cleaning: You can clean that dirt off the walls which is often ignored at home with the laminate floor cleaning machine. Often there's dirt and bacteria that can cause allergies and this machine helps you clean your walls and floors. Kitchens of restaurants are often dirty especially the walls and floors. The laminate floor cleaning machine will help you clean the dirt and germs off the walls and floors of commercial kitchens.
Large area or hard floors: You can use laminate floor cleaning machines to easily clean large areas which are difficult to clean manually. Hard floors and other surfaces are impossible to clean thoroughly which is why the laminate floor cleaning comes in handy. These large hard floors are easy to clean with these machines.
Cleaning linoleum floors: Linoleum is difficult to clean and high maintenance but laminate hard floor cleaning machines help to clean these hard surfaces easily. Good results are guaranteed.
Kitchen cleaning: Cleaning commercial kitchens is a difficult task because it has hard floors and dirt often seeps in deeply in such kitchens. But laminate hard floor cleaning machines use high-pressure steam and technology to clean kitchen floors, tabletops and walls thoroughly. Often these services are provided by kitchen cleaning contractors who must have these machines if they want to provide excellent cleaning services.
Marble floor cleaning at home: Marble floors can have stains that are difficult to remove but laminate hard floor cleaning machines help to remove these stains and other dirt off marble floors easily. Marble floors cannot be cleaned manually with a cloth which is why using a machine is essential.
Commercial Restroom cleaning: Public bathrooms can be hard to clean due to excessive usage and laminate hard floor cleaning machines help clean every corner, tabletop, toilet and floors easily. The steam in these machines kills bacteria and germs which are much needed in public bathrooms.
Stone floor cleaning: Cleaning stone floors can be a tedious task without the help of a powerful machine and, in fact, the dirt that seeps in cannot be removed without the help of steam cleaning machines. This is where the laminate hard floor cleaning machine comes in since it can be used to clean stone floors easily.
Swimming pool cleaning: Swimming pools and their tiles are difficult to clean because of the hard surface, but the laminate floor cleaning machines helps cleans pools easily.
Daimer® is the most trusted and popular name in the industry and known for its path-breaking cleaning systems that use innovative technologies and high-quality components. After sales service and support are our unique selling proposition because we make sure our customers buy the right product that they can use for the years to come.
Learn More
For more information please visit us at - https://www.daimer.com