September 30, 2015
Stone Floor Cleaning Machines By Daimer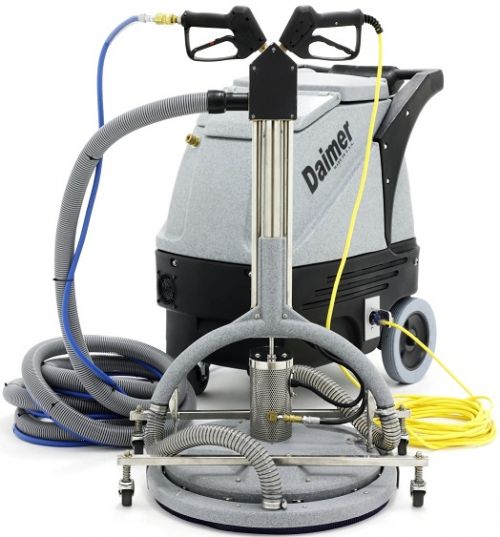 Stone floors are gaining popularity in terms of style, usage, and reliability. The available color and size of the stones makes them ideal to use indoor and outdoor. Although the stone floors rarely get dirty, but if they do they are very hard to clean. Washing or scrubbing them with detergent or other chemicals will not only consume your time but in the end will be ineffective. Using chemicals on stones are very dangerous as they can penetrate it and easily get absorbed which can become impossible to clean
The only way to clean and maintain the stone's original look is to clean it through Daimer's stone floor cleaning machine. Stone cleaning machine is not only fast but effective too. Cleaning any type of stone is easy with the use Daimer's products.
Daimer stone cleaning machine can reach up to a pressure of 1500 PSI with a temperature of 140 Fahrenheit in few minutes. The Daimer floor cleaner is 30 times faster to a conventional cleaning machine which uses a spinner technology providing complete suction to extract dirt and residue.
The many uses of Stone floor cleaning machines
The stone cleaning machine is designed using high quality materials that can withstand rigorous industrial usage. Though it is designed for commercial usage, it is able to serve many purposes.
Carpet Cleaning: The ability to control the pressure of the machine allows it to be used almost anywhere. A powerful machine like a Daimer HSC 14000 can be used to clean stones as well sensitive materials such as carpets. Daimer manufactures products keeping in mind the applications it can serve. Just switching the pressure gauge to 500 PSI makes the machine a powerful carpet cleaner.
Daimer HSC 1400 has an amazing extraction technology and gives a quick drying time as it extracts all the residue and water left. Using this machine in an office setting allows cleaning the carpet and restoring work in just a few hours because of the quick drying time.
Stone Cleaning: Daimer stone cleaning machine includes a patented spinning and extractor technology that makes it a perfect choice to clean all sort of stones including marbles and tiles. The stone cleaning machine is not only limited for indoor use but can be used to clean driveways, sidewalks, and even parking areas. The pressure that is ejected by the machine can handle all sorts of smudged oil or grease.
Daimer HSC 1400 can be used to clean porous as well as non-porous stones including bathroom tiles, counter tops, granite or marble. With an easy change to a 9 inch spinner, it can be used to clean hard to reach places such as grout cleaning. More optional features include 12" 4 and 18" 6-jet squeegee wand that can be used to clean small openings or hard to reach places.
Upholstery Cleaning: Daimer offers several different wands and accessories to increase the use of the machine. With an upholstery wand, the stone cleaning machine can be used to clean almost any kind of fabric. Be it commercial sofas or seats in a factory or a couch at your home, cleaning fabrics have never been so easy that provide a clean area with quick drying time due to its extraction feature.
Wall Cleaning: Office walls can become very dirty as they are used almost every day. Be it corridors, elevators or even stairways dirt and smudge can accumulate if not given proper attention. Painting to hide the dirt not only ruins the wall but also stops office operation due to the bad smell and working labor.
Daimer stone cleaning machine can easily clean any wall without harming the actual paint. With a simple movement to the pressure gauge to 150 PSI your office walls can get clean and dried within no time. In addition, you can also pass a 9 inch hand spinner which can be held in the hand for easy movement. Unlike repainting your office operations can resume just after few hour of cleaning.
Pressure Washer: The combination of pressure, hot water, and steam from a Daimer's stone cleaning machine can be used to clean any vehicle no matter how dirty it is. Just plug in a washer wand and you will be ready to go.
Stone cleaning Machines by Daimer are not only versatile, they are user and environmentally friendly. Unlike other scrubbers, the machine does not scrub the area and just cleans it through its powerful steam and extractor that leaves no residue. The residue is harmful to the environment as well as the people working in the area. Daimer products are made to last a lifetime and even if the machine requires some parts to be changed it can be done easily, without sending the machine out for repair.
Learn More
Before considering any other Stone cleaning machine, read how Daimer's patented replaceable heating elements can save you hundreds of dollars over other cleaning brands:
http://www.daimer.com/vapor-steam-cleaners-advanced-patented-features/
For More Information on Cleaning Products by Daimer, do Visit –