June 18, 2015
Super Max 12400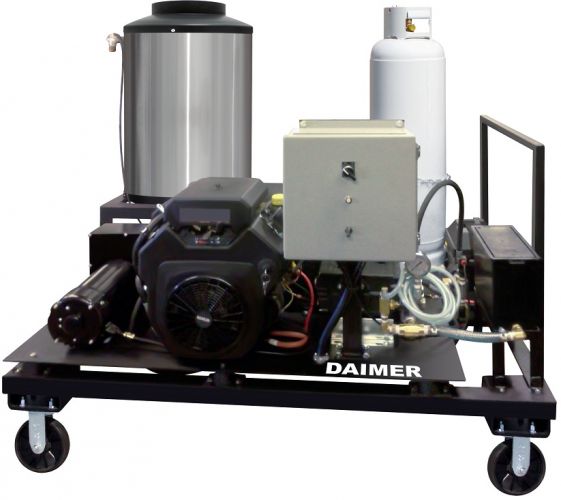 Purchasing the Super Max 12400 allows you to have access to three different machines in one. This tri-mode machine works as a cold-water pressure washer, hot water pressure washer and steam pressure washer. This unique set up provides maximum flexibility and efficiency for professional cleaning companies. You will have more freedom with this machine as it does not require the use of power cords to operate. This provides maximum reach and easier maneuverability while on the job.
This high-end steam cleaner and pressure washing features a 20 hose-power engine with 3000 psi, which offers a high intensity-cleaning perfect for the most difficult cleaning jobs. With a flow rate of 4 gallons per minute, this cleaner is perfect for jobs that need saturation and power. One of the biggest conveniences offered by the Super Max 12400 is the portability provided due to no need for a power cord.  The Super Max 12400 uses propane instead of gasoline, offering a cleaner, better fuel option.
Other flexible features include the ability to remove the wheels on the Super Max 12400 and mounting it to a trailer for convenient transportation options. The Super Max is designed to tackle heavy, outdoor cleaning projects and industrial cleaning.
About the Super Max 12400
With water temperatures ranging up to 210 degrees and steam temperatures up to 330 degrees, this machine offers high temperature, high pressure cleaning as well as cold-water pressure and wet steam cleaning.
The strong propane-based engine provides enough power to give you maximum water pressure and some of the highest temperatures in the industry. Water and steam is heated via a heavy-duty schedule 80 heating coil. This coil can heat water from cold to hot in less than a minute. The speed heating capability helps you save time when you are on site. You can run the machine continuously as long as you have enough propane. The Super Max 12400 offers high-pressure chemical infusion for a better, more thorough clean.
At 1,000 pounds, this machine is hefty, but effective. You can choose to have the wheels removed and the machine prepared for attachment to a trailer if that option is more convenient. The Super Max is just under 5-feet wide, 4-feet deep and 5-feet tall.  
We know that all businesses have different needs, which is why we offer custom options for The Super Max. If needed, we can customize your Super Max to allow for multi-gun operation and wet sandblasting. The steel-powder, chip resistant housing ensures that your machine looks good and lasts longer.
Accessories and Options
When you purchase the Super Max 12400, your machine comes equipped with a 3-foot durable trigger wand and blast wands at 0, 15, 25 and 40 degrees. Additionally, the Super Max includes a Steam Nozzle and a 50-foot high-pressure steam hose. You can purchase additional or replacement parts via our online store. Additionally, we offer different lengths to accommodate all of your cleaning needs. You can purchase filters and other product for your cleaner from our website
Our machines provide the best clean possible, while wasting less water and using a safer fuel alternative to gasoline. Additionally, we offer a line of eco-friendly cleaning projects so you can get the job done while limiting exposure to harmful chemicals.
The tools included with your machine offer a wide-range of uses for your machine, however, we can help accommodate additional tools and hoses so you can get your job done faster and easier.
Uses for the Super Max 12400
We designed our pressure washers to provide the maximum cleaning power by combining to the two most important elements in proper industrial and outdoor cleaning: pressure and heat. The high heat features allow the best possible solution for removing grease, mildew and stains.
Ideal applications for this machine include use in airports, agricultural machines, brick, cement and concrete cleaning, construction equipment cleaning, kitchen (food service) cleaning, degreasing, oil rig cleaning, paint removal, rust removal, commercial shower cleaning, sidewalk cleaning and truck washing among other industrial and commercial options.
The multi-purpose machine allows companies more flexibility in regards to projects they can handle. Whether you need a quick, cold-water clean or a more thorough hot water clean, this machine allows you the option to tackle any project with one machine.
Our steam pressure cleaners are the best in the market. The Super Max 12400 can remove oil, grease and paint form cement, brick and metal. With hot temperatures and a high PSI level, even the cracks and crevices will be clean.
When you work in the food industry, you need a cleaning machine that will remove all of the oil and grease that has accumulated. The high-pressure washer is also ideal for use in the automotive industry as the high temperature wash is perfect for removing grease. Use the cold water pressure to clean up dirt, mud and grime outside and inside your business for faster, more thorough clean. The steam-cleaning element is perfect for melting fat and grease, making it much easier to remove from any surface.
Daimer Industries works hard to ensure that our reputation as the supplier of some of the best cleaning machines in the industry, sticks. When you need a high quality cleaning, you can trust Daimer and the Super Max 12400 for the best results. To determine whether the Super Max 12400 is the machine for your business, use our compare all tool to look at each our machines and choose the one that meets all of your needs.