May 07, 2015
Super Max™ 6000 by Daimer®: The Only Hot Water Pressure Washer You will Ever Need for Commercial Areas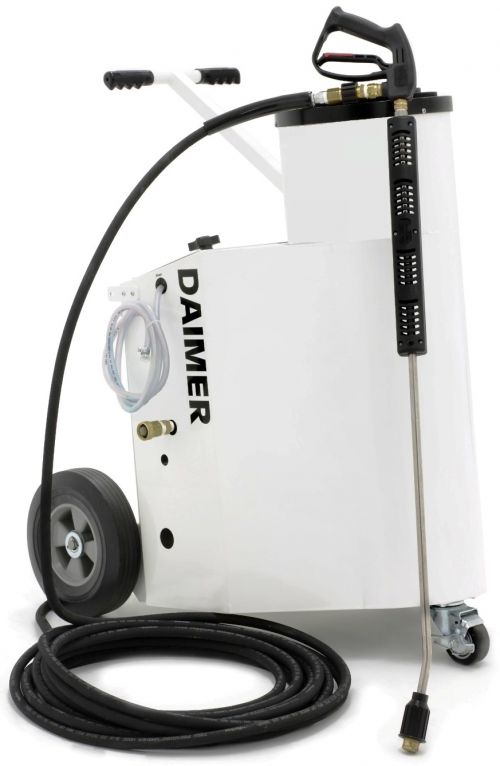 Any type of hot pressure washer should be one that is durable, effective and powerful.  The pressure and the temperature must both be high enough for this to happen.  If these temperatures are not high enough then you will end up having to work harder and longer to get anywhere near the results hat you want.  This is what happens when the process of cleaning is inefficient and this type of result can be detrimental to any pressure washing cleaning business.
Pressure washers in the hot water category need to achieve pressure levels of 700 PSI at a minimum for them to be effective when they are being used to clean commercial locations.  That being said, some of the pressure washers of this type have pressures up to 4000 PSI.  That might be a bit of overkill though because for most of the cleaning requirements for commercial applications, pressure washers that can achieve a PSI of 1500 are sufficient.
If you are trying to dissolve grease then you will be better off using a steam pressure washer that has a temperature that is over 212⁰F.  This holds true for any applications that involve removing dirt and mold.  Some of the pressure washers on the market will give you temps of more than 300⁰F.  These particular machines are great for cleaning up even the toughest deposits of grease in only a few minutes.
High temperatures are also perfect for clearing rooftops and melting snow.  Steam pressure washers also should have a way for you to set the temperature at different levels.  You might need the water to be hot but there also might be times when the job at hand calls for cold water.  With different temperature settings, you will find it easier to have the ideal water temperature for whatever mess it might be that you are cleaning up.
High pressure washers also need to be equipped with a hose that is rather long.  Especially for commercial applications.  Hoses that are not long enough will force the user to be continuously moving the machine which results in a drop in productivity.  If the machine is meant to be used exclusively indoors then the ideal option might be an electric one.  However, for machines that will be used predominately in open areas or outdoors, contractors might opt for models that are powered by propane, diesel or gasoline.
There are many differing options that are on the market and before you purchase one you need to know how and where the machine will be used so you will be sure that you are purchasing the right one for the job.
Features at a Glance
All  Super Max™ modela are made in the USA.  There are more than 400 models in this series.  Daimer® makes sure that only the highest quality components are put into each machine.  The Super Max™ 6000 happens to be one of the models with the lowest amount of pressure in the line of heavy duty industrial pressure washers that use wet steam.  This model has been designed specifically to clean with more efficiency than comparable models made by other brands.
Not only is the Super Max™ 6000 approved to be used both outdoors and indoors, it also meets standards set forth by the USDA for use in food and beverage facilities
The pressure of this system is 750 PSI
The flow rate of this system is 1.4 GPM
The Super Max™ 6000 is powered by a 120V/60Hz electric motor
The heating method for this machine is propane.  Propane is the most eco-friendly, greenest, heating method.
With the Super Max™ 6000 you will be able to select from various temperature settings.  Choose from cold water, hot water or wet steam
The steam temperatures reach up to 330⁰F.  This is the highest in the industry.  This machine will raise the temperature of cold water to make it hot or even to change it into wet steam in around 30 seconds.
The temperatures can be adjusted by simply turning a dial that is located on the control panel to control the amount of propane entering the burner.
The heating coils that are used in these machines are actually rolled in house.  They use the heavy gauge steel for these coils and around 90 pounds of it goes into every machine.  By doing it this way, Daimer® ensures that you are not getting any of those fragile aluminum coils that typically fail and which can be found in machines made by other brands.
Parts Included
When you purchase the Super Max™ 6000 you will get a durable 3 foot trigger wand with a  quick disconnect.  You will also get a variety of nozzles.  This includes a 0⁰ blast nozzle, a 15⁰ nozzle, a 25⁰ nozzle and a 40⁰ nozzle as well as a steam nozzle.  The high pressure steam hose that is included is 25 feet in length.
When you purchase the Super Max™ 6000, you will get everything that you will need to safely and effectively clean everything from grease to rooftops.