October 13, 2014
Using Steam as a Hard Floor Surface Cleaner
In many commercial buildings, or even homes, there is bound to be a lot of foot traffic, and it does get to be a problem for several different reasons. First of all, all of that traffic will rather quickly muck up the floor and make it less than pleasing to the eye. Dirt, grime, and other nastiness can make you start to wish you could simply replace the floor rather than going through the hassle of cleaning it. After all, at the conclusion of a busy day you are probably looking at it wondering how any amount of mopping is going to clean up that mess. The truth is, anything can be cleaned up, but you are likely to leave behind some unwelcome guests, otherwise known as bacteria. This is where a hard floor surface cleaner comes into play, and steam cleaners are one of the most popular with good reason. As a cleaner, the effectiveness of steam simply cannot be denied, and it is well known that steam units can be one of the most versatile hard surface cleaners. Not only will they clean floors, they will clean walls, and even hard furniture if you need it. Additionally, they have the ability to clean tile grout, which is something that many other products seem to struggle with. So now the question, is how you can deal with steam, and what it will do to prevent the growth of bacteria. Let's take a closer look, shall we?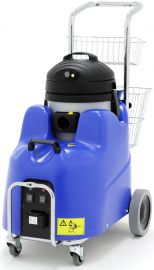 Steam – Good for the Floor, Good for your Health
These hard surface vacuum cleaners utilize steam as their primary cleaning agent with good reason. As you already know, steam consists of evaporated water, and bacteria begins to die when exposed directly to these high temperatures. For this reason, steam is the preferred cleaning method in hospitals, laboratories, and of course, food handling plants to meet both FDA and EPA guidelines. Now that you know how effective steam can be, it will be up to you to find good hard surface vacuum cleaners and employ them in your business, which isn't going to be simple. There are many questions that you will need to ask yourself before you settle on any particular model.
Questions to Ask
Finding the best hard surface steam cleaner will require you to take a look at your needs and determine what size model you need, as well as what accessories you would expect your steam cleaner to come with. Ultimately, the size of the cleaner itself depends upon the size of the area you are trying to clean. If you take a look at the various options Daimer is providing you will see that you have an array of options including those that come with various accessories to help you get the job done. Hard to reach corners and tight spaces will be no match for the tools that come standard with all Daimer cleaners, and before you know it, you will have a much cleaner, and more sanitary space. If you are confused about the various features and what you need, try to consider what sort of area you will be cleaning. Some units feature longer hoses while others have larger capacity tanks to allow the cleaner to continue running for hours, rather than forcing the operator to stop every few minutes to refill. Additionally, you should look for those units that have a stainless steel boiler rather than aluminum to avoid the advent of corrosion within the unit. These features will all cost a bit more, but you have much more to lose than money if you are unable to keep a clean floor. You could face lawsuits if people become injured, or you could even face fines if the health department performs and inspection and is not entirely satisfied with what they find. These cleaners will benefit you in ways that you have not even managed to realize yet, and with that being said, it's time to choose one and get it working for your business. After all, you needed to clean up the place anyway.
Still don't know which cleaner to choose? Daimer's website actually has an advanced feature that allows you to select multiple powerful hard floor cleaners for sale and compare them side by side. With this you will be able to look a the features of each unit and decide whether or not it is for you. If you don't like it, move on to the next until you find the perfect hard floor cleaner.
Daimer is one of the most trusted names in industrial cleaning equipment and will help you to ensure that your business is not only clean, but sanitary. The most important thing is to make sure you do not settle for a product that is less than what you need based on the price. You can do so much better than that! Don't settle, get the best, and make sure it keeps your halls clean for many years to come. Your business may actually depend on it.