March 11, 2015
Why Use Good Quality Hard Surface Floor Cleaners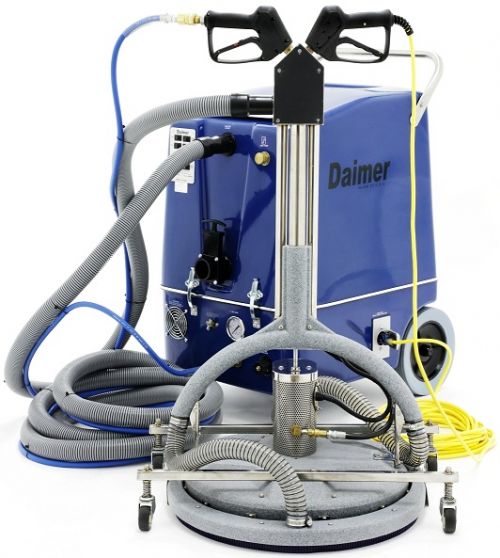 An aesthetically pleasing outdoor with creative décor, clean floors and walls on the indoors is sure to boost brand value of your business. Most commercial properties have various flooring materials such as hardwood, marble, stone, or tiles that have deep dirt embedded into them, based on the type of work and traffic involved. This is where we can help. By offering you the world's best brands of hard surface floor cleaner machines to deal with cleaning applications in various industrial and commercial settings across more than 200 countries, we know what it takes to give you good results. We possess an entire range of hard surface floor cleaner equipments that serve the requirements of almost every hard floor material that exists.
Hard Surface Cleaners for Different Types of Floors
In the market, you will get a variety of hard surface cleaners that include steam cleaners, carpet cleaners, pressure washers, hard surface spinners and much more. You have to pick one based on the type of floor you have. Remember - a stone floor requires different cleaning tools than a marble floor. In case your establishment or site has different flowing such as vinyl, bamboo, acrylic, epoxy, marble, hardwood or concrete, you will need to pick cleaning equipments that are suited for specific types of flowing materials. Since every type of flooring requires a cleaning method different from its other counterparts, you should use a cleaning method that is suited for your floor. In case selecting the right cleaner appears too tough a choice, you can consult the experts or pick the hard surface floor cleaner machines that the pros use.
Features to Look for in Hard Surface Cleaners
By using the best equipment available in the market for all your commercial cleaning needs, you can save considerable time, effort and money, all of which are likely to give your overall productivity and turnover a big boost. Whether you are looking for the best hard surface steam cleaners or hard surface vacuum cleaners, you need to know about the features to look for, in order to make a wise and informed decision.
Here are some of the essential features that you should consider:
·    Power configuration that suits varied requirements
·    Multi-functionality to suit every industrial requirement that also helps save money
·    Patented technology for individual applications
·    Features like refills, charging, and other essentials for continuous operations
·    Exponentially faster and cleaner solutions
·    Extremely high pressure and steam with innovative designs that ensure safe handling
·    Portability and flexibility that enables easy handling and multi-surface cleaning
·    Best quality with durable and cost saving operations
The Best Hard Surface Floor Cleaner
If you are looking for the best hard surface floor cleaner or hard surface steam cleaner, you are in the right place, as you can find the best and most affordable products for almost every application you need at our store. Our top-of-the-line machines are ideal for hard floor cleaning applications across industries including the sports industry, food & beverage, health industry, furniture, transportation, automotive, and other commercial establishment with diverse demands.
While choosing the best hard surface floor cleaner, you have to consider the model that quickly cleans up your messes, fits your budget and keeps your hardwood floors bright for years to come.
Some Hard Surface Cleaners worth Checking
Some of our popular hard surface floor cleaners worth checking are:
·    The XTREME POWER HSC 13000 is a high-end stone cleaning machine with a pumping pressure of 0-1500 PSI and an adjustable model that facilitates easy handling and movement. This motorized spinner provides 70% cleaner results than the non-motorized machines. With an adjustable option for flexibility and convenience, this multi-surface cleaner can be used for commercial wall cleaning requirements like pressure washing, restroom cleaning, tiles and linoleum cleaning, sandstone cleaning and more.
·    Marble floor in large commercial establishments require different type of cleaning to make them appear bright and well maintained. Our state-of-the-art, commercial grade marble floor cleaning equipment KLEENJET PRO PLUS 300CS provides exclusive vapor steam cleaning solutions to fight resilient dirt. With a temperature setting of up to 310 degree F and pressure levels set up to 75 PSI, along with a continuous refill option, you can get effective cleaning while saving precious time and effort. The heating elements can be replaced, which in turn make it the most affordable hard surface floor cleaner options in the market.
·    We also provide exclusive technology solutions and savings through the range of our powerful hard floor cleaners for sale. To name one of them, the KLEENJET MEGA 1000CV is an outstanding hard surface steam cleaner with extreme temperature and pressure settings for various cleaning applications. This versatile machine is power configured to suit all country requirements. With the highest-pressure level ever possible and multi-functionality, this is the most cost effective solution you can acquire for commercial maintenance of vinyl floors as well as laminate and linoleum floors.
·    SUPER MAX 10880 would give you a sample of the most innovative series of products we offer for your concrete floor cleaning needs. This drive away cleaning equipment is the best for your restaurant kitchen cleaning, sidewalks and parking lot cleaning, brick cleaning, and other concrete cleaning applications. This cleaner features an innovative engine alternator that takes care of batter charge throughout the day. Its durability and silent operation allows you to clean without customers being aware of the noise.
·    Identified as the most versatile hard surface cleaner machine, the industrial grade KLEENJET ULTRA 5000CV machine is one among the popular ones to meet your vinyl floor cleaning needs. Featuring exclusive HEPA filter to capture allergens, wet vacuum to extract moisture, dry vacuum to extract dirt and mites from hard surfaces, this offers value for money.
So, take your pick of the best hard surface floor cleaner and contact us to know more about these and our other cleaning equipments.