Description
Free Bonus for Ordering Online: 6 Free Extra Plushy Microfiber Towels
Valued at Over $19.00
FREE CART is Included.
FREE SHIPPING within the Continental United States.
Please call for freight pricing if shipping outside the Continental United States.

View This Video - Discover Daimer's Exclusive
Technologies & Savings Over Other Brands!

KleenJet Vapor Steam Low-Cost Brushes
Loading ...
Daimer - Your Direct Source for Exclusive Technologies
on the Industry's Most Advanced Steam
Vacuum Cleaners with Exclusive Technologies
... at UNBEATABLE Pricing!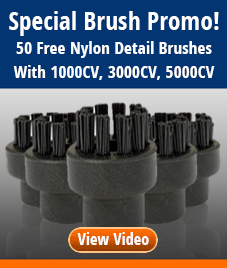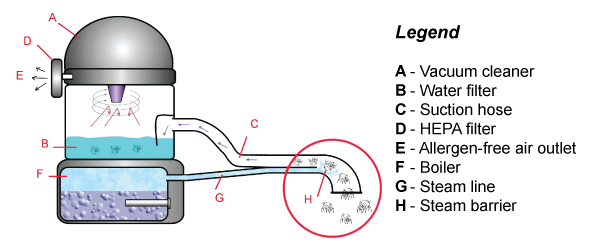 New Upgraded Model - Powerful Commercial Steam Vacuum Machine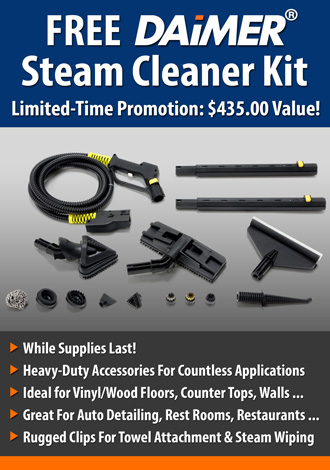 ► Compare to other brandswithout our technologies and featuresat high prices at up to $4500 and even $6000!
► No one else in the industry offers a system that can come close to the pricing and features of our KleenJet ® Mega 1000CV!
► $500 VALUE FREE DURING OUR PROMOTION: Included with each machine is Daimer's exclusive, patent-pending Certified Anti-Bacterial Technology. A U.S. Environmental Protection Agency (EPA) number is listed on every machine label to ensure authenticity.
Extraordinary Features
Fantastic Pressure and Temperature: The KleenJet ® Mega 1000CV offers outstanding pressure levels up to 105 psi and high steam temperatures up to 356°F, can tackle a wide range of steam cleaning applications. Learn about the Daimer® Difference.
The 1000CV is the most revolutionary, powerful steam vacuum cleaner in the industry with a single 110v-120v power cord, appropriate for the United States, Canada, the rest of North America, and countries that use 110v-120v for standard power outlets.
Three Chambers: This model features a total capacity of 10 liters, a 3 liter water chamber, 4 liter boiler, and 3 liter detergent chamber.
Continuous refill is standard as well as

a self cleaning boiler.

Boiler Scale Reduction: Unique, patented scale reduction technology. A continuously vibrating mechanism is featured to help prevent mineral and scale buildup and maintain maximum pressure and temperature.
Huge Savings: Chances are you have seen our highly popular KleenJet ® Mega 1000CV (Daimer's flagship commercial steam vacuum cleaner) on the web in the U.S., Canada, and elsewhere at much higher prices. Save substantial money and Buy Direct from Daimer Now by taking advantage of our incomparable worldwide DAIMER-DIRECT sales promotions.
Daimer's Pricing Strategy: Our machines are priced for lower profit margins to create a very high product turnover.
Power Configured for U.S., Canada, and Many Other Countries.
Highest Pressure Level: Importantly, no higher pressure level beyond 105 psi is technologically possible for any 100% electric, boiler-based, vapor steam cleaner technology on the market with one power cord. Daimer's Supreme 3000CV and Ultra 5000CV series are the most powerful models on the market with two, 110v-120v power cords, and long extension cords can be added as necessary.
Correct Power Connections: Since 220v-240v outlets are hard to find within North America, this power level is inappropriate, except for our foreign customers who use 220v-240v, 50Hz.. See International Steam Cleaners for those in countries using 50Hz power.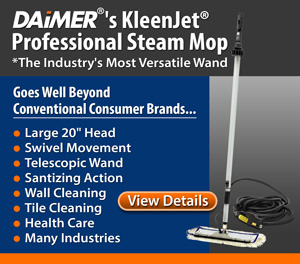 Multi-Functionality: The machine can be used as a vapor steam cleaner, steam vacuum cleaner, or wet/dry vacuum. (See Below.)
Dramatic Savings Over Other Brands: Read how to save a fortune on steam cleaner detail brushes. Daimer charges only $2.50 versus up to $20.00 per brush from other vendors.
Chewing Gum Removal: Optional chewing gum removal kit is available. Daimer offers the most concentrated gum removal liquid in the industry - up to 200% more ready-to-use gallons than any other brand and at up to a 300%lower cost.
Save up to $700 or More vs. Competitors: Read how Daimer's patented replaceable heating elements can save you hundreds of dollars over other steam cleaner brands.
Vapor Steam Isn't for Everyone: Read When Vapor Steam is Not Suggested.

Free Technologies During Our Promotion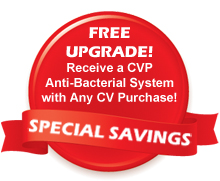 FREE $500 VALUE with each machine during our promotion: The industry's first and only steam vacuum cleaners with Certified Anti-Bacterial Technology.
IMPORTANT: Read about Daimer's ATIS® Exclusive Patent-Pending Certified Anti-Bacterial Technology for MRSA, Listeria, and much more!
FREE $350 VALUE with each machine during our promotion: ExclusiveHigh Efficiency Particulate Air (HEPA) FilterTechnology with each machine to 3 microns for capturing allergens and other particulates for extra protection against allergens, COPD, asthma, and symptoms from other ailments.
Daimer offers the world's first and only commercial steam cleaner vacuums that include HEPA filters.
Review Daimer's 2-Stage Filtration Technology.

Advanced Self-Regulating Continuous-Refill technology for adding water while the system is running. Work all day since there is no need to spend time shutting off depressurizing the machine, adding water, and reheating!
Read about Daimer's patented Continuous Refill technology and how it can maximize productivity.
Detergent or Water Ejection allows for detergent or water to be ejected via simple fingertip/handle controls for enhanced cleaning power.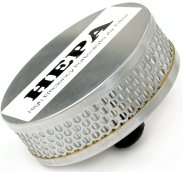 Hepa Fiter with filtering to 5 microns
Water Capture Technology
Wet Vacuum Cleaner to extract moisture and substances while cleaning to help eliminate the need for towels required by conventional steam cleaners that include no extraction capability.
Dry Vacuum Cleaner to extract dirt, pollen, dust mites, bed bugs, pet hair, and other allergens from carpet, hard floors, mattresses, and more surfaces and deposits them into water for easy disposal
Air Purification for a cleaner, fresher indoor air environment
System includes more parts and accessories than any other brand

Extra Special Limited-Time Promotion ... FREE - $500 Value for
Daimer's EXCLUSIVE ATIS® Patent-Pending Technology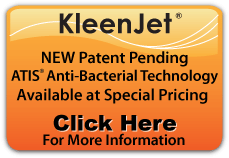 For a limited time, buy a Mega 1000CV at our special low pricing, and get a FREEupgrade to our 1000CVP model with patent-pending, Advanced Thermal Ionic Sanitization (ATIS®) technology. Click on the graphic above and notice the pricing for the 1000CV is the same as the 1000CVP!
ATIS® has a proven, certified kill rate of 99.99% of harmful bacteria such as MRSA, Listeria, Salmonella, E.Coli

,

S. aureus, mold such as Aspergillus niger, etc. Read about this important ATIS technology now.
**** Every machine's label includes a U.S. Environmental Protection Agency (EPA) number to confirm authenticity, and represents an extraordinary value to those in heath care and others seeking certified anti-bacterial steam vacuum cleaners. ATIS® is an ideal technology for those professional cleaning contractors seeking a technological edge over competition.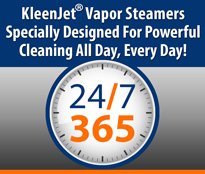 When Vapor Steam is Inappropriate

Important Information Before Considering Other Brands
Read about how Daimer's direct-sales approach results in the lowest prices to you. Compare and review other important issues you should consider when evaluating steam cleaners.

Read about the KleenJet ® Mega 1000CVP - ATIS ®, Daimer's Certified anti-bacterial steam vacuum cleaner featuring patent pending ATIS ® (Advanced Thermal Ionic Sanitization ®) technology.
Read about the KleenJet ® Mega 1000CVGP - ATIS ®, Daimer's chewing gum removal machine combined with Certified ANTI-BACTERIAL commercial steam vacuum cleaner technology.
Testimonials
1000CV
"Being a "late-night TV Junkie" and witnessing the power of steam cleaning during the info-mercials, I started Googling to see what was out there when I ran across Daimer Industries and their very explicit website. Having a son with many allergies and having personally gotten sick in the past from cleaning with a very strong tile cleaner, I could tell steam cleaning would be a fabulous way to go.
After lots of research, I decided to purchase your Kleenjet Mega 1000CV. I can only tell you that it has been one of the best investments I have ever made! My kitchen simply doesn't feel clean any more unless it has a good dose of steam every couple of weeks, and I have used my steamer relentlessly for taking down wallpaper, cleaning grout, cleaning my refrigerator (the best!), in my kitchen and bathrooms, and even my barbecue grill.
Once I get it going, seems like I just can't stop, and the best thing is I don't have to because the steam just keeps on coming for as long as I keep on going!
Now, just to let you know, after telling my 86-year-old mother how awesome steam cleaning was, she went and ordered a xxxx Steam Cleaner from an info-mercial. I was taking down her wallpaper and the steam concentrator (the piece which you attach all your pieces to) cracked as I was using it.
In two weeks I placed approximately 30 calls to the xxxx steam cleaner people to find out how to purchase the part that broke, only to leave two messages which were never answered, and all the rest of the calls were all BUSY SIGNALS. The HSN employee told me he had problems himself, as well as from other customers, and so he gave me some other numbers to try, which were also always busy. I even received a fax number which I sent a fax to, only to have that unanswered as well.
Then HSN gave me their email address which I immediately sent an email to. Guess what? Two weeks later, no response! I am totally disgusted that this company that is making so much money money with their info-mercials will get away with this, and my 86-year-old mother is out $200.00 as there is no way I can even talk to anyone to order the part I need. It makes me sick. You, on the other hand, have answered any question I ever had on the same day, even on the weekends. So thank you again. I guess you really get what you pay for!"
Linda C.
Troy, Michigan
1000CV
I just bought one of your new upgraded 1000CV machines for my floor cleaning business. After seeing the job it did on tile floors, I have offered to clean customers' bathrooms. I even pitched -- and won -- a job cleaning a local gym, which has a large locker room. I also appreciated that you guys don't try and gouge me on the cost of extra detail brushes. (I bought 30 brushes and I noticed some of your competitors charge 5 times more for extra brushes.)
David R.
Reno, NV
1000CV
To Whom It May Concern,
My boss is so happy I bought this machine.(your new ad campaign should be: no one ever got fired for buying Daimer®!)
We need a steam cleaner for cleaning the locker rooms in our chain of health clubs. The machine is so small we can move it from club to club with my hatchback. The wet vac is great for cleaning shower areas and the high temperatures are great on lockers and the hard rubber flooring.
My boss even wanted me to buy a second one for our properties in California.
Keep up the good work,
Ronald G.
Reno, NV

1000CV
I clean tile and grout professionally, and I just want to let you know I'm very happy with the machines I bought from Daimer. My Mega 1000CV and Ultra 5000CV steam cleaners clean grout and makes it look like new again. My customers are very pleased with the results and also very impressed by the professional appearance of the machines. I would recommend Daimer to anybody and I look forward to doing business with you soon as my business is growing and will be buying more equipment from you soon.
Anthony O.
Garfield, NJ

1000CV
After spending 3 entire days over two weekends on hands and knees cleaning 2000 sq.ft. of tile/grout in our home here in AZ., my wife and I decided we needed a better way so started looking on the Internet and found Daimer's site. I ordered the Mega 1000cv steam cleaning system from your firm and have been completely satisfied as to performance and quality. The machine cleaned the grout better than the old method in a lot less time and less mess.
We didn't have to use any chemicals on the grout, JUST THE STEAM! All the attachment that we have used are of high quality and work great. After receiving the machine I tried it out in a small area in kitchen and showed my wife. She tried it for herself. After seeing how it cleaned so fast she pretty much took over the job of tile cleaning. She let me be the relief cleaner for the rest of the house.
I have cleaned my outdoor grill with it, but I did use grill cleaning spray ahead of time but the steam made job easier and quicker than previous cleanings. Thanks again for a great product and for the service I have received. Its been a pleasure doing business with a professional company.
Thanks again,
J.B.
Tucson, AZ