Description
 

Free Bonus for Ordering Online: 6 Free Extra Plushy Microfiber Towels Valued at Over $19.00

FREE CART is Included.

FREE SHIPPING within the Continental United States.

Please call for freight pricing if shipping outside the
Continental United States.

View This Video - Discover Daimer's Exclusive
Technologies Savings Over Other Brands!

KleenJet Vapor Steam Low-Cost Brushes
Loading ...
Daimer - Your Direct Source for Exclusive Technologies on the Industry's Most
Advanced Steam Vacuum Cleaners with Exclusive Technologies
... at UNBEATABLE Pricing!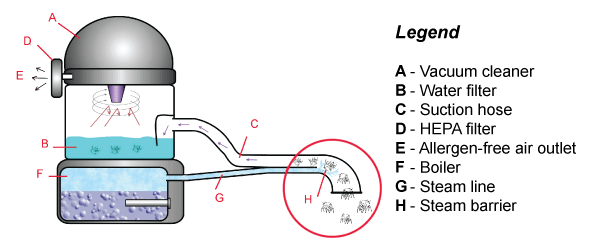 ► Compare to other brands priced at up to $6800 .... without our technologies and features! Save money now and take advantage of our incomparable worldwide Daimer-Direct sales promotions .... machines are priced for lower profit margins to create a very high product turnover!
► $500 VALUE FREE DURING OUR PROMOTION: Included with each machine is Daimer's exclusive, patent-pending Certified Anti-Bacterial Technology. A U.S. Environmental Protection Agency (EPA) number is listed on every machine label to ensure authenticity.
► $500 VALUE FREE DURING OUR PROMOTION: Receive our free Daimer EXCLUSIVE direct water feed feature, allowing a water hose line to be connected to the machine just like a pressure washer. Special technology allows for unattended, self-regulating/monitoring continuous and automatic refill.
 

Exclusive HEPA Filter to 3 microns for capturing allergens and other particulates for extra protection against allergens, COPD, asthma, and symptoms from other ailments. Review Daimer's 2-Stage Filtration Technology.
Wet Vacuum Cleaner to extract moisture and substances while cleaning to help eliminate the need for towels required by conventional steam cleaners that include no extraction capability. Includes a massive 14-liter extraction/vacuum chamber.
Dry Vacuum Cleaner to extract dirt, pollen, dust mites, bed bugs, pet hair, and other allergens from carpet, hard floors, mattresses, and more surfaces and deposits them into water for easy disposal
Air Purification for a cleaner, fresher indoor air environment
Self-Regulating Continuous-Refill technology for adding water while the system is running. Work all day since there is no need to spend time shutting off depressurizing the machine, adding water, and reheating! Read about Daimer's patented continuous refill technology and how it can maximize productivity.
Exclusive Direct Water Feed technology for automatic, unattended water refill
Exclusive Water Capture, and Water Filtration as well as Water Ejection and Chemical Ejection are standard features
Detergent Ejection allows for detergent to be ejected with steam via simple fingertip/handle controls for enhanced cleaning power.
System includes more parts and accessories than any other brand

New Upgraded Model - Most Powerful
Industrial Vapor Steam Vacuum
 

The KleenJet® Ultra 5000CV offers the highest pressure and temperature levels in the industry.No other vendor offers all the features Daimer includes in this model.
Outstanding Pressure Levels: Pressure of up to 125 psi and high steam temperatures up to 369°F, can tackle a wide range of steam cleaning applications.
Three Chambers: This stainless steel model, which includes continuous refill, offers a total capacity of 25 liters, a 5 liter water chamber, 10 liter boiler, and 10 liter detergent chamber.
Boiler Scale Reduction: Unique, patented scale reduction technology. A continuously vibrating mechanism is featured to help prevent mineral and scale buildup and maintain maximum pressure and temperature.
Can be used as a vapor steam cleaner, steam vacuum cleaner, or wet/dry vacuum.
The Ultra 5000CV, as well as Daimer's other commercial and industrial steam vacs, are the world's first and only commercial steam cleaner vacuums that include Water Capture and HEPA filter ((High Efficiency Particulate Air), a $350 value for FREE!
The 5000CV

is the

most revolutionary, powerful steam vacuum cleaner in the industry featuringtwo, 110v-120v, 15 amp power cords. Long extension cords can be added as necessary. 110v-120v is the only appropriate power suggested for the United States, Canada, the rest of North America, and countries that use 110v-120v for standard power outlets.
220v-240v power is inappropriate for use within North America, but is appropriate for our foreign customers who use 220v-240v, 50Hz.
The versatility of this powerful commercial steam cleaner is ideal for customers with varied cleaning needs.
Real Advantages: Besides our many other exclusive technologies, all of Daimer models feature our patented, replaceable heating elements. All of our popularly purchased detail brushes are only $2.50 each versus up to $20.00 from other brands.
The optional 16' steam hoses and 24' steam vacuum hoses are the longest available in the industry.
Chewing Gum Removal: Optional chewing gum removal kit is available. Daimer offers the most concentrated gum removal liquid in the industry - up to 200% more ready-to-use gallons than any other brand and at up to a 300%lower cost.
Extra Special Limited-Time Promotion ... $500 Value for
Daimer's ATIS® Exclusive Patent-Pending Technology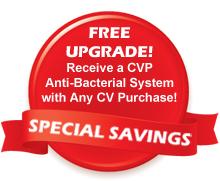 For a limited time, buy an Ultra 5000CV at our special low pricing, and get a FREEupgrade to our5000CVP model with Daimer's exclusive patent-pending, Advanced Thermal Ionic Sanitization (ATIS®) technology.
ATIS® has a proven, certified kill rate of 99.99% of harmful bacteria such as MRSA, Listeria, Salmonella, E.Coli

,

S. aureus, mold such as Aspergillus niger, etc. Read about the Ultra 5000CVP - ATIS®.
Daimer offers the industry's only certified anti-bacterial technology for steam vacuum cleaners.
**** Every machine's label includes a U.S. Environmental Protection Agency (EPA) number to confirm authenticity, and represents an extraordinary value to those in heath care and others seeking certified anti-bacterial steam vacuum cleaners. ATIS® is an ideal technology for those professional cleaning contractors seeking a technological edge over competition.
Important Information Before Considering Other Brands

Testimonials
5000CV
Dear Daimer,
I work in the support services for a large manufacturing company. When we needed a
machine to clean our equipment, I went online and found your company. You had an
impressive list of customers. Some of you big customers are our competitors. Also, your
sales staff really knew their stuff.
So we bought a 5000CV and it has been doing a great job. The machine is reliable and
we've been using it to shop floor areas and to clean employee locker rooms, showers and
any place with tile and grout.
Sincerely,
M.L.
Portsmouth, N.H.
5000CV
Thanks for a great tile cleaning machine. I am using a 5000CVP to clean and disinfect
bathrooms and showers in the public school district where I work. The machine replaced
an older model from another company that was slow and didn't even include a vacuum.
Now, my tile and floor jobs go much faster and the results are a huge improvement.
Robbie S.
Newton, MA
5000CV
I clean tile and grout professionally, and I just want to let you know I'm very happy with the machines I bought from Daimer. My Mega 1000CV and Ultra 5000CV steam cleaners clean grout and makes it look like new again. My customers are very pleased with the results and also very impressed by the professional appearance of the machines. I would recommend Daimer to anybody and I look forward to doing business with you soon as my business is growing and will be buying more equipment from you soon.
Anthony O.
Garfield, NJ
5000CV
I started my tile cleaning company 1½ year ago. I went through a lot of tile cleaning machines before I found the right one. I am glad I chose Daimer for my business. I use the Daimer 5000 CV industrial steam cleaner for heavy duty commercial cleaning and 300CS steam cleaner for smaller jobs like upper level cleaning of residential houses. I have no regrets on choosing these machines. The machines are easy to setup, easy to use and very reliable. I will highly recommend it to others in the business.
Rey D.
Only by Steam Tile Cleaning Co.
Vancouver, BC Canada
5000CVGP
I am writing to tell you that the Supreme 5000CVGP I bought in 2008 has been working very well. I love the steam power and the vacuum cleaner for helping me clean gum outside as well as tile cleaning.
Before buying your steamer, I owned a cheap steam cleaner I bought in Toronto, but I had so many problems with it I just wanted to buy one with much more power. Daimer's reputation seemed very good and I'm glad I made the decision to buy!
Thanks,
Stephen R.
Toronto, Ontario, Canada
5000CVGP
Dear Daimer,
I was struggling for an idea for a new business and I just happened to notice lots of black spots on sidewalks in front of local businesses. After learning that the spots were chewing gum, I searched the Web for gum removal systems and found your Web site.
I also searched for competition and didn't find much. But I still had trouble deciding between 3 of your gum remover machines before I called your salesperson who recommend I go for the Ultra 5000CVGP antibacterial machine.
I also use the machine to clean kitchens and floors with the system in restaurants and other places that care about bacteria.
Thank you for a great machine that has been making me a good living for the past 2 1/2 years.
Pierre D.
Montreal, Quebec, Canada
5000CVGP
I own a growing cleaning contracting business with 10 employees. We needed a several cleaning services that could handle any job one of our cleaning associates encountered at a client. So, we bought a 5000CVGP. So, far the machine has handle every job we've thrown at it: cleaning tile and grout, hard flooring, walls, removing gum from sidewalks, killing germs at a pet hospital.
I don't normally write these kinds of letter, but I believe in complimenting people when they get something right. With this machine, you got it right.
James R.
Haralson, GA