April 12, 2016
The Best Industrial Steam Cleaner and Insects - What you Need to Know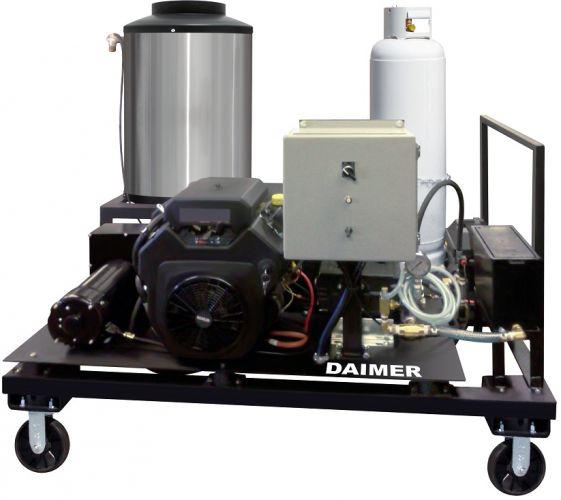 Insects are one of the leading causes of building blemishes. They mainly affect the building's exterior due to the wind and other elements. Certain geographic areas and certain seasons may bring different types of insects as well. Over time, these insects can actually become chemically bonded to the exterior surface, and become impossible to get off just by scrubbing. Hot steams breaks up these bonds and provides a damage-free way to clean. Paint will not be stripped by the steam, and metal will not be affected. We understand that a heavy duty steam cleaner can be expensive, and is a huge investment to a company. Daimer Industries makes this purchase affordable and simple.
We offer a variety of industrial steam cleaners with different functions, intensity levels, and with three different modes - hot water pressure, cold water pressure, and hot steam pressure. Our versatile machines put the power of steam cleaning into our client's hands to eliminate any uninviting insect remains.
Steam: The Gentle Cleaning Option
A heavy duty steam cleaner has needs high water and steam temperatures to be effective. High water temperatures (our systems get up to 330 degrees) are the sanitizing force behind walls that can withstand this type of heat; this includes stone, brick, and concrete, to name a few. Hot water can also help to loosen up extremely tough debris, such as a sand. As a safety measure, our hot water can go from hot to cold in 30 seconds. If you need cold water for the job, you will not have to wait around for the temperature to change so drastically. All of our Super Max line has a tri-mode feature, where hot water pressure, cold water pressure, and hot steam are all options. Using the steam feature, you have a gentler method of cleaning the debris than simply using hot water, which creates a lot of agitation on the building exterior surface. Hot water can be great for stripping paint, but if that's not your desired end state then steam does the job. Because steam is less abrasive, this is optimal for cleaning insects off of walls.
Advantages of Steam Cleaners
Protects Worker's Safety           
Your worker's safety is the highest importance when doing a pressure washing clean. If you are able to, using steam is a safer option for the person cleaning off the exteriors because the water pressure is not nearly as high. Steam eliminates any concern of splash back onto the worker.
Uses Less Water
Your system will use significantly less water with steam because it is not a steady blast of of water pumping at an incredible gallon per minute rate. You will need to use hot water pressure at some point, but steam cleaning is a great alternative for smaller jobs, such as insect elimination.
No Oily Residue
Depending on what you are cleaning off, such as a surface that is already coated with grease, hot water may end up still leaving an oily film. Steam ensures that the oil is lifted from the surface, which can also be a by-product of the insects.
Thawing Capabilities
If your business is located in a colder state where the walls freeze or frost over, a steam cleaner can help break up the ice and then still give the exterior a good cleaning - no matter what the weather. The steam can also defrost pipes and gutters to make your building safer. There is no reason why you should not be able to clean the insects off of your exteriors simply due to the weather.
Less Runoff Waste
When you are using hot water pressure, all of that water needs to be redirected somewhere that does not affect plants or harm people in the surrounding areas. This is extremely important when you bring in chemical soap into the picture. As we mentioned before, steam uses less water, which therefore means less runoff waste to get rid of and is more environmentally friendly.
Making an Industrial Steam Cleaner a Viable Option
Daimer Industries puts an affordable industrial steam cleaner into your hands at a competitive price, with the option of financing. We are interested in bringing the best technology to our clients, and our product specialists have a high degree of expertise in this field to assist you in choosing the right product. Our clients' industrial steam cleaners have lasted them over 20 years, and have been backed by our 80 years of experience. We are more than happy to share our knowledge of steam cleaning technology, and to continue to provide quality products that speak for themselves.