April 07, 2015
What You Should Know when Shopping for Industrial Steam Cleaners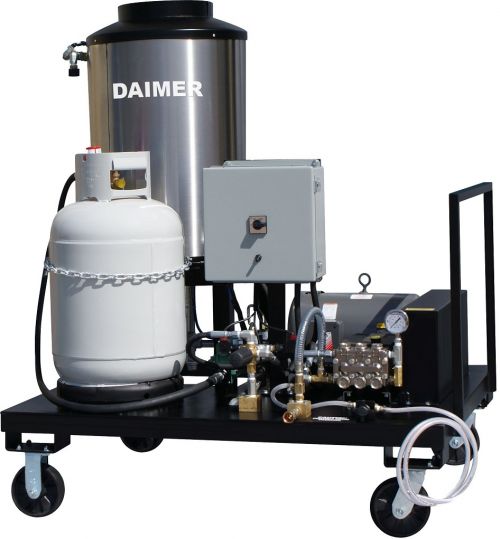 More and more people are becoming increasingly aware of the negative effect harsh chemicals have on their health and the environment. They are looking for better, more natural ways to clean, and industrial steam cleaners are a great way for businesses to achieve an eco-friendly clean in almost any workspace. Because these types of cleaners do not use chemicals, indoor air quality remains clean for overall better health.
About the Industrial Vapor Steam Cleaner
An industrial vapor steam cleaner uses regular tap water to create steam powerful enough to get rid of the toughest grime and dirt, as well as bacteria, viruses, flea eggs, dust mites, biofilms, pet dander and much more in just a few minutes. A vapor cleaner does not need any harsh chemical cleaners to achieve a sparkling, germ-free clean.
Steam cleaners are able to achieve this type of natural clean because they contain internal water boilers that heat water to about 325 degrees. Water transforms into steam at this high temperature, and is capable of penetrating microscopic pores on many different surfaces. In fact, industrial carpet steam cleaners are commonly used to clean the carpets in office buildings.  That is why they always look fresh and almost brand new at any given time. Steam cleaning not only leaves surfaces clean, it sanitizes and deodorizes them quickly and without the use of liquid detergents.
A Heavy Duty Steam Cleaner Can Be Used On:
A variety of tile surfaces including quarry, slate, ceramic, vinyl and linoleum
Sealed hardwood
Concrete
Carpeting
Area rugs
Wallpapered, paneled or painted walls/ceilings
Acoustic walls/ceilings
Vents
All types of upholstery including leather
Mini blinds
Vertical blinds
Glass windows and screens
Mirrors
Window frames
Kitchen appliances
Sinks and faucets
Cabinets and countertops
Showers and shower doors
Sink faucets
Fiberglass
A heavy duty steam cleaner is capable of handling almost any cleaning job, and does so without the use of harmful chemicals.
What To Look For In An Industrial Steam Cleaner For Sale
It can be a bit overwhelming when you begin looking for an industrial steam cleaner for sale. That's because these units are a dime a dozen, but even so, not all are created equal. Here are a few things to keep in mind as you search.
ASME Certified
There are specific guidelines for steam boilers used in an industrial setting. These guidelines state that all industrial steam cleaners for lease or sale must be manufactured in accordance with the ASME Boiler and Pressure Vessel Code, or ASME B&PVC, for short. They must also be registered with the National Board. All cleaners purchased from Daimer Industries meet or exceed these safety standards.
Don't Let Boiler Temperature Claims Fool You
If an industrial steam cleaner manufacturer makes claims of unbelievable boiler temperatures, be leery. While the temperature inside the boiler is related to the boiler's pressure, know that when the pressure is raised, the steam becomes drier. It is important to understand then, that as soon as the steam is released from the tip, the temperature and pressure of the steam drops dramatically. Therefore, high boiler tank temps do not necessarily equal the best clean.
Temperature At The Tip
Obviously, if the steam temperature drops as soon as it's released into the atmosphere, this means that the steam closest to the tip is going to be the hottest. This is the steam that does the most work. Many steam cleaners, including the convenient portable industrial steam cleaner, only achieve about 212 degrees at the tip. However, Daimer Industries' Super Max 7000 Commercial Grade Steam Cleaner boasts 330 degrees, the highest in the industry.
Steam Volume and Moisture
Once it is established that the machine you are looking at functions at the correct temperatures, the next thing to look at is whether it can produce enough steam to get the job done. In many cases, the steam cleaner industrial may have to sustain enough dry steam to last an entire shift. Also, it may need to be used for several different application requiring a volume and moisture adjustment of some sort. These are some features to consider.
Again, our Supermax 7000 is the best industrial steam cleaner because it is capable of sustaining plenty of steam for long periods of time and it's adjustable for a multitude of purposes.
If you are in the market for an industrial steam cleaner, look no further than Daimer Industries. We are a 100% American company catering to worldwide customers. We sell steam cleaners for government, industrial, commercial and business use. When you shop our website, you can expect a deep promotional discount on over 400 models including wet steam, electric hot water and cold water systems. All our vapor cleaners boast a super-hot cleaning temperature at the tip of up to 330 degree, which is the industry's highest to date.
Shipping is never a problem no matter where you are because we have warehouses all over the U.S., and we export to over 240 countries, including Mexico and Canada. Our machines are usable by our foreign buyers using 50Hz (please see International 220v – 600v, 50Hz models).
You can trust the quality and customer service you get with Daimer Industries because we have been featured in over 120 trade publication across the U.S. and around the world. We are proud to be your industrial steam cleaner supplier and look forward to hearing from you soon.