October 21, 2014
Back to New Using Carpet Cleaning Equipment
Carpet is a great choice for any house or business for a few different reasons. For one thing, it does a great job of absorbing sound, and in that area, most other flooring options tend to fall short. While it might not seem like an important addition to your home or office, you will find that carpet creates a much warmer environment than you would have had otherwise, and it is quieter all around. The biggest problem you are going to have however is keeping it clean. You will experience quite a bit of foot traffic, no matter what type of business you are in (or at home) and mud is bound to become ground into the carpet. Of course, mud isn't the only thing that you have to worry about. You also have to contend with the possibility of things being spilled. You probably know that some spills can be nearly impossible to remove from any carpet, and it is inevitable, so what do you do? You could try to scrub the carpet, or you could impose some sort of martial law in which no one is allowed to eat or drink when they are indoors, or you could even lay newspaper down for them to walk on. Let's be perfectly honest, this is a complete and utter waste of your energy and time, so why not look into carpet cleaning equipment instead? Carpet cleaning supplies and equipment will give you the ability to not only clean your carpet, but return it to a much more pristine state. Actually, with regular cleaning and scrubbing, your carpet may always look brand new! Let's talk a bit about how carpet cleaning machines work and why you might want one for your home or office.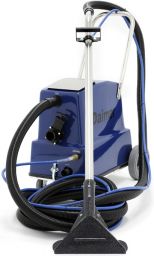 Carpet Cleaning Equipment for Your Business
By making sure you clean your carpets regularly, you will prevent serious problems from developing later. If you plan to do this however, you are most certainly going to need a professional carpet steam cleaning machine. So what can you expect from one of these machines exactly? What does it do that a scrub brush and some old fashioned elbow grease cannot? You might be surprised, actually. Before we get into that, let's talk a bit about how steam cleaning works and why it is beneficial for you in a number of different ways.
First off, you need to understand that dirt, grime, and dust all share one common attribute: they stick. You should know this by now of course, if you've ever been covered in mud and had to step into the shower to clean yourself off. The same is true for your carpet, though you cannot expect to roll your carpet up and toss it into the shower, or the washing machine for that matter. Instead, you will have to become a bit more creative. What does this involve exactly? A few things. First of all, you will need a commercial carpet cleaning machine.
Steam, when heated properly is capable of loosening dirt from its bindings on the strands, and once it is brought to the surface, it can be sucked through the vacuum tube, ultimately being taken into the tank and prepared for disposal. Once this is done, the carpet will look almost as good as new. Continuing the process will continually produce clean carpet for many years to come, which is something you can be proud of.
So what should you be looking for in a carpet cleaner? It is recommended that you find one that reaches high temperatures. Daimer's heated models will reach 210 degrees Fahrenheit. In addition to that, you might want to consider a low flow system. While using water is a great idea (obviously) low flow will make the current load last longer without refill, and it will reduce the chance of mold as there is less moisture. It is the small things that tend to make all the difference.
Daimer offers you plenty of different options for your steam cleaners, and before you know it, you will either be using your very own machines on a regular basis, or you will be arranging for a rental. Keep in mind that buying machines outright, even at a discount is far better than constantly renting, especially if you find that you are steam cleaning on a regular basis. That being said, it's time for you to take a look at the Daimer website and see exactly what is being offered and what it can bring to your business. Commercial carpet steam cleaners are in high demand not only because they can make the workplace look better, but also because they provide a cleaner, germ free environment. With the right steam cleaner, your future and your carpet are in good hands.