April 04, 2016
The Best Carpet Cleaning Machines Can Get you through the Worst Health and Welfare Inspections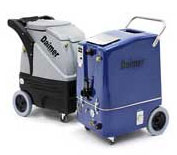 Businesses, particularly restaurants and hospitals, are expected to maintain a clean facility in order to ensure optimal health of their employees, clients, and patients. And vacuuming, sweeping, and mopping are all great ways to keep your business clean and tidy, they can be time consuming and, on a large scale, ineffective. This is especially true if you are trying to control allergies or other illnesses where regular cleaning isn't enough to help keep everyone in optimal health.
Fortunately, there are a variety of carpet cleaning machines to ensure your business gets the deep cleaning you need. At Daimer Industries, we strive to provide innovation and effective technologies at competitive prices. Let our tested and proven machines help you give your carpet a second chance at being the warm, inviting flooring it was when you first installed it while still passing critical health inspections.
The Benefits of Using a Carpet Steam Cleaner
Dust mites, cat and dog dander, dirt, roach debris, and certain air pollutants can all become trapped within your carpet or upholstery, and be disturbed each time someone walks or sits on them. Deep cleaning your carpet and upholstery, especially when in conjunction with specific cleaning chemicals, is a great way to ensure your home is free of these particles that can lead to sneezing, coughing, and negatively impact asthmas and other conditions. It can also help prevent mold and mildew by cleaning remnant soiled patches.
Due to how difficult it can be to keep carpet clean, many businesses, schools, and other locations will opt to replace carpet with another material. Though this prevents issues carpet can cause, it leads to different maintenance requirements while losing the benefits of carpet. These benefits are:
Helping improve health. As mentioned earlier, carpet is prone to trapping pollutants. This, however, means they are in one spots--the carpet--and not elsewhere like they would be on another flooring material. With the assistance of some of the best carpet cleaning machines on the market, though, you can easily rid your business, school, or home of these irritants, and in doing so help promote the health of your clients, employees, students, and teachers. With the right cleaning equipment, you can benefit from carpet without having to worry about its reputation of being impossible to keep clean.
Reducing noise pollution. Carpet cushions footsteps and absorbs some sound from conversations, helping employees focus. It's also creates a more peaceful environment for hospitals.
Being inviting. Carpet is naturally warmer and more welcoming than many alternatives, such as tile, wood, and stone. Though these have their own appeal, carpet can help by giving customers and employees are more "homey" feel. In businesses such as hospitals, this can be important for patient comfort.
Providing warmth. Especially helpful in colder regions, carpet can help keep buildings warmer more easily by trapping more heat between floors.
Ensuring safety. Slips are much less likely to occur on carpet, and when they do, carpet is softer and less damaging than falling on harder surface.
Why Invest in a Commercial Carpet Steamer?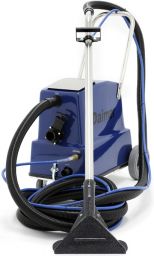 Many cleaning machines are commercial grade, but that doesn't mean it doesn't have they don't have their place in your small business or home. We also offer portable carpet cleaners that are just as powerful as full-sized ones, able to reach cleaning temperature in minutes while being able to either spot clean a spill or perform a full room deep clean. Cleaning pressure can also be adjusted to best fit the type off carpet you are tending to.
Our cleaners are able to remove long-set stains from the most stubborn of carpet fibers. Don't let the fear of stains and health inspections cause you to unnecessary stress. Thanks to our vacuum extraction feature, our cleaners soften and remove stains simultaneously
Our machines work so well because most of them focus on utilizing the advantages of hot water, which has more kinetic energy than cold water. This means dirt and grime are encouraged to let go of the fibers they are attached to. Meanwhile, any stubborn oils will probably reach their melting point and then be promptly vacuumed up, and so are unable to stick around and become a bigger problem later.
Cleaning chemicals also work better in hot water for the same reason; the molecules doing the cleaning are more energetic, so they can better dissolve through a mess. This means machines that utilize hot water are a great way to clean heavily soiled carpet, particularly one plagued by mold, mildew, or other items that can become severe health factors. Be it simply cleaning a patch of dirt or getting rid of mold to ensure the health of your patients, our machines are the most effective way to do so. It also means you don't have to resort to heavy chemicals.
For more information regarding the best carpet cleaning machines, visit our website.