October 27, 2014
Carpet Extractor's for When You Need to Go Deep
Carpets are beautiful and they serve many different purposes in both homes or offices, but they attract dirt, dust, and grime on a regular basis. Because of this it is important to have some sort of carpet cleaner on hand to take care of the potential problems, and to make sure that your building is up to code when it comes to sanitation. For this reason, industrial carpet cleaners are a good idea. Before we get into that however, let's discuss how carpet cleaners work and why you might opt for a carpet extractor.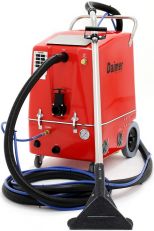 The Function of Carpet Cleaners
Carpet cleaners usually utilize water, often hot water. The one thing that can dislodge dirt, of course, is water, as you well know, though it is never a good idea to pour a bucket of water on your carpet. Actually, that would be counter productive for a few different reasons that we are not going to elaborate on here. Hot water, on the other hand, actually penetrates the carpet and loosens the dirt so that it can be sucked into the carpet steam cleaner. That, is an outstanding method of cleaning, and depending on the size of the tank in question, you may be able to clean an entire floor before needing to change the water or refill the tank.
Some carpet cleaners utilize chemicals to complete their task, though Daimer ensures to provide machines that do not use harmful or completely abrasive chemicals. The idea with any carpet cleaner of any model is to clean the carpet without harming the occupants of the home or office. In addition to that, you will want to make sure there are no residual effects. For this reason, more than a few companies choose to go with a steam cleaner exclusively rather than risk exposure to chemicals. In the end, this choice is yours but as we said, you might want to opt for industrial carpet extractors as opposed to anything else.
The Extractor Difference
So what is it that sets a portable industrial carpet extractor or standard industrial grade carpet extractor apart from their steam cleaner counterparts? The answer is power. For carpet extraction you need a unit that will not just clean the top layer of the carpet, but one that will dig down deep, one that will dig into the fibers of the carpet and easily remove any dirt that happens to be there. A good example would be one of the units sold by Daimer, having a 17 gallon water chamber in addition to 100 feet of hose, which gives it an unparalleled ability to clean up to 31,000 square feet without actually moving the machine. 
Using inline heating technology, it will require about two minutes to heat up to two hundred and ten degrees Fahrenheit, and once engaged the unit will make use of what is known as low flow technology. As we mentioned before, the lower the water flow, the faster the drying time. This in itself is an amazing thing, and it is becoming much preferred among business owners. Finally, an extractor will use one to three two stage motors on average for both high and low pile cleaning. With this type of horsepower you can expect to return your carpet to nearly its original condition. 
There are many ways to clean your carpet, but the most important thing is to ensure it is being done in a safe and sane manner. This means choosing equipment that is safe for your office, though efficient. It also means choosing something that uses an appropriate power source. When it comes to industrial strength carpet extractors, you want Daimer on your side. Not only do they have a wide range of outstanding units for you to choose from, you can always be rest assured that they will take care of you as a customer, no matter what it is that you need to start cleaning