October 29, 2014
Finding the best Carpet Shampooer for the Job
Whether you're dealing with the home or office you are going to need carpet cleaning services at some point. Carpet is a great flooring choice, but it attracts dirt, dust, and grime like nobody's business. Cleaning the carpet can be a bit difficult; you will obviously start by running your vacuum cleaner, and that works fine if you catch the dirt immediately, but you know it will not happen that way every single time. Actually, there is a bigger chance of the dirt and grime being ground into the carpet, and once that happens, it can be extremely difficult to remove; though not quite impossible. If you want to return your carpet to its original state, then you are going to need something like a carpet shampooer, and the best carpet shampooer can do an outstanding job of restoration. Before you purchase anything however, you will need to make sure you have the right product for the right job, and you will need to understand shampooers for carpets a bit better. Let's talk a bit about these devices, and soon enough, you will understand why Daimer is the best option.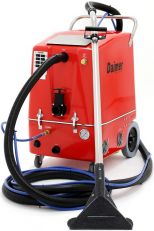 Carpet Shampooers and You
The first thing you need to know is that avoiding chemicals, particularly harmful chemicals, is in your best interest. In addition to worrying about your own personal health, you should note that such chemicals can be both abrasive and corrosive, meaning they can harm the threads of the more expensive carpets. In addition to that, chemical traces may remain within the carpet for years to come, which will serve to harm the occupants of the home, or workers in an office building. So, how can you avoid these chemicals while attaining a clean carpet? After all, if they were not necessary, cleaning professionals wouldn't actually use them, would they? The answer might surprise you.
There are alternatives to chemical carpet cleaners, clear alternatives, and one only has to look for them. What you need is an eco friendly carpet scrubber that gets the job done without the use of harmful detergents. In addition to that, many of the scrubbers offered by Daimer can be deployed with little to no effort, allowing you to scrub your floors with ease using a state of the art shampooer system. Daimer's commercial rug cleaners feature advanced suction, high airflow, and the ability to thoroughly clean your carpets. In fact, they'll seem almost like new once you are done!
Go Commercial
There are many carpet shampooers on the market, but not all of them have the same abilities as the heavy duty commercial models that Daimer offers. Yes, they might be a bit cheaper, but you will find that they cannot handle some of the bigger jobs. The holding tanks are considerably smaller, and they are not reliable or durable to withstand many years of use.  A home model would require constant maintenance, and it would eventually become impractical, especially if you are trying to clean over a large area or even in a commercial setting. Pair this with the fact that most home models do not practice flow control and you have a mess that you really cannot handle.
The Daimer brand has long been synonymous with quality and high performance, meaning you can expect only the best. They provide some of the most innovative commercial machines, which will work on many different types of carpets. Along with that the industrial models will come with far more tools so that you do not have to hunt for your extensions each time you choose to run your carpet shampooer. Many of these extensions will be comprised of stainless steel rather than plastic, and as such they will last for far longer. This is one innovation that you do not want to overlook or dismiss when you are seeking out a good carpet shampoo system for your place of work or your residence.
Once again, do not forget about the low flow function which limits the flow of water to the floor. While this might sound a bit counterproductive, it actually serves to ensure mold colonies do not develop beneath the carpet, thereby preserving the health of all who happen to live in the residence. This, is without a doubt, one of the best features of modern carpet shampooers. Other features for you to consider are the heat up time as well as the tank capacity. In addition to that, try to determine whether or not you can change any liquids while the machine is in operation to raise efficiency.
As you can see, there is plenty for you to think about when you are in the process of purchasing or even renting a carpet shampooer. Take a look at all of those currently offered by Daimer and see what will work for your place of residence. There is something for everyone, and something for every job no matter how large, how small, or how long. It's time to start shampooing.