February 26, 2015
High Quality Upholstery Cleaning Machines Meet your Needs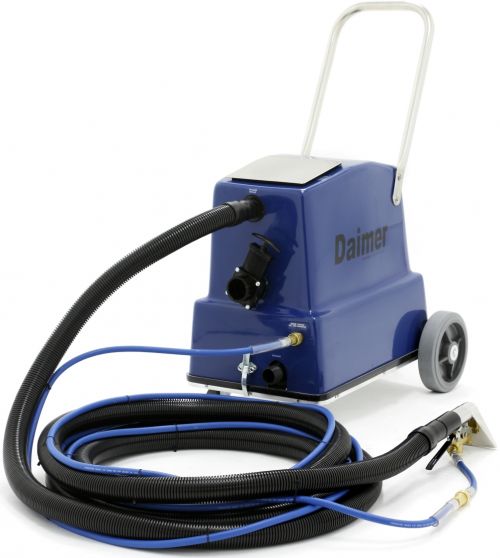 Cleaning upholstery can be a tricky business. Cleaning with a regular rag and water will not always get your material as clean as you want or need it to be. Additionally, it lacks the power you need to remove buildup beneath the surface. Purchasing upholstery cleaning machines will help ensure you have the power you need for the perfect clean. These machines are designed to help ensure you get the results you want. Purchasing the best upholstery cleaning machine is easier than you think, when you visit our website.
Damien offers a high-end selection of the best machines on the market. No matter what industry you are in, we can help you get the results you want faster.
Upholstery Cleaner for your Car
One of the most common uses for a commercial upholstery cleaning machine is cleaning the interior of cars. The upholstery in cars can get down-right filthy. Every time someone steps into their car they bring dust, dirt, germs and grime picked up by their feet and clothing while they're out and about. This dirt and grime transfers to the carpets and upholstery in the car. When you want to eliminate all of the extra dirt and dust in your car, you need a car upholstery cleaning machine. These high-end machines are designed to extract dirt from the deepest levels for the best clean possible. Our machines can help your car feel like new again.
Take a look at different upholstery cleaning machine reviews and you'll discover that our machines are some of the best in the industry. Our powerful cleaners work better and offer faster drying times so you can avoid mildew and mold and the inconvenience of not being able to use your car for hours! Some of our models provide a deep clean that will be completely dry within an hour. When other models on the market require upwards of 24-hours drying time, that's quite the savings.
 Upholstery Cleaner for your Home
The car isn't the only place you can use carpet and upholstery cleaning machines. Our commercial grade cleaners are perfect for getting your home back in shape. Whether you rent out an apartment or you're preparing your own home for visitors, eliminating the dust and grime can help make the place feel like new again. Our home upholstery cleaning machines are perfect for pulling stains, dirt, dust and pet hair from even the toughest spots. Our dual purpose machines are strong enough to remove dirt and stains from carpet, while safe enough to clean your upholstery furniture.
Purchasing a rug and upholstery cleaning machine will take spring cleaning to the next level! Simply pull out your cleaning machine and remove dirt, grime and icky flu germs that have accumulated in your home over the winter. Our machines provide the best cleaning available and reduce drying times so you can get your home cleaner, faster.
With kids in the home, it's important to keep the family safe from harmful chemicals, which is why we offer a line of Eco-Green products to help insure you get the clean you need while protecting your family and the environment. Check out our website to learn more about our green products.
 Own an Upholstery Cleaning Machine
Renting upholstery cleaning machines is a helpful solution when you need something fast and easy. But, owning your own machine will save you money and time. When you purchase cleaning machines for sale, you'll have instant access to the most powerful cleaning tools on the market. With different models offering mobility and flexibility, this is the perfect investment for commercial companies and homeowners alike. Our professional upholstery cleaning machine will have your car seats, couches, carpets and rugs looking brand new. Our models are small enough to store in your garage or closet for quick access.
We offer different methods for purchasing an upholstery cleaning machine for sale, including a lease-to-own option which allows you to get your machine and start using it, while you pay off your purchase over time. Let us help you find the perfect product for your home of commercial business. Call us today to learn more about our flexible payment options and get started on the road to cleaner upholstery.
 Work with the Best Company
Purchasing the best carpet and upholstery cleaning machines demands that you work with the best company in the industry! At Daimer, we guarantee that you'll get the best customer service and the best products. We offer flexible purchasing plans so you can get the unit you need, at a price you can afford.
Our upholstery steam cleaning machines are rated among the best products in the industry. With customers in over 200 countries, it's apparent our products surpass expectations. All of our products are built in the United States, offering jobs and economic benefits to surrounding communities. We believe in boosting our own economy, while providing high-class products world-wide.
At Damier, you'll find over 700 different cleaning machine models. We know that our clients all have different needs, which is why we offer the most options around. You will find exactly what you need, or we can help you build it. We've provided cleaning equipment for clients like the White House, Dole, Hershey's, General Electric and many other international companies. Our wide range of products and excellent customer service is second-to-none. Call us today to find out how we can help you!