February 07, 2015
Important Industrial Carpet Steam Cleaner Benefits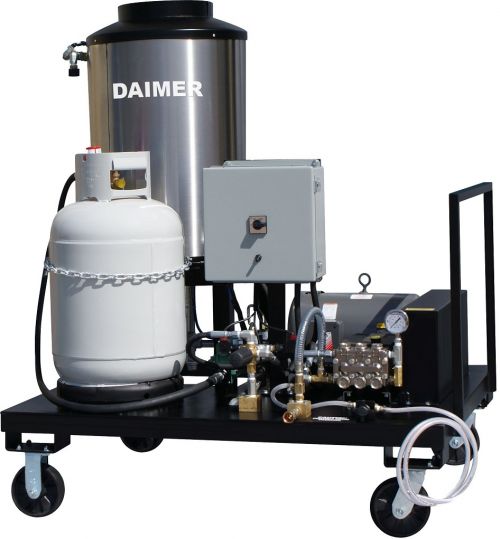 No matter what industry you are in, cleaning is very important. A good business needs to not only have a professional cleaning method, but one that is affordable and practical as well. Essentially, you need to be able to get the professional look in a way that suits your industry. Industrial steam cleaners are a great way to accomplish this, as they are easy to use and can work wonders on any building.
Some of the best industrial steam cleaners for sale will have:
A high pressure level of 1000 PSI or more
Steady flow rates
Wheels for easy mobility
Powerful equipment
Practical power sources, such as propane or gas
Long hoses perfect for reaching small spaces
A steam cleaner industrial should be built to last and will withstand heavy and repeat usage. It is important to remember to work with a company that offers industrial-grade equipment, rather than simple cleaners. Simple cleaning solutions and machines will not always cut through the grease and dirt buildup found in busy working areas.
Daimer is a great company to work with when it comes to looking for good industrial steam cleaners for lease or for sale. You will be surprised by the overall quality of the devices and how well they work in industrial settings. The manufacturer is also able to help you select an industrial steam cleaner that truly meets your needs. This helps you to get and maintain the professional look you need.
What Can an Industrial Steam Cleaner Clean?
Industrial steam cleaners can help you to clean a variety of areas in your commercial buildings. An industrial steam cleaner for hard wood floors will be able to clean multiple areas with ease. Concrete and other outdoor surfaces can easily be cleaned with one of these powerful devices. Even if you are hoping to find an industrial steam cleaner for kitchen grease, you may be pleasantly surprised by how many purposes it can actually have.
The Best Industrial Steam Cleaner Available
Not all steam cleaners were created equally. They may look the same, but many have subtle differences that can make a huge impact on the final result you receive. For example, an industrial carpet cleaner with a higher PSI will have more power behind it, making it more ideal for heavy traffic areas. Slightly smaller models, such as the Super Max 7000, may be more ideal for smaller spaces. Even features unrelated to cleaning, such as a gas or propane powered cleaner, can have a huge impact on how you clean.
In order to find the best industrial steam cleaner, it is important to analyze your needs. You should look beyond affordability, as many of the models for sale are also available for lease. You should analyze the benefits each machine could bring you, as well as any potential drawbacks. Research the machines as much as possible in order to find one that truly meets your needs.
Alternatively, you could also contact Daimer customer support for assistance in choosing a device. Experienced staff members that already have an understanding of the various portable industrial steam cleaners for sale will be happy to help you.
Gas Powered Vs. Electric Powered Industrial Steam Cleaner
One of the most important aspects of your new heavy duty steam cleaner is going to be the power source. The difference is typically in the power level offered, but it may also come down to personal preference. Electric powered industrial steam cleaners tend to be easier to work with, but offer a level of 1000 to 1500 PSI. Gas and propane-powered models offer as high as 3000 PSI, which can be very useful depending on the industry that you are in. Gas powered and electric powered models also differ in size.
In order to help you decide which type will better suit your needs, you should consider:
Ability to obtain fuel
Cleaning power
Size of the device
Flow rate
Cleaning temperatures
Eco-friendliness
Higher temperatures and flow rates will offer a more enhanced clean that may be more suitable for your industry. Learn more about these steam cleaners and their price ranges directly from Daimer.
Finding an Industrial Steam Cleaner Manufacturer You Can Trust
Finding an industrial steam cleaner for concrete may be an easy task, but it is important to consider the manufacturer you are working with in your buying decision. A good manufacturer will understand the importance of using quality parts and will stand behind every device that they produce.
Daimer is an experienced company that has helped many businesses find the cleaning equipment they need to be successful. With a variety of industrial steam cleaners available, you will be able to find one that truly fits your needs.
If you would like to learn more about the benefits of an affordable industrial steam cleaner, contact Daimer directly. An experienced staff member will be able to help you understand more about each machine or can answer any questions that you may have. The manufacturer's website also offers a wealth of information on each machine. This makes research and shopping very easy.
To get the industrial vapor steam cleaner that your company needs to get a professional clean, contact Daimer directly or visit their website. You will be surprised by how clean the right industrial cleaning equipment can get your floors.