April 20, 2015
Start Your Own Business with Professional Carpet Cleaning Equipment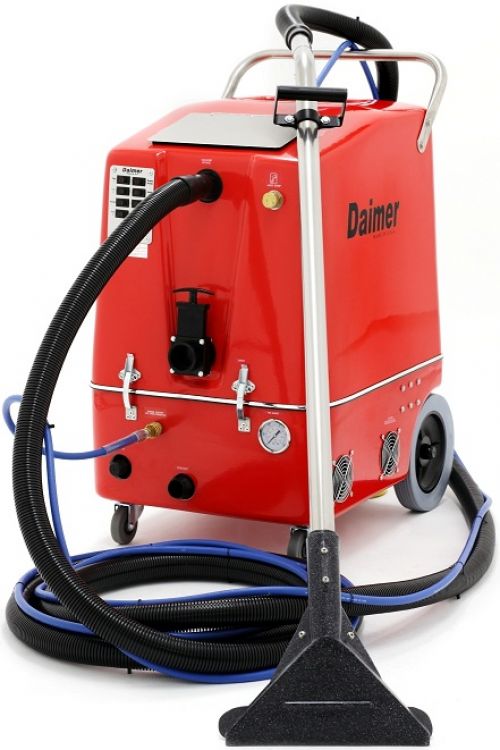 If you are thinking of starting your own carpet care business, it is important that you have the right professional carpet cleaning equipment to get the job done right. While carpet cleaning is not difficult, it does require a level of understanding on the various types of carpeting, stain removal and knowing what your equipment is capable of handling.
Professional carpet cleaners utilize one of three different types of cleaning: liquid extraction, dry foam or a hybrid liquid extraction method. Most commercial cleaners use liquid extraction carpet cleaning equipment simply because it is the easiest and most cost efficient method of getting carpet clean. Because a carpet cleaning business is purely equipment based, you will need a good bit of money for startup costs.
Buying Commercial Carpet Cleaning Equipment
When it is time to head out to buy your commercial carpet cleaning equipment, you will be surprised at the wide array of machines available. Don't get overwhelmed. This article will help you wade through the sea of options to find the best carpet cleaning equipment for you.
There are three basic types of carpet extraction machines: carpet spotters, portable or walk-behind machines and powerful truck-mounted machines.
Carpet spotters are typically used for small, uneven areas such as automobile floorboards, inside boats and on furniture. They are good for removing small stains, and are lightweight and easily portable. If you are looking to really expand your business, having one of these on hand to include mobile detailing is a good idea.
Portable carpet cleaning machines are probably the most versatile and cost-effective. This is the type of machine you will probably purchase for your new carpet cleaning business. There are two types of portable machine: tank and wand and walk-behind.
The tank and wand models are the most versatile as they allow you to clean a variety of carpeted surfaces. You can use different attachments and tools for a wide array of jobs, and some contain heaters that warm the water for a superior clean.
Walk-behind models are designed to be more powerful than tank and wand models and are good for cleaning large carpeted areas. This type of industrial carpet cleaning equipment is not as versatile as the tank models.  
Lastly, truck-mounted carpet cleaning equipment is incredibly powerful, but obviously much more expensive than the other options mentioned above. These units are self-contained and mounted in a truck bed or van. They run off the vehicle's engine power, which gives them much more suction power than their portable counterparts. Also, these machines are capable of heating the water to much higher temperatures to really extract the most dirt and grime from carpeting. Although a truck-mount system is the way to go, it might not be the best choice for a new business, as their starting price is around $10,000.
How Carpet Cleaning Supplies and Equipment do the Job
Like we said before, carpet cleaning isn't rocket science, but it does require a level of understanding. Your carpet cleaning supplies and equipment work together in perfect harmony to remove a variety of nasty dirt and grime from your clients' carpets. Here is how it is done.
The first step is to treat high traffic areas with a pre-treater. This pre-conditioner pulls ground in dirt to the surface. This is a very important step because high-traffic areas are the dirtiest part of any carpet.
After the high traffic areas are treated, you will use your newly purchased professional carpet steam cleaner to do a hot water extraction. Sometimes this method is called steam cleaning, but it actually does not involve any steam at all. During a hot water extraction, the machine injects hot water and cleaning solution into the carpet. The solution pulls deep down dirt and debris to the surface of the carpet where it can be removed by the suction action of the equipment. The carpet is left clean, but damp. Short drying times are crucial, so these commercial carpet machines are designed to remove as much water as possible so drying times are cut to only one to two hours.
Finding Commercial Carpet Cleaning Equipment for Sale
When you begin your search, you will discover there is a wide selection of commercial carpet cleaning equipment for sale. Like we said earlier in this article. Don't get overwhelmed. For expert help with purchasing your first professional carpet steam cleaning machine, visit Daimer.com/carpet-cleaning-equipment. We carry several portable machines in tank and wand models, walk-behind models and truck-mount models, and we're sure one will fit your needs perfectly. Our carpet cleaning machines are powerful with 170 PSI, and they contain large 10 gallon water tanks so you don't have to keep dumping and refilling.
Daimer Industries prides itself on providing the best carpet cleaning equipment in the industry. Our machines contain inline heating technology that delivers the hottest temperatures in the shortest amount of time. Our advanced adjustable temperature technology allows you to control the water's temperature as you see fit, and with hose lengths up to 25 feet long, you can clean up to 2000 square feet of carpet without ever having to move the machine. We're sure that with the low-flow technology built into every one of our machines, you and your customers will love how fast carpet dries when you are done.
If you have questions, or are ready to buy, contact Daimer Industries today.